You Need A Fan Brush In Your Makeup Collection. Here's Why And How To Use It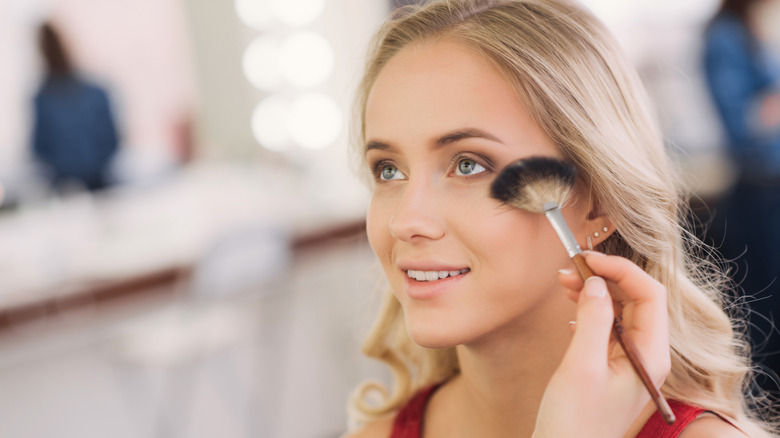 Lumen Photos/Shutterstock
If you've ever been beauty tool shopping, you've probably noticed that makeup brushes are typically named after the product you should use them with. Highlighter brushes, blush brushes, and foundation brushes are some of the names you'll usually find. While this makes it fairly simple to choose what you need and go, it also means that it can get confusing when they don't have the brushes labeled so clearly. Fan brushes, for example, are one of them. While we know that fan brushes have a particular shape, many aren't aware of how to use them.
For those constantly on the go or traveling, however, fan brushes should be a staple in your travel bag. These practical brushes are multi-use, meaning they can perfectly serve more than one role, saving you space in your makeup bag. But before throwing it into your bag, let's look into why you should use it.
Why a fan brush may be better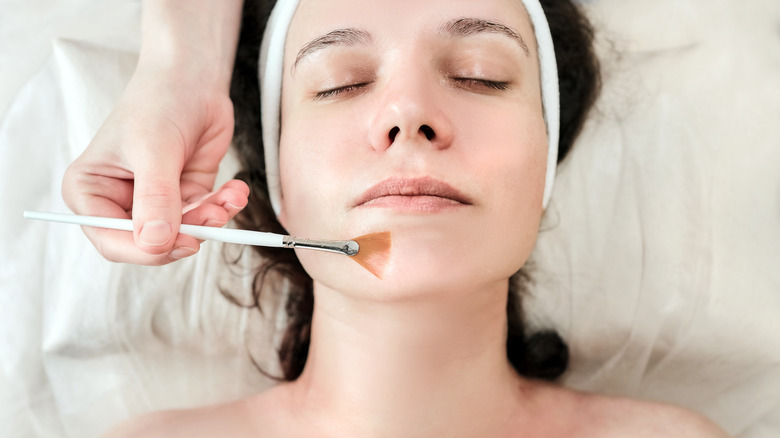 Mike_O/Shutterstock
The most common way of using the fan brush is when applying a highlighter, according to L'Orèal Paris. The light feathered brush will help give you a dusted glow that won't look streaky or intense. In other words, it gives you a light highlight that can be built up to desired coverage. Besides your highlighter, you can also use a fan brush to apply your blush and contour product. For those looking for a subtle hint of blush or contouring, the fan brush is one of the only tools that can help get this look on the first attempt.
While these brushes are perfect for applying makeup, they're also used for removing them. If you've ever experienced the tragedy of applying eyeshadow only to find pieces of the product on your cheek, the fan brush can help. Besides makeup, your fan brush can also help apply your skincare face mask, so you no longer have to make a mess with your product. Nonetheless, no matter how you use it, the fan brush is a necessity for all makeup and skincare lovers.
How to use a fan brush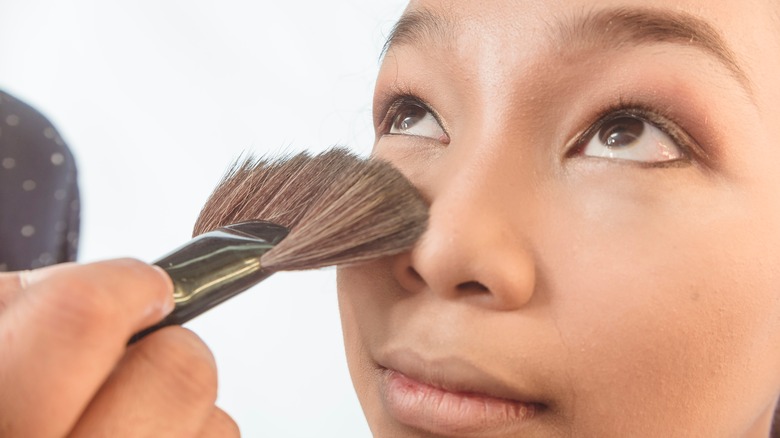 MDV Edwards/Shutterstock
Luckily, using a fan brush is as simple as swiping the brush directly on the area you're applying the product on. However, the experts at Ipsy recommend swirling the tips of the bristles directly into the product when starting. Once you've picked up the product, you'll need to tap off any excess product from your brush. Using the edges of your fan brush, gently buff the product into place and blend it into the skin. When applying blush, move the brush in a circular motion to get a seamless blend that won't show any streaks. Lightly placing your product with the edges will give you a diffused application instead of an intense one.
If you want to fix any fallout from your eyeshadow, use the fanned-out brush to sweep away the pieces of the product instead of smudging them and creating a bigger mess. Using the tips of the bristles is also a great way to apply highlighter and contour into small areas, like the sides and bridges of your nose. In these cases, take a fluffier fan brush to blend your products into your skin while still maintaining a diffused and subtle glow. Regardless of how you use it, a fan brush is an ideal tool that could help achieve that natural but precise makeup look.