Are There Benefits To Using A Micellar Water To Cleanse Before Your Shampoo?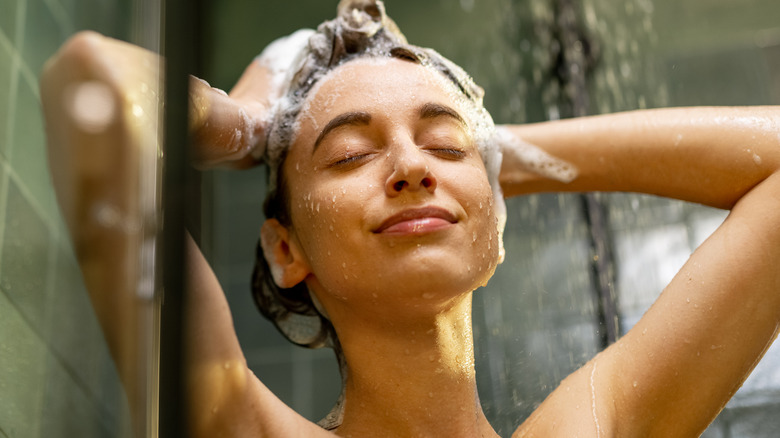 RossHelen/Shutterstock
We may receive a commission on purchases made from links.
There is nothing that beats the feeling of clean, silky smooth hair after the shower. However, some people are achieving it with a product you would normally use to remove makeup and cleanse your face: micellar water. In a TikTok video viewed over a million times, TikToker Abbey Yung tested out the use of micellar water before cleansing with shampoo. She pours the product all over her scalp, massaging it in her roots, then double cleanses, a method that involves shampooing your hair twice to remove excess buildup on the scalp. After washing and drying, she shows off her gorgeous, oil-free hair. But does the micellar water really play a role in this, or is it simply because she double-cleansed?
Advertisement
Micellar water looks and feels like water, but it has some added features called micelles, which are molecules that help break down dirt particles. "Micelles are useful for cleansing the scalp and hair because the hydrophobic ends attract and remove sebum (excess oil) and product buildup (including dry shampoo), and the hydrophilic ends attract and remove harsh minerals, dirt, and pollution," dermatologist Dr. Jayne Bird explains to Byrdie. Micellar water does a great job of cleaning the skin without leaving it dehydrated, which can apply to your scalp as well. It's especially good for oily and sensitive skin, as it breaks down excess oil without being too harsh.
Beneficial but not practical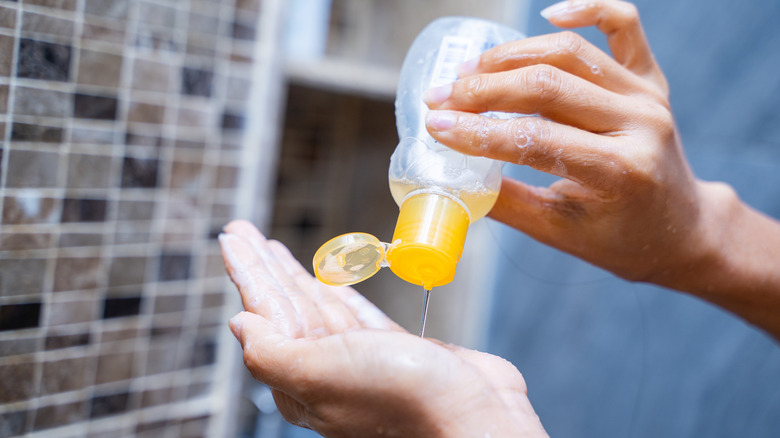 Mosaymay/Getty Images
It's safe to say that micellar water can help nourish your scalp, but it can come at a cost. In Abbey's TikTok video, you can see how she has to use a lot of the product to cover her whole head. While there are affordable options, like Garnier's Skin Active Micellar Cleansing Water via Amazon, you'll most likely end up using half the bottle in order to see the results you want. 
Advertisement
After trying this method a couple of times, you'll already have to go buy another bottle. In the long run, pouring micellar water all over your scalp can be a bit pricey and wasteful if you wanted to do it on a regular basis. On the other hand, it might make sense for people with shorter hair, as they wouldn't have to use as much of micellar water. But for longer hair, like Abbey's, you'll need large amounts of the product. You can, however, find longer-lasting products that contain micellar water rather than using it alone. 
Try micellar shampoos instead
If you love the results that micellar water brings to your hair but don't want to buy it every week, you may want to try micellar shampoo. This way you have a shampoo and the cleansing benefits of micellar water all in one. In fact, similar to a clarifying shampoo, this gives your scalp the detox it may need without the flakiness and dehydration that sometimes come with other hair products. "Micellar shampoo gently removes the oil without causing too much drying—great for maintaining volume," shares Dr. Bird via Byrdie.
Advertisement
If you're a fan of double cleansing, you can use your standard shampoo first and follow with a micellar shampoo to get a deeper clean. We recommend Carol's Daughter Wash Day Delight Water to Foam Shampoo on Amazon, which is a sulfate-free shampoo made with rose water. L'Occitane's Aromachologie Gentle & Balance Micellar Shampoo is another great option, made with essential oils to keep your hair shiny and healthy.