Multi-Priming: Is The Key To Long-Lasting Makeup Applying More Than One Primer?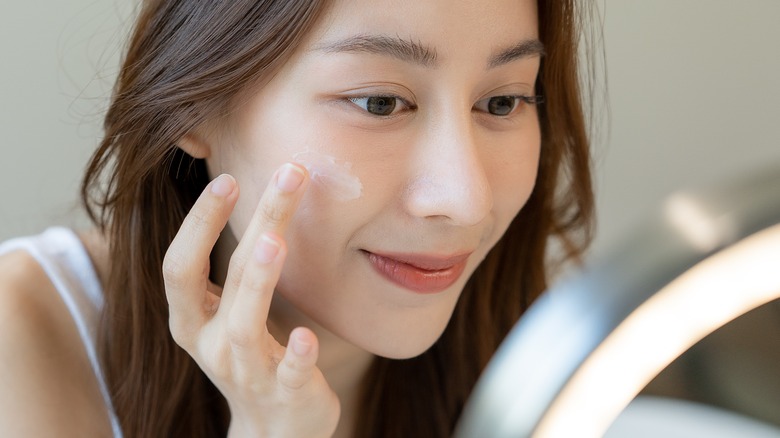 shisu_ka/Shutterstock
We may receive a commission on purchases made from links.
Few things can take your makeup look to the next level like primer. Foundation can de-emphasize your perceived flaws, but it can enlarge the appearance of your pores. Applied before foundation, a coat of primer helps to fill in your pores, smooth your skin, prevent shine, and help your makeup to adhere to your skin smoothly. "Primer is like your makeup's BFF,"  Tarte Cosmetics makeup artist Lex Smith tells InStyle. "I apply it...to even out my skin tone, create a super smooth baby skin effect, and help makeup look better and stay put all day long. Who wouldn't want that?" 
Advertisement
Obviously, priming with a primer is akin to lending your face an instant filler effect. But did you know that you can dial up the airbrushed effect and create an even sleeker canvas for your makeup? And no, we're not talking about adding another special moisturizer or serum over your base. If there's anything that can beat a coat of primer, it's multiple coats of primer. Or, in the parlance of TikTok skincare enthusiasts and makeup artists, multi-priming. One of the most viral makeup hacks on TikTok lately, multi-priming is said to give your makeup a flawless finish by rectifying aesthetic concerns. So, is this extra step worth it? 
What is multi-priming?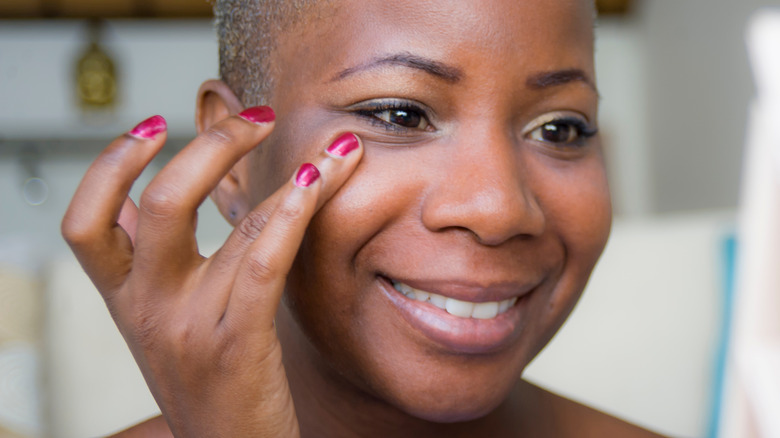 TheVisualsYouNeed/Shutterstock
Multi-priming involves "applying various primers in different areas of the face that vary in texture or skin issues," makeup artist Judi Gabbay tells The Zoe Report. Here, it helps to think of your forehead, eyes, cheeks, nose, and chin as five unique sections of your face. From there, you can select primers that tackle area's needs.
Advertisement
"If your T-Zone is oily, you can use a mattifying primer in those areas. Then try a radiance primer on the tops of the cheekbones to keep a glow in those areas," bareMinerals global makeup artist and senior manager Carly Giglio tells NewBeauty. Alternatively, you may "use a pore-filling primer in an oily T-zone, a smoothing primer on wrinkles, maybe a green primer over red acne on the jawline," adds makeup artist Cara Lovello to the outlet.
So, technically, there's no hard and fast rules for the number of primers you need to achieve optimal results. When applying primers to separate areas of your face, be sure to employ new, clean brushes so as not to blen the various primers together. Ultimately, let each primer set for a minute before applying another, and definitely wait a minute or two in the end before adding foundation into the mix. Time is money, but beauty is worth it!
Advertisement
Benefits of multi-priming
Multi-priming has plenty of benefits, including less foundation in the end beacuse what you do use has been implemented more smoothly. What's more, in Judi Gabbay's opinion, multi-priming is superior to single priming because it specifically targets different skin issues (via The Zoe Report). Multi-priming is especially beneficial if you have combination skin, as you can simultaneously target dry and oily areas. Some primers even contain acne-fighting ingredients, which can be applied to facial areas that are prone to breakouts.
Advertisement
"Personally, I get shiny in my T-zone, so applying a mattifying primer in the center of my face helps keep makeup matte throughout the day, whereas a glowy primer on the perimeters keeps my skin looking dewy and fresh," Gabbay tells the outlet. Moreover, multiple priming can help you cut down on wasteful primer usage. You should only apply primer as needed instead of slathering your whole face with the same formula. Focus on the areas that need it, and don't waste product where it's not. In the end, you'll have a makeup look that is refreshing and perfectly you. To get started, we recommend e.l.f. Cosmetics Hydrating Face Primer, a lightweight and affordable formula that will keep your makeup in place all day. Then, you can find formulas to match other parts of your face; it's the perfect jumping-off point.
Advertisement