Here's How To Clean Your Revlon Hot Brush Because, Yeah, You Need To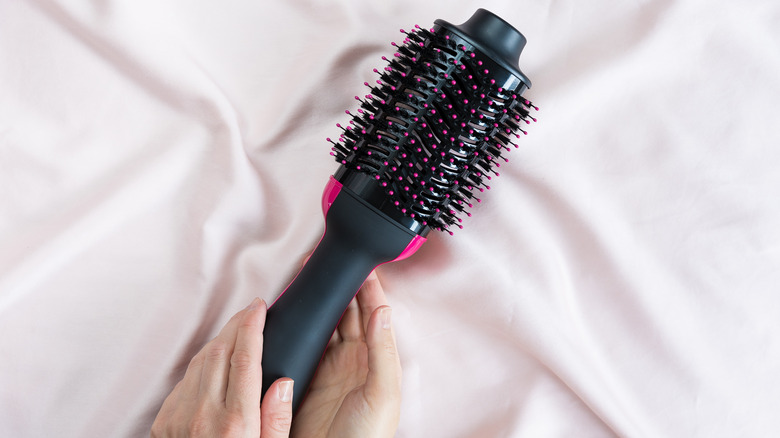 Tinatin1/Getty Images
We may receive a commission on purchases made from links.
Cleaning any brush isn't how we like to spend our free time. Whether it's makeup or hair brushes, giving these tools an intense cleanse is a chore many tend to avoid. While it's not uncommon to find cleaning your beauty tools daunting, it has to happen. We all know that cleaning makeup brushes is the best way to prevent exposing our skin to bacteria, dust, and dead skin cells. This same principle applies to our hair brushes. Our hair brushes are often in contact with water, dead skin cells, and leftover styling products. When you brush your hair with unclean tools, you redistribute these to your strands and scalp. That's why it's essential to use clean hair brushes. However, those aren't the only hair brushes you need to be cleaning.
Hot brushes are popular hair tools that have revolutionized how we create chic blowout hairstyles. These hot brushes combine two other hair tools, the round brush and the hair dryer. Instead of maneuvering to hold two hair tools, this simple brush brings it down to only one hair tool. One of the most popular hot brushes, the Revlon One-Step Hair Dryer and Hot Air Brush, has become a favorite of all hair lovers looking for an affordable blowout. However, as helpful as this hot brush is, it's necessary to keep it sanitary. Like your regular hair brushes, your hot air brushes also need cleaning. Cleansing ensures your investment continues to deliver results and give you silky-smooth hair.
Cleaning your Revlon Hot Air Brush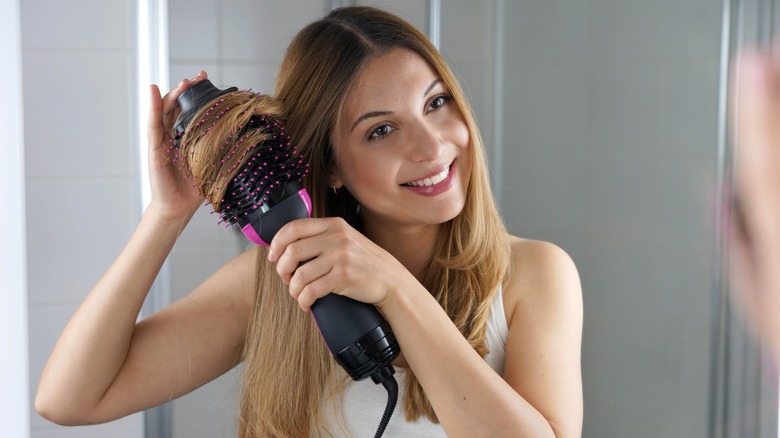 Zigres/Shutterstock
Before you clean any electronic device, you'll want to ensure it's turned off and unplugged. If you've recently used it, wait until your hot air brush has cooled down and isn't emitting heat anymore. To clean your brush, start by removing any hair that's stuck on the hot air brush. You can do this by either pulling it out or cutting stubborn pieces with a pair of scissors. Remove as much as possible to get as close to a hair-free brush as you can. If you just want to clean off the bristles, take a damp cloth and wipe them off. Don't restart the hot air brush until the bristles have completely dried off.
If your Revlon hot air brush requires further cleaning, don't worry because the process is relatively simple. To give your hot air brush a deep clean, wet the bristles and apply some mild soap to the brush bristles. If you haven't washed your hot brush in a while, you may want to use a clarifying or detox shampoo to remove any product buildup. Once you've applied soap, rub it around the brush so it reaches every aspect of the hot air brush. After, run the hot air brush under warm water to wash away all the soap and leave it to air dry. Leave your Revlon brush out until it's dried and no longer feels damp.
Why you need to clean your hot air brush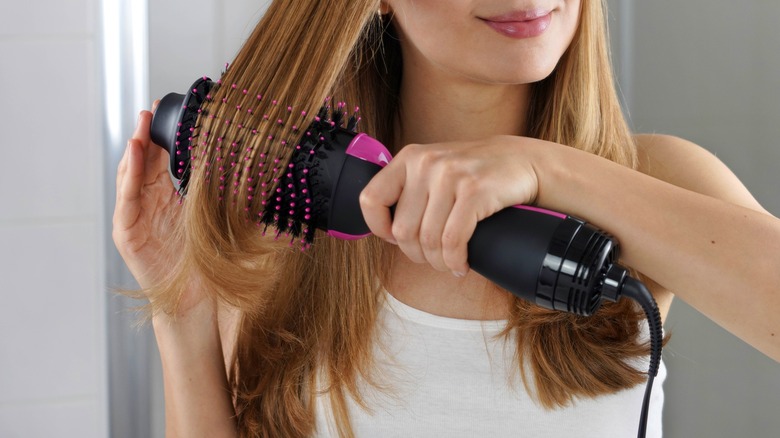 Zigres/Shutterstock
As with your hair brushes, there are plenty of reasons why you need to clean your hot air brush often. When using your Revlon brush, you want to feel confident about the tool and know it's working correctly. However, cleaning your hot air brush is about more than just some hair strands stuck on bristles. Dirt, debris, bacteria, and buildup on your Revlon brush can become a safety hazard for you and your hair. The more junk caught on your hot air brush, the more the motor has to work to heat up correctly. The extra pressure on your brush can cause a fire hazard inside the device. Even if it doesn't catch on fire, the motor can break and leave you without your Revlon brush.
Under extreme circumstances, brushing your hair with a dirty hot air brush can result in scalp diseases. Since you are using the hairbrush on the entire strand, from root to end, it's easy for bacteria and fungus to transfer from the bristles to your hair. A dirty brush won't give you an effective blowout or shiny hair. Clean your hot air brush at least twice a month to ensure it's always safe. If you use your Revlon brush often, it may require more cleanings.