Scents That Are Just Like Prada Candy (Without The Price Tag)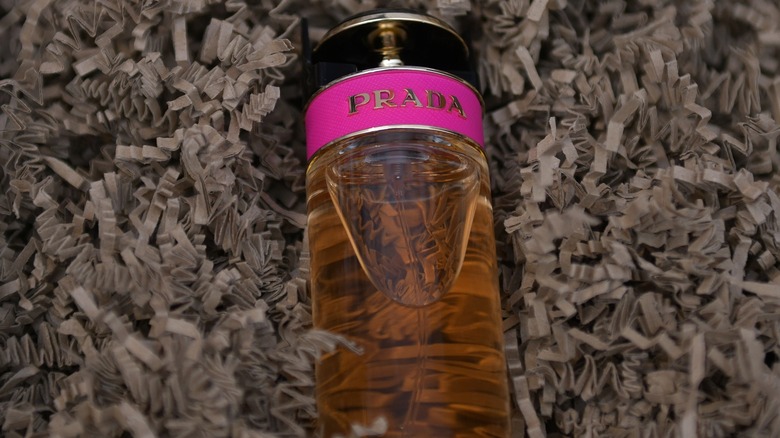 Cristi Dangeorge/Shutterstock
Prada Candy is a beloved perfume, as no one can resist that sweet, delicious scent. For instance, TikToker @ask_kimberly posted a video of herself happily putting on Prada Candy perfume, captioning the video, "Prada Candy is a genius scent with Caramel/Powdery notes [on top] and musk/spicy bottom notes. This is if you're going for 'Sexy' but not 'Overwhelming.'" Many people seem to love this dessert-themed perfume, as it has 4.2 out of five stars with about 1,500 reviews at Sephora and 4.7 stars with over 6,800 reviews and a 93% recommendation rate at Ulta Beauty at the time of this writing. So there's no doubt that people love this tasty-smelling perfume.
Advertisement
However, this fragrance is a Prada product, so, of course, it's expensive. We understand that not everyone can — or even wants to — spend over $100 on a lavish perfume, and you shouldn't have to spend so much money to enjoy the scent. Luckily for anyone who wants to experience the Prada Candy smell without paying Prada prices, we live in the era of the TikTok 'dupe' trend, so we're able to find some affordable dupes for Prada Candy.
People are sharing Prada Candy dupes on TikTok
We're not the only ones eager to discover some delicious dupes for the Prada Candy scent. For example, TikToker @charleybourne posted a video sharing that Zara's Oriental perfume is an inexpensive, super-similar-smelling alternative to the popular Prada Candy. According to Zara, this perfume features caramel and vanilla touches; those sweet details are probably what makes it such a good alternative to Prada Candy, and you can purchase this fragrance at Zara for only about $10. 
Advertisement
Moreover, TikTok user @lilairatrixy27 posted a video recommending using sweet Fine'ry scents as dupes for a few more expensive fragrances, such as Prada Candy. The names of the three options mentioned in the video are I'm a Musk, Sweet On the Outside, and Magnetic Candy. All three of these scents are available at Target for less than $30.
According to Target, the Fine'ry Sweet On the Outside Fragrance Perfume offers a woody vanilla scent, the Fine'ry I'm a Musk Fragrance Perfume presents a musky smell, and the Fine'ry Magnetic Candy Fragrance Perfume provides a sugary, dessert-like scent. All three of these options have at least four out of five stars at the time of this writing, so choose whichever you think has the most appealing aspects of Prada Candy. If you love vanilla desserts, consider Sweet on the Outside; if you prefer musky touches, opt for I'm a Musk; and if you crave sugary sweets, go for Magnetic Candy.
Advertisement
Here are a couple more delicious perfumes that are like Prada Candy
For anyone looking for more Prada Candy alternatives, YouTuber Vallivon The Perfume Don has a YouTube video sharing her favorite Prada Candy dupes. For instance, the YouTuber suggested the deliciously sugary Ariana Grande Sweet Like Candy perfume, saying that she enjoys the scent and that it's inexpensive. You can purchase the sweet Ariana Grande Sweet Like Candy Eau de Parfum, 1.0 oz, from Walmart for a little over $30 at the time of this writing, and the product has 4.6 stars.
Advertisement
On the other hand, the Prada Candy perfume isn't just famous for being sweet; people also adore the tasty caramel twist. According to Ulta Beauty, Prada Candy features "an addictive touch of caramel," so if that's your favorite part of the Prada Candy scent, you'll need a fragrance that features some caramel smells, too. A TikToker with the username @funmimonet posted a video sharing some of her favorite caramel scents, such as the affordable Dalal — Al-Rehab Eau De Perfume, noting that it smells like a caramel dessert. You can purchase the Dalal — Al-Rehab Eau De Perfume Spray for about $10 on Amazon, where it has 4.2 stars with around 6,800 ratings at the time of this writing.