What Tools Should You Really Be Using For Blush Application?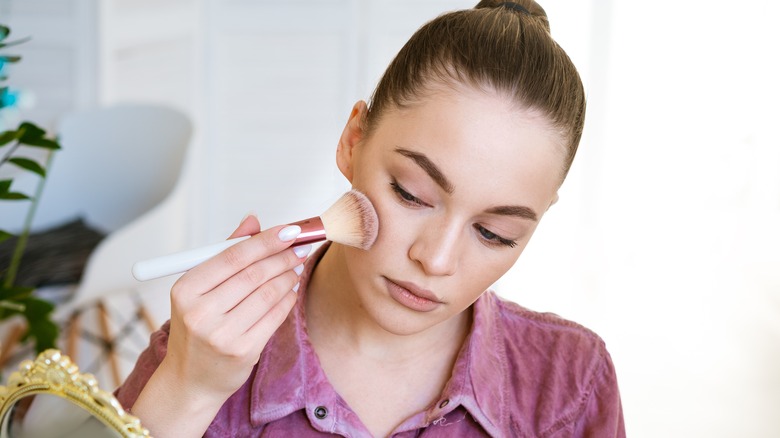 Pereslavtseva Katerina/Shutterstock
Undoubtedly, blush can have a remarkable effect on your makeup look. A soft airbrushed touch of blush can give you a subtle glow that looks natural and unintentional. A heavier application of color can give you a statement and editorial look that's bold and significant. Regardless of which application you prefer, blush can change how you look with just one swipe. However, to get the best blush look, you'll need to ensure you're using the correct tools. Like any other makeup product, your brushes and tools are the keys to giving yourself the best look possible.
There are no rules that establish which brush you have to use with any makeup product. However, there are cases in which certain makeup brushes can give you a flawless application. The foundation is one of the rare instances in which you have various brushes that can give you an equally beautiful look. From kabuki brushes to beauty sponges, there are various ways to apply foundation on your skin. When it comes to your blush, you'll want to look at your product's formula and the type of intensity you want. Liquids, powders, and creams are all formulated to look and feel different on your skin, allowing you to customize your look.
What brush to use with blush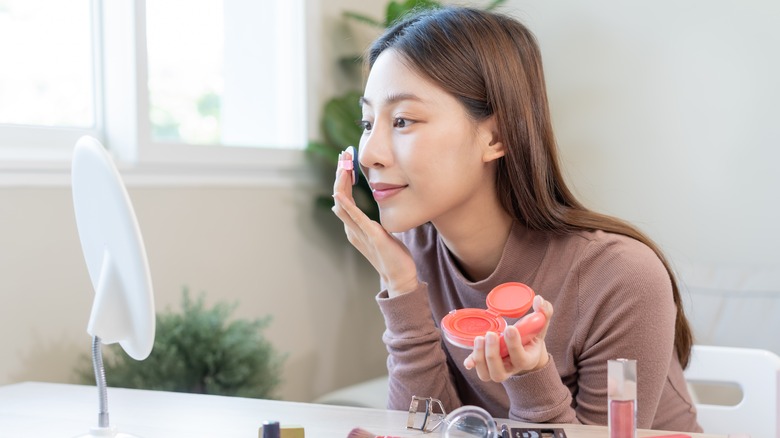 Kmpzzz/Shutterstock
The best brush for your blush product will depend on the formula you are using and how soft or bold you want the look. A makeup sponge is ideal if you're looking for a soft and subtle application or applying liquid and cream blushes. A sponge can help to give you a sheer effect that is perfect for a 'no makeup' makeup look. For powders, makeup brushes are the ideal tool as they will help you get a targeted application as well as more control over the intensity. If you want a subtle glow with powder blush, swirl and tap excess product off your brush before applying it to your cheek.
Another tool that is a great resource is your fingers. While applying blush with her fingers might not be the cleanest way to use this product, it can be the dewiest and most flawless way to wear blush. With the heat of your hand, the blush product will melt into your skin, giving you that glow-from-within look. While this might leave you with stained fingers, it's another way you can distribute tinted and cream blushes. Use a makeup brush or build up your product with a beauty sponge for intense coverage.
How to get the best blush application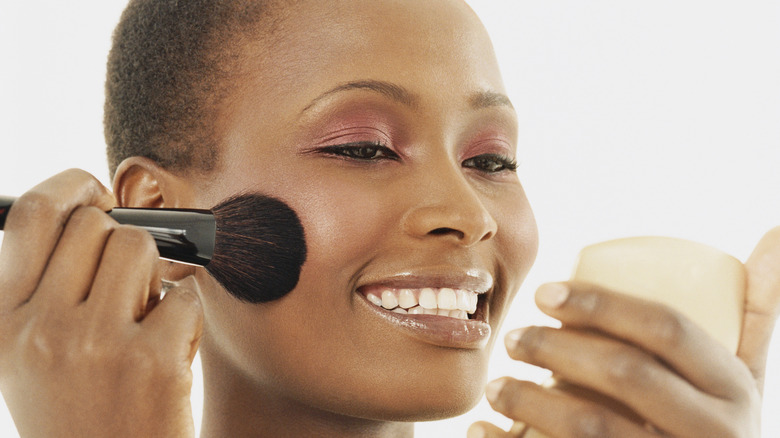 Digital Vision./Getty Images
Besides having the best brush for your blush product, you'll want to ensure you are taking all of the steps to apply blush like an expert. Before moving forward with your blush product, determine which formula is best for your skin type. While anyone can use any type of blush, those with oily skin types may have more of a problem when using liquid and cream blushes. Drier skin types could see a similar problem with powder blushes as it continues to mattify the skin. Opt for an opposite formula to create balance on your skin.
Depending on your face shape, your blush application could also differ. Those with oval faces will need to apply the product in a way that goes upward and lifts the face. Rounder faces should use the color of blushes to create more definition in the face through the play of shadows. If you have square faces, use a targeted approach to create the appearance of a fuller face. Heart-shaped faces should use blush to emphasize but soften the features of your face. Use blush to your advantage by diffusing the color properly and avoiding streaks. Since the color will usually pop, it's easier to notice streaks of blush. Regardless, you can never go wrong with adding some blush to your makeup look, as it will give you more color and warmth to the skin.