Cream Vs. Powder Blush: The One You Should Use Based On Your Skin Type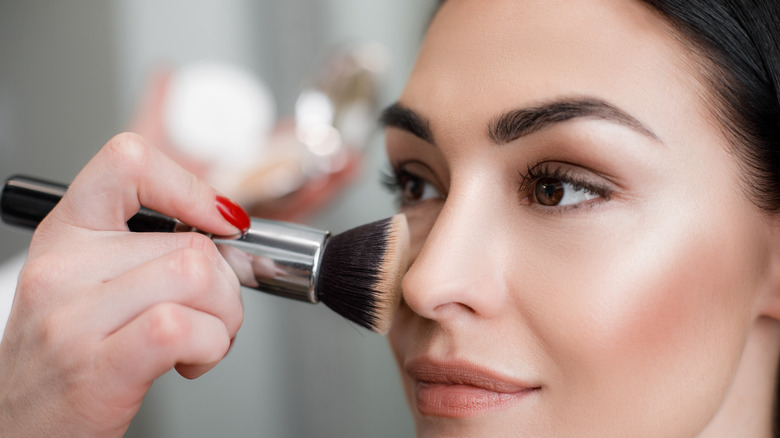 Olena Yakobchuk/Shutterstock
Blush has been a staple in the beauty world for decades, and for good reason. Not only does it add a healthy flush to the cheeks, but it also has the power to transform a dull complexion into a radiant one. Whether you prefer a natural, subtle aesthetic or a bold, statement-making pop of color, blush can elevate any look. Applying blush can be a fun and playful part of your beauty routine, allowing you to experiment with different colors and finishes to create a unique feel that reflects your personality and style. But to get the best possible application of blush, you need to be aware of the various blush formulas that exist.
Choosing the right blush can make a world of difference in the overall look and feel of your makeup. With so many different formulations available, from creams to powders to gels and more, it can be overwhelming to know which one is best suited for your skin. However, taking the time to choose a formula that works well with your skin type can help you achieve a long-lasting application while avoiding potential irritation or breakouts. While it's possible to use any formula, despite your skin type, choosing the one that is the most compatible with your skin will help you get a flawless finish.
Who should use cream blush?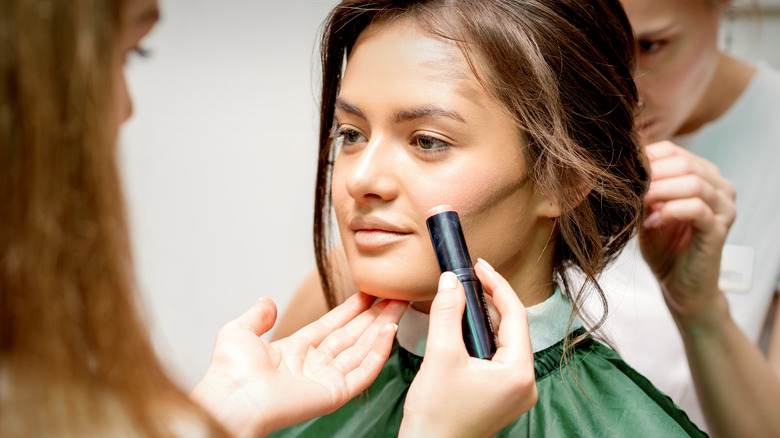 Okskukuruza/Getty Images
Cream blushes haven't always been the popular choice when it comes to adding color to your cheeks, but this formula has made quite the splash recently. With more cream blushes being released every season, it's hard to ignore the dewy and glowy finish it can give your cheeks.
Florence by Mills reiterates that those with drier skin types will benefit more from a cream blush finish. The creamy texture of these blushes allows them to blend seamlessly into the skin, creating a natural-looking flush that mimics a natural warmth. Cream blush will add moisture to the skin and achieve a hydrated look that can seldom be mimicked by powder blush.
Those with mature skin will also benefit from a cream blush, as mature skin tends to be drier. Cream blush will give a more natural pop of color to your cheeks without looking cakey. Since cream blush is softer on the skin, it can also help to diminish the appearance of fine lines and wrinkles, giving you a more youthful appearance. The dewiness of cream blush will help by providing the skin with more shine and a natural look than powder blush will. Ultimately, anyone can use cream blush, but those with oily skin should consider using setting powder to conceal the extra shine.
What to know about powder blush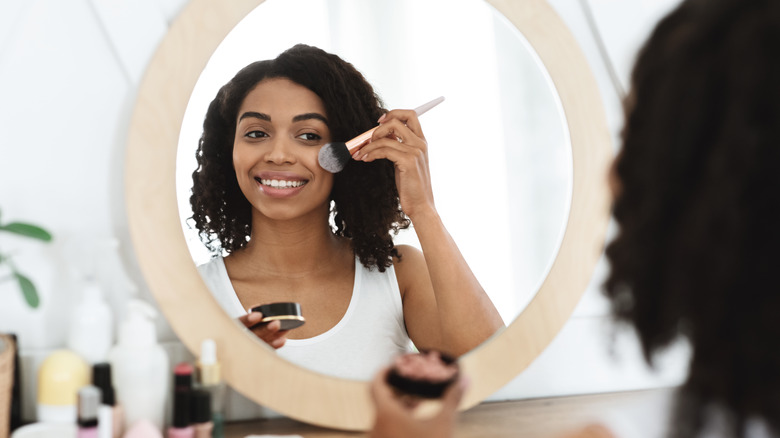 Prostock-studio/Shutterstock
When it comes to a classic blush formula, there's no more obvious choice than powder blush. Powder blush has always been the go-to choice due to its history in the beauty space. The formula of powder blushes can also be buildable, allowing you to achieve a more intense color payoff or a softer, more natural-looking flush depending on your preference. Additionally, powder blushes tend to have a longer wear time than cream blushes, making them a great option for those who need their makeup to last all day. Because of this, the powder blush is a popular choice for those with oily or acne-prone skin, as the dry texture of the powder can help to absorb excess oil and reduce shine.
The sheer, easy-to-blend formula of powder blushes can complement a range of skin tones. Additionally, powder blushes are easy to apply with a brush, allowing you to control the intensity of the color and achieve a more precise application. With a variety of shades and finishes available, from matte to shimmery, powder blushes offer a versatile and easy-to-use option.
If you have dry or mature skin, powder blush might highlight dry patches or fine lines. To add some shine or texture to powder blush, apply a transparent balm on top of your blush for a more dewy complexion.