The TikTok-Viral Dry Shampoo That You Can DIY (And Avoid Toxic Ingredients)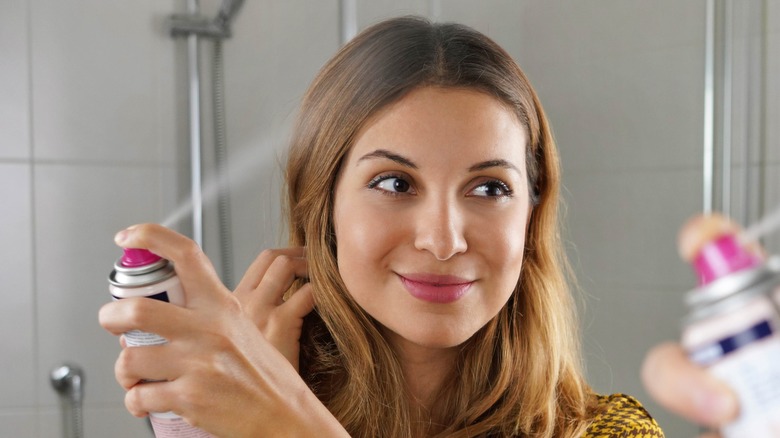 Zigres/Shutterstock
While dry shampoo adds extra longevity to your hair, many products are riddled with questionable ingredients. Naturally, this is sparking concern among consumers, as it is estimated that more than 1 million people in the U.S. have been using dry shampoo that may contain cancer-causing ingredients (via Daily Mail). Globally, these figures are likely to be much higher. However, there are thankfully some effective alternatives that individuals are discovering on TikTok, a video-sharing platform that is home to thousands of DIY hacks and beauty tips.
One of the latest beauty trends to surface on the platform involves making your own DIY dry shampoo — but there's a catch. The hack eliminates a series of toxic ingredients that you commonly find in dry shampoos, such as propane and butane. Of course, this is excellent news for your hair and health, as you'll be using safer ingredients. Now, let's break down this popular trend so you can brew up some DIY hair magic from the comfort of your own home.
How to make TikTok's DIY dry shampoo
Although DIY hacks can initially seem overwhelming, most are relatively easy to do. Thankfully, for TikTok's very own non-toxic dry shampoo hack, you won't need many ingredients. To create the natural, hair-loving shampoo, you will need 1½ tablespoons of cornstarch or arrowroot powder, a few drops of rosemary oil, 1 tablespoon of baking soda, and half a tablespoon of turmeric. Now you should be all set to whip up your transformative hair recipe.
To start, mix all the ingredients in a small bowl and add your rosemary oil. The last step is just mixing in the oil. If you have dark hair, try swapping out your turmeric for cocoa powder, as it may blend better with the natural color of your hair. Now, your non-toxic DIY dry shampoo should be ready to apply whenever you're ready to refresh your hair. To store it, you can keep it in your original bowl and add something over the top to seal it or find a spare leftover container to put it in. Even a small old bottle would work — but make sure it's dry inside.  
How to apply your non-toxic dry shampoo
The next step of the process is applying your dry shampoo to your hair. All you need is one nifty little tool — a makeup brush. In this instance, a powder brush is likely best in terms of application, as it will help to hold more of the product onto the bristles. If you're unsure of what makes a good powder brush, don't worry. When it comes to powder, you should opt for a brush with natural hair, as it will help to pick up more product and transfer it onto your hair (via Makeup.com). The brush should also be fluffy and in the shape of a dome, in a large to medium size, just like a blush brush. 
To apply the dry shampoo to your hair, dab your brush into the powder and apply it to the areas of your hair that you feel need some love and attention. Typically, you use dry shampoo around the roots. However, you should apply it as you see best fit. To ensure you don't waste any excess product, start with a small amount and build it up if necessary. Now, your hair should feel refreshed and ready to go!