20 Things To Do After You Get Engaged To Jumpstart Wedding Planning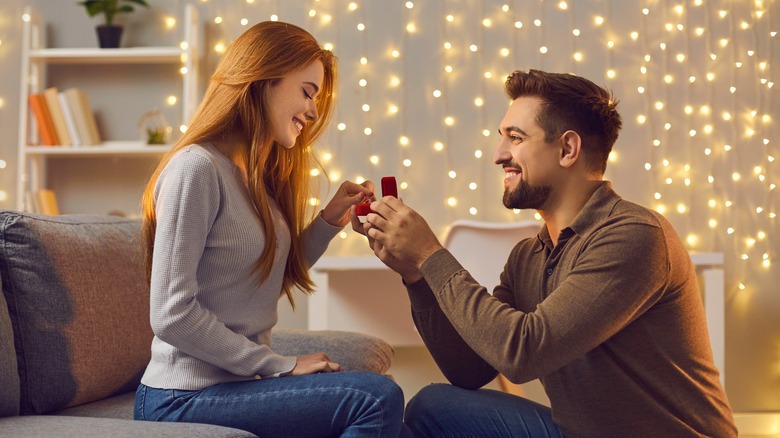 Studio Romantic/Shutterstock
If you've recently gotten engaged, then you know the many intricacies that come into play when you start planning your wedding. You might've pictured rainbows and butterflies during the wedding planning process when you were a child, but, as an adult, you know that's not realistic. Now that it's actually happening, it's time to let reality set in.
It's true that planning a wedding can be beyond stressful. The stress of making sure everything flawlessly comes together can even put a strain on your relationship with your fiancé. The good news is there are many things you can do to jumpstart your wedding planning early. Remember you don't have to take on every single responsibility yourself or place an endless amount of pressure on your fiancé either. If you chip away at wedding planning little by little, by following this list, you won't feel excessively overwhelmed by the time your big day finally rolls around. 
Share the news with loved ones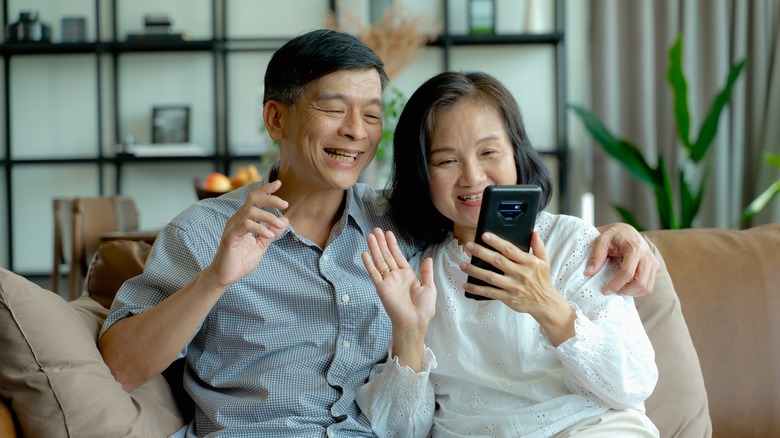 Jirus Malawong/Shutterstock
As tempted as you might be to immediately share the exciting news of your engagement on social media, it's crucial to share the news with your loved ones first. Before snapping too many pictures of your sparkling engagement ring to upload to Instagram or Twitter, hop on a FaceTime call with your most cherished family members to inform them of your life update. 
Before you make a precious TikTok video you'll eventually repurpose on Snapchat and Facebook, make sure you reach out to all your closest friends. Forgetting to tell people who love you about your engagement before posting about it on social media can lead to some uncomfortable conversations down the line. Keep in mind that the people who love you most likely want to feel that they're in the loop about major updates in your life before the entire world finds out. 
Celebrate with your new fiancé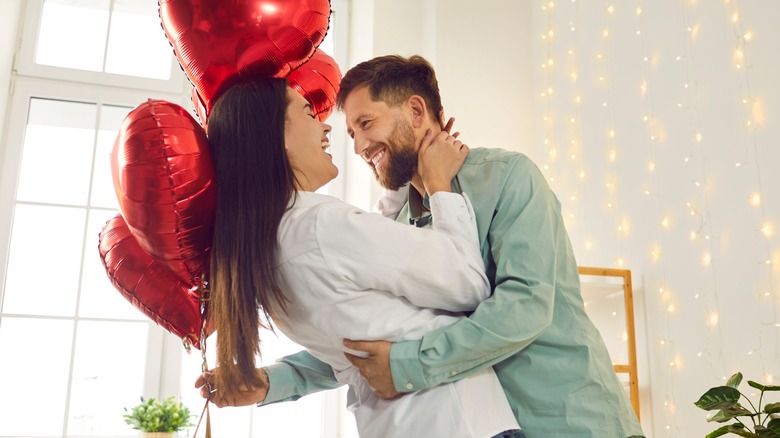 Studio Romantic/Shutterstock
You're only going to get engaged once with your fiancé, so it makes sense to celebrate the moment it unfolds. If you've been in a long-term relationship with your special someone and you've waited for this moment to arrive, it's vital to savor the bliss without letting it pass too quickly. Now that you're engaged, you don't have to jump right into the stress of planning a wedding within 24 hours. 
Instead, you both should celebrate this exciting milestone in your lives. Think about going to dinner at a fancy restaurant where the two of you can dress up, sip champagne, and bask in an upscale ambiance. Consider taking a small vacation somewhere, sometimes called an "engagement-moon," to revel in each other's company. If you've spent the bulk of your relationship remaining local in whatever city you live, why not embark on an adventure somewhere new while celebrating your upcoming marriage?
Create a wedding inspo Pinterest page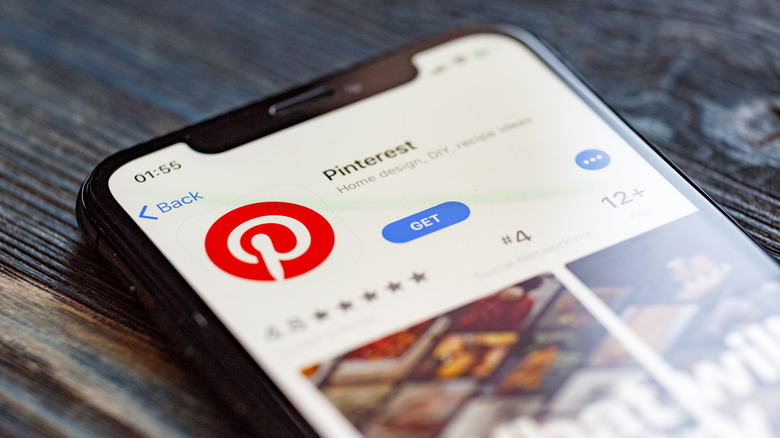 XanderSt/Shutterstock
Pinterest is a wonderful social media platform to use if you're interested in finding beautiful wedding inspiration. Professional wedding planners, photographers, and venue owners are constantly uploading videos and pictures of the gorgeous weddings they're in charge of managing. Blushing brides and giddy grooms have also been known to share memories of their breathtakingly beautiful wedding days on Pinterest as well. 
Pinterest is a great place to check for inspiration in regards to wedding day decorations, floral arrangements, wedding gown styles, wedding song playlists, wedding dinner entrées, and much more. Find the Pinterest app on your Apple iPhone or Google Play Store for free. Once you've created your own individual Pinterest account, start pinning things that interest and excite you to different boards. Or, you can create one giant board that's specific to your upcoming wedding, filled with anything wedding-related you come across.
Follow Instagram, TikTok wedding inspo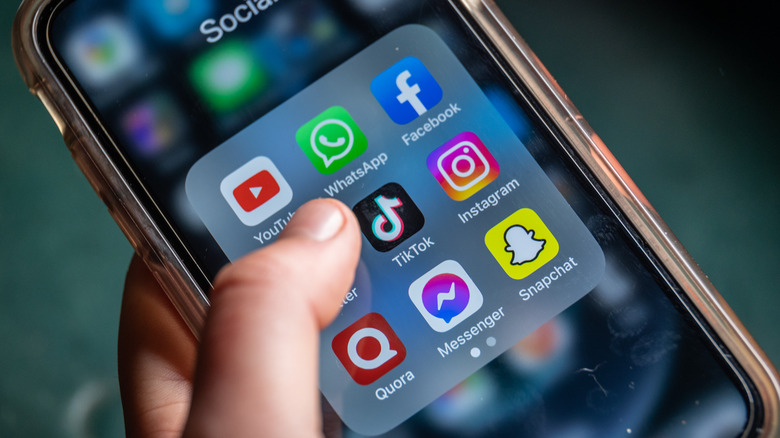 Matt Cardy/Getty Images
It's obvious that Pinterest is one of the best social media platforms to use for wedding planning, but that's not a knock against other platforms such as Instagram and TikTok. You can still find loads of wedding inspiration on Instagram and TikTok thanks to the simplified search bar access you have on both, as well as the ease you'll have in tapping different relevant hashtags. 
On TikTok specifically, women who are getting married within the year (or the following year) are able to join together in communication under hashtags like #2023bride and #2024bride. Tapping the hashtag that's relevant to you gives you the chance to interact with other brides who are in the same phase of planning. It also allows you to gauge how much progress you've made in comparison to other brides who are planning to get married within the same timeframe as you. 
Build a wedding gift registry with your fiancé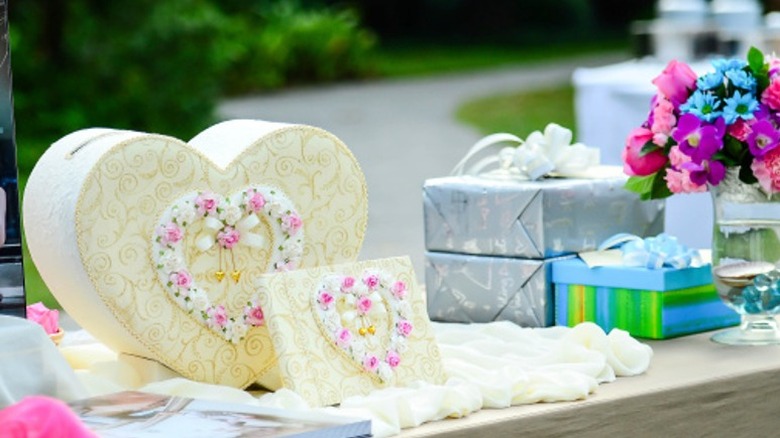 Nuiiko/Getty Images
One of the most enjoyable parts of wedding planning is building a gift registry with your fiancé. This is a great time for the two of you to enjoy the moment while getting excited about all the lovely gifts you're about to receive. When you get married, your friends, family members, and loved ones are fully aware you're building a life with your person. 
Whether the two of you already live together or not, it's possible you'll need new appliances to share, new bedsheets, new pieces of technology, new furniture, and more to get your lives together started. Make your gift registry as outrageous as you want, depending on how you and your fiancé are feeling! Also, pay close attention to your actual needs on top of your wants. The registry should be filled with a good number of essential and fun items.
Ensure your ring is properly sized and insured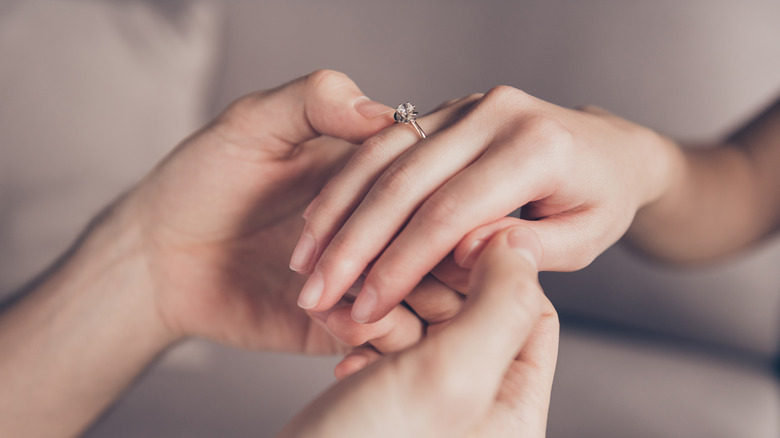 Roman Samborskyi/Shutterstock
Now that you have a stunning ring on your finger, you need to make sure it's both properly sized and insured. There's a chance your ring isn't the right size if your fiancé went out of their way to keep you in the dark about their proposal plans. If they genuinely wanted you to be surprised on your engagement day, they likely didn't have the chance to ask you questions about your finger size at any point. 
Wearing a ring that could fall off at any moment means you're risking the chance of losing it wherever you go. As soon as you realize the ring isn't fitting you flawlessly, head to the jeweler where it was purchased to have it properly sized. Next, you or your fiancé should contact your insurance company to ensure the ring is covered in case of loss, theft, or damage.
Brainstorm wedding playlist songs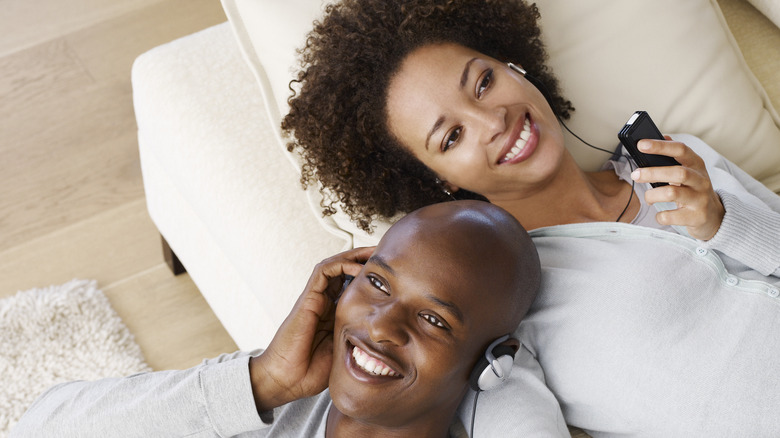 Ojo Images/Getty Images
Similar to creating a bridal registry, brainstorming wedding playlist songs is a fun and exciting thing to do with your fiancé and something you can even start doing on your own if you prefer. Think back on any lovey-dovey songs that represent the relationship you share together. Try to remember songs playing in the background when you first met, when you decided to become an exclusive couple, when you shared your first kiss, or when you were intimate with each other for the first time. 
Recall any background music playing when you and your partner officially got engaged. Pay attention to the songs you've openly dedicated to your partner over the course of your relationship and any songs your partner has dedicated to you. If music has played a significant role in your relationship in the past, this is your chance to hone in on that.
Discuss potential wedding cake flavors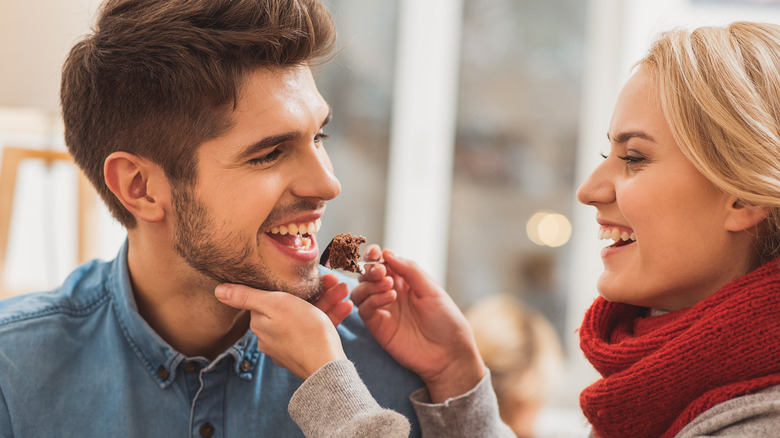 Yakobchukolena/Getty Images
Discussing potential cake flavors with your fiancé is another conversation that will likely excite both of you. You can keep this task as simple as possible by grabbing a sheet of paper and writing down each of your favorite cake flavors, frosting flavors, and potential inclusions. If you want to take the next step in this process, sit down at a bakery and go through the cake-tasting process to see which flavors you and your fiancé agree on. 
Some of the most common and popular cake flavors for weddings include vanilla, chocolate, red velvet, and butter cream. You and your fiancé might prefer cake flavors not frequently used at weddings such as carrot cake, lemon cake, or raspberry. The final flavor decision is up to you! Your wedding cake will make a statement among your guests, which means it should be completely on point. 
Choose your wedding day theme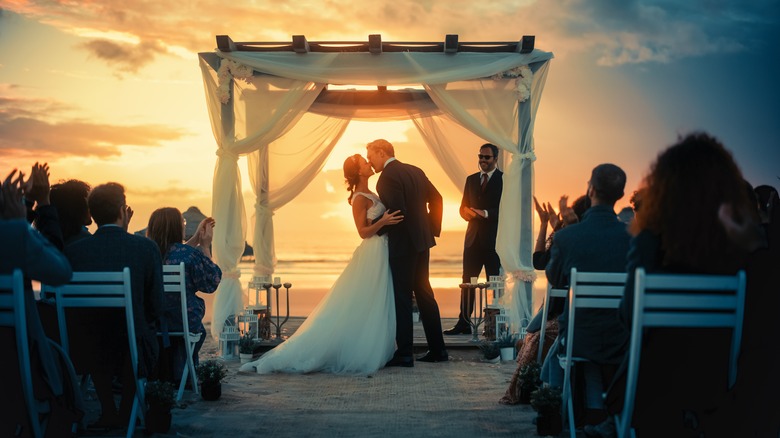 Gorodenkoff/Shutterstock
Deciding on a wedding day theme shouldn't be the most difficult step to take since you probably already have an idea of what you want the big day to look like. If you knew from early on in your childhood that you wanted to have a rustic wedding, you probably already know you'll need tons of earth-toned hues, wooden barrels to be used as bar tables, and a gigantic barn as a backdrop.
If you've always known that you wanted to have a vintage-themed wedding, making sure there are pieces of outdated and old-fashioned decoration scattered everywhere is an absolute must. This includes strands of pearls, decorative bird cages, candles, and tea cups. There are plenty of wedding day themes to take into account, so take your time when making this decision, as the theme will set the mood and tone of the entire event.
Determine whether you're taking your fiancé's last name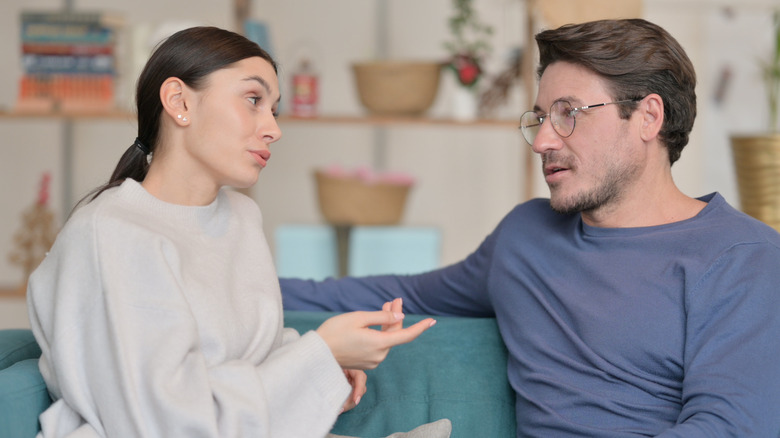 Zmaster/Shutterstock
To ensure you and your future spouse feel united as a team that represents happiness and stability, taking on their last name will probably help you feel that way. In that same token, it's vital to note that you might potentially have an identity crisis after realizing your name has completely changed to something else. The idea of leaving your "old life" behind and taking on a new life with a new name can be quite daunting. 
Keep in mind that switching your last name on all of your legal documentation and paperwork isn't the easiest thing to do, either. The paperwork is a hassle, and you'll have to take trips to the DMV and the Social Security office to line everything up. You'll also have to contact your credit card companies, banking institutions, and the HR department at your job to update them.
Start jotting down ideas for your vows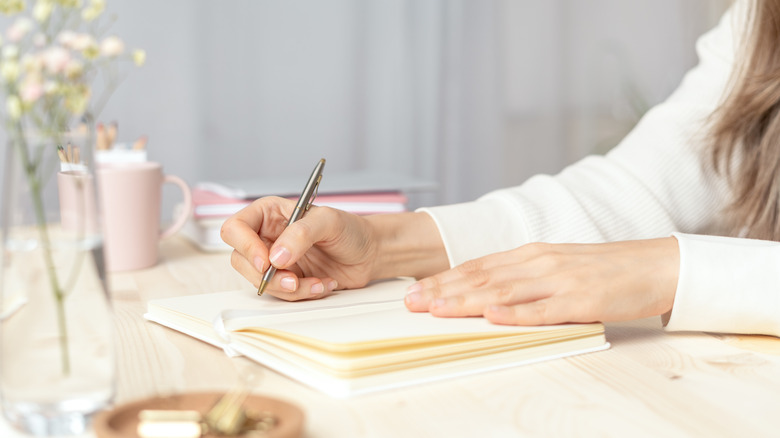 Ostanina Anna/Shutterstock
Sharing vows with your future spouse in front of all your loved ones is a special moment you'll remember forever. Your vows are meant to highlight all the positive details of your relationship, from blissful memories to descriptions of the exact moment you knew you were falling in love. Thought-provoking anecdotes about time spent together will shed light on your love for each other in front of everyone who cares about both of you.
Some people start writing down ideas for their vows way before getting engaged. If you've already been picturing a forever future with your partner, you might have a note created on your phone to keep track of all the sweet topics you want to cover in your vows someday. This isn't the case for everyone, though. It's perfectly fine to wait until you're officially engaged to start jotting down ideas for your vows. You might even want some helpful expert advice for writing your own vows.
Sign up for a gym membership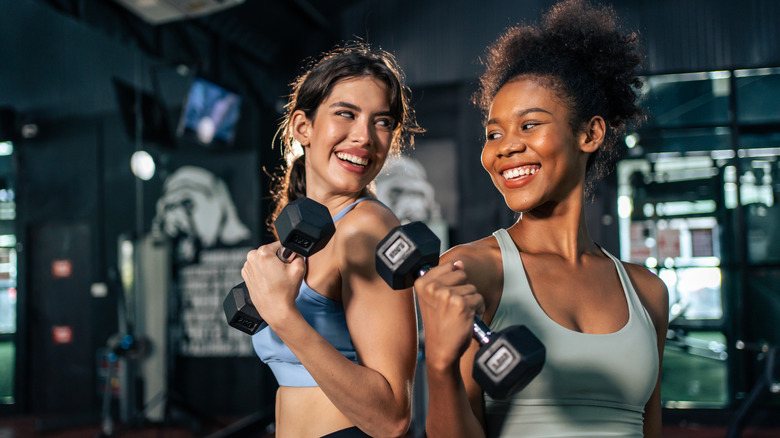 Kiwis/Getty Images
Signing up for a gym membership is a great idea after getting engaged to your forever person. The main reason you'd want to do this is to look and feel as beautiful as ever on your wedding day. Confidence is key, and most people naturally feel more confident when they physically look their best. The most elegant tux or gown will only look even more ravishing if it's worn by someone who's in great shape.
You have plenty of options to choose from when it comes to gym memberships and similar programs. If there aren't any local gyms that pique your interest, you can opt for a personal trainer who will meet with you at a park or even at home for consistent sessions. If basic workouts simply aren't your thing, you can take part in Zumba classes, Pilates, or other group fitness classes to reach your goals.
Consider hair and makeup ideas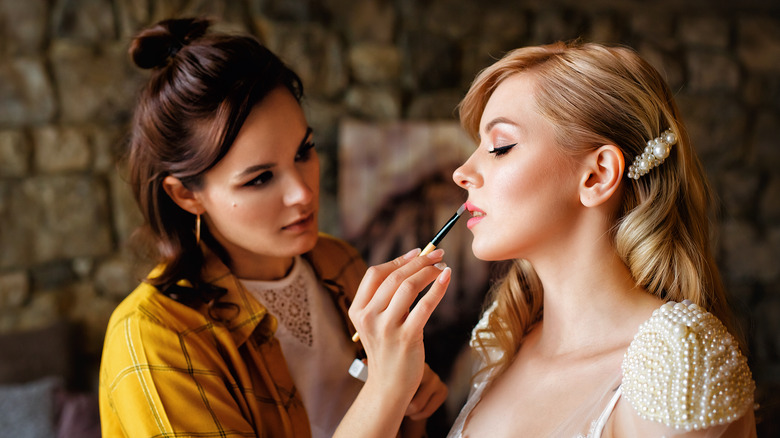 TsElena/Shutterstock
There are many different routes to take when it comes to your wedding day hair and makeup. Whether you've settled on your dream dress or not, you can still decide what moves you want to make with hair and makeup. Many brides pay for professional makeup artists and hair stylists to swoop in and handle business when the time comes. This even applies to brides who typically don't bother with makeup or hairstyling at all.
As far as your hair, consider whether you'd prefer an updo or something different. It's fairly common for brides to wear their hair in stunning buns with veils and tiaras tucked in at the perfect positions. Some brides prefer to wear their hair down, though. You might picture yourself with stick-straight layers or large ringlets and curls bouncing around as they frame your face. Makeup choices are just as crucial.
Narrow down your bridal party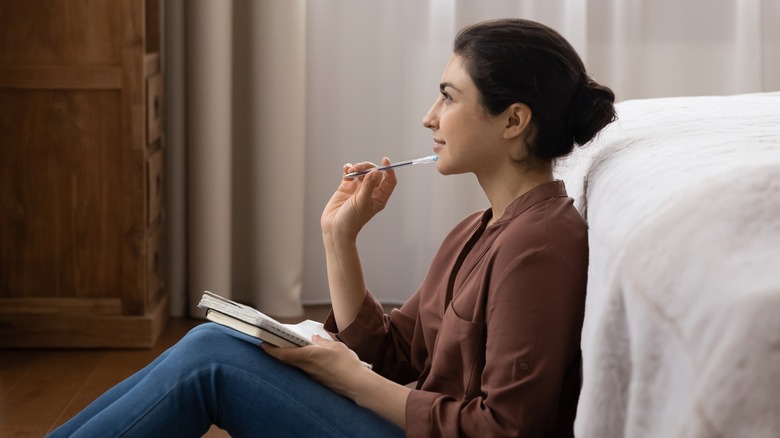 fizkes/Shutterstock
Determining who will be in your bridal party can go one of two ways. You either already have a solid idea of who will be included and you're feeling peaceful about it, or the idea of picking and choosing among loved ones is seriously stressing you out. Regardless of where you stand, sooner or later you're going to have to narrow down who will be included in the final lineup.
When creating your initial list of bridal party participants, think about who's been there for you through all your highs and lows. Who's been supportive of you in your romantic relationship from the beginning? Who do you consider completely trustworthy and reliable to show up for you on a day as important and pivotal as your wedding day? Who would respect and appreciate the honor of being invited to be in your bridal party the most?
Launch an official wedding website with your fiancé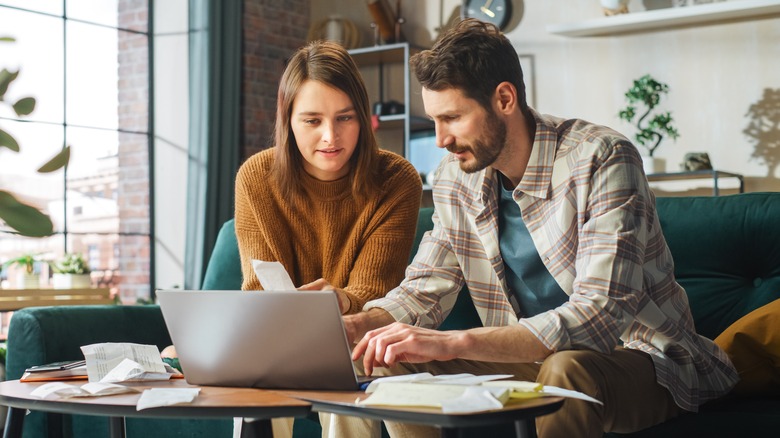 Gorodenkoff/Shutterstock
Launching an official wedding website with your fiancé is a smart move to make after getting engaged. The website will become a hub for both of you to visit and revisit anytime you need to discuss your vendors, wedding guests, gift registry, and more. Make sure you both have working login credentials and access to the site to make updates whenever they pop up.
A wedding website is also a great place for your guests to stay in the know about everything going on. Instead of having to reach out to you directly for clarification on the wedding venue address, start time, and more, guests can check out your wedding website to have all their questions answered. You can also add a questionnaire to your website where your guests can submit any concerns or messages they have leading up to the event.
Have an engagement photo shoot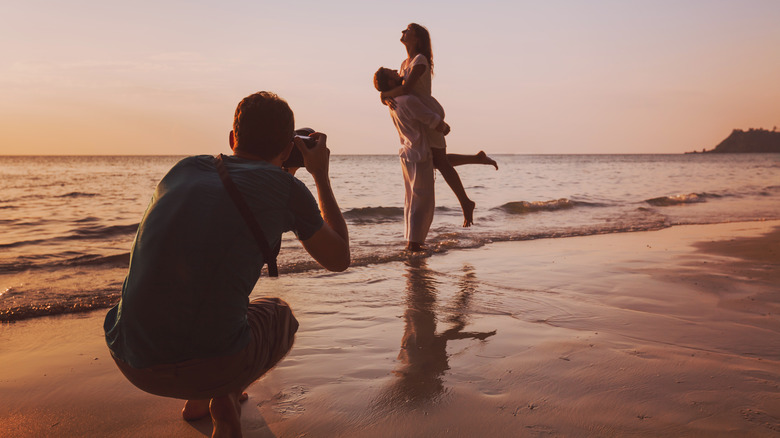 Song_about_summer/Shutterstock
Having an engagement photo shoot is an absolute must after getting engaged. The best part about it is that you and your partner will always have your lovey-dovey pictures to look back on in the future. Of course, wedding day pictures will always be the most important, but engagement pictures highlight the milestone you two had to reach before getting to your wedding day.
Another benefit of an engagement photo shoot is that the pictures can easily be repurposed and used for many other things outside of shares on social media. Use them for the save-the-date cards you send to invite everyone to your wedding. Use the pictures on your wedding website to get guests excited about the union of your love. Decide on a gorgeous setting where the photo shoot can take place, and pay attention to the time of day you schedule for sun placement and lighting purposes.
Start planning an engagement party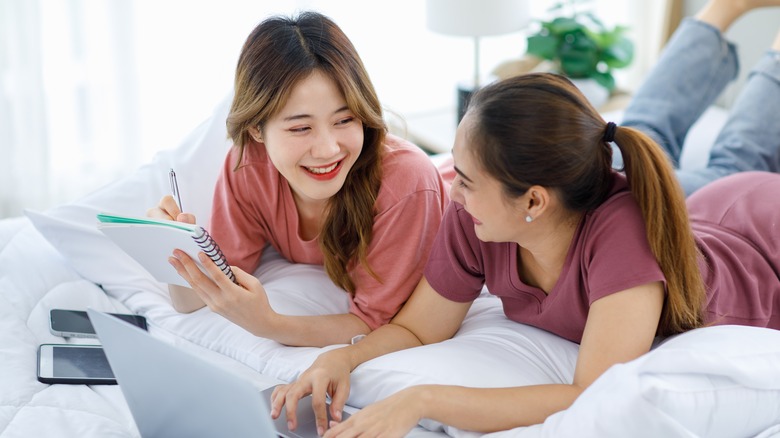 Bangkok Click Studio/Shutterstock
Now that you're engaged, it's safe to assume your loved ones want to celebrate with you. It's time to start planning your engagement party. This is the perfect time for people to see you and your fiancé in person to congratulate you on your milestone. It's also a great time to accept small, thoughtful gifts from people who are excited about your future leading up to the wedding.
You can host the engagement party in a space where everyone will feel comfortable celebrating. You can also release the responsibility of hosting your engagement party by allowing someone who loves you to handle things. If someone else steps up to host your engagement party for you, just be sure to let them know about any expectations you have. Be clear on who should be invited, what kind of decor you'd like, what type of music should play, and more.
Start planning bachelorette and bachelor parties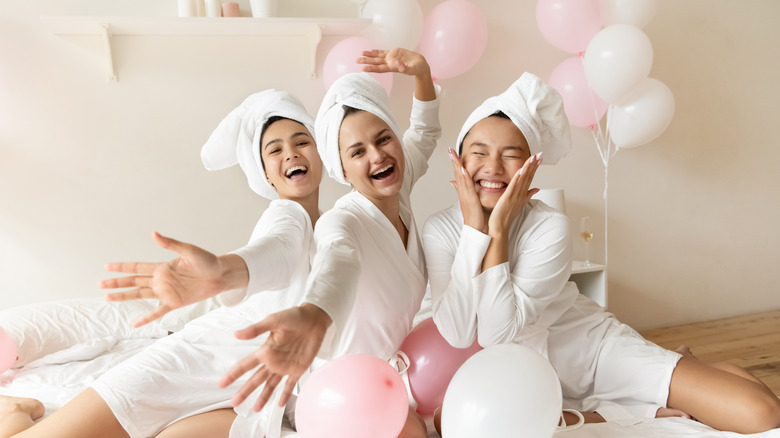 fizkes/Shutterstock
Planning your bachelorette and bachelor parties should be an enjoyable activity for you and your fiancé. Many people already have an idea of what they want to do for their bachelorette and bachelor parties before officially getting engaged. If there are any fun destinations that stand out to you, write them down for further investigation. If Costa Rica is the one place calling out to you, find out how much it will cost for all your closest friends to get there.
If you want to keep your event cost-effective and simple, consider going to a local nightclub or day spa with your besties instead of traveling somewhere that would require expensive transportation. Remember that this event is supposed to help you bond with the members of your bridal party while giving you the chance to fully let loose before tying the knot with your fiancé.
Go wedding dress shopping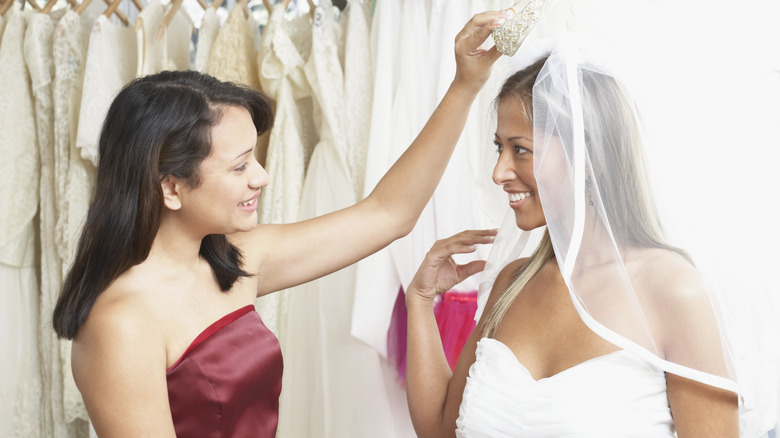 Jack Hollingsworth/Getty Images
As soon as you start shopping for that perfect wedding dress, everything will start to feel real for you. Before you're dressed up in the gown of your dreams, your wedding will still feel like some far-away fairytale in your mind. Set up time to go dress shopping with your loved ones when you feel ready to start your mission of finding the ideal gown to wear while walking down the aisle.
Saying "yes" to the dress isn't something you should take lightly, either. This dress signifies much in terms of your big day! Deciding the hemline, color, pattern, and design of your dress should not be an overnight decision. Plenty of brides take their sweet time with this, so don't feel rushed. Keep in mind that you can start scheduling dress fittings right away, but you don't need to cave into the pressure to settle on a dress before you're ready.
Think about honeymoon destinations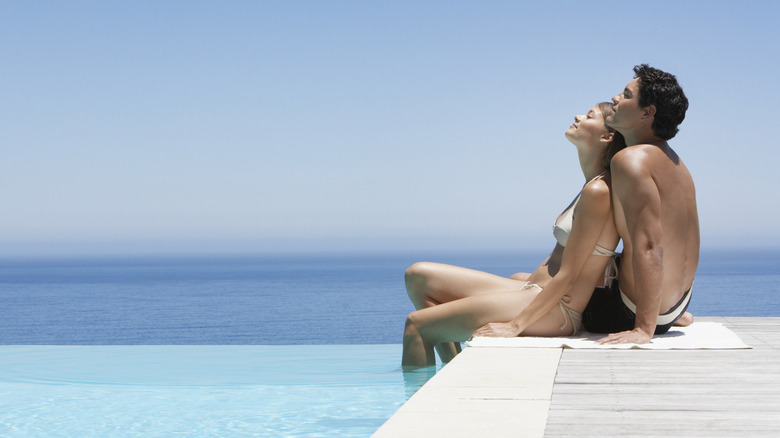 Tom Merton/Getty Images
It's beyond fun to start brainstorming honeymoon destinations with your fiancé after getting engaged. Maybe the two of you love traveling to different places all the time and your honeymoon will be another fun trip to check off your bucket list. If you've already explored an abundance of beautiful places together, you'll have to get creative while thinking of honeymoon destinations to avoid any overlap. 
It's also possible the two of you will return to a place you've already been together because you know how much you adore it. Maybe you and your fiancé have never taken any real trips together anywhere. If this is the case, your honeymoon will be the first amazing vacation you take together as a couple. As your first joint trip, the opportunities are endless, and you won't have to worry about avoiding any repeated destinations since the world is your oyster.