Workout Wooing: Could Your Perfect Match Be At Your Gym?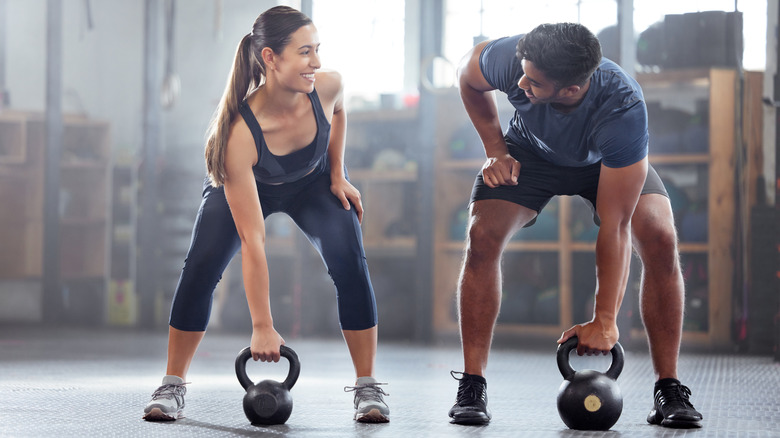 Peopleimages/Getty Images
You gotta love an alliterative dating trend, but what exactly is workout wooing? A somewhat new trend, workout wooing is a form of dating that involves having a first date centered on exercise, as opposed to something more traditional, like dinner and a movie. This could mean meeting at a gym, going for an outdoor run, or doing a fitness class together.
Advertisement
While this may be a bit unorthodox or even uncomfortable for some, it's becoming more common for singles who exercise regularly. After all, many of them are already working out in gyms or fitness centers, so if they meet a potential love interest there, deciding to exercise together later becomes a logical transition.
Almost half of the single millennials involved in a study conducted by the dating app Bumble and fitness brand Gymshark admitted that they would actually prefer to meet someone while working out than at a club (via Women's Health). So could your perfect match be at your local gym? It's certainly possible, based on a few surveys, the sheer number of gyms around, and the existence of social media groups. And thanks to fitness dating apps, the odds of meeting your "person" are higher today than they were in the past.
Advertisement
What are the odds?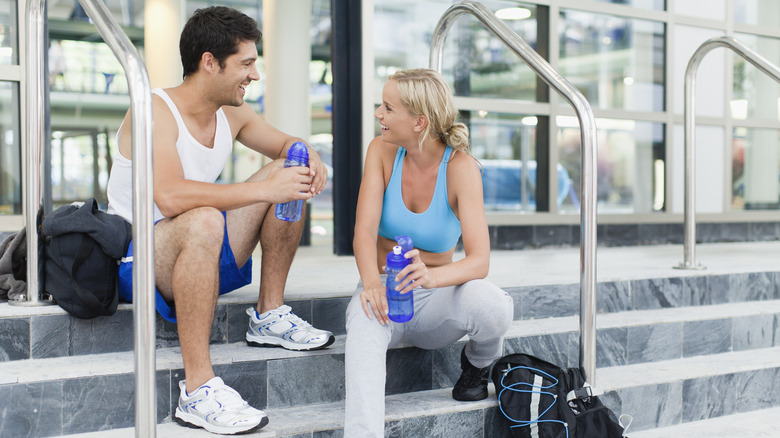 Hybrid Images/Getty Images
Gym chains have been around in the United States since the 1960s, according to ClubReady, but there weren't very many of them around back then. Plus, there weren't as many women exercising in public in the '60s as there are today (with the exception of aerobic studios). Needless to say, a gym wasn't a popular place for someone to meet a potential love interest 60 years ago. Today, with the prevalence of boutique fitness studios, 24-hour gyms, health centers, and other fitness centers, the odds have improved.
Advertisement
In 2020, Muscle & Fitness published an article that featured eight couples, all of whom met at the gym. Later in 2022, BuzzFeed conducted a study and asked the BuzzFeed Community the "how did you meet" question. One woman said she met her husband at a boxing club. And in 2023, Zola shared its list of top places where couples met. "At the gym" ranked in at the ninth most popular place.
Social media has helped improve the odds of meeting a potential partner at a gym or fitness studio. Today, you can find Facebook groups like Orange Theory Singles and Planet Fitness Dating, where you can post about a workout and privately message someone who piques your interest.
How a fitness dating app can help boost your odds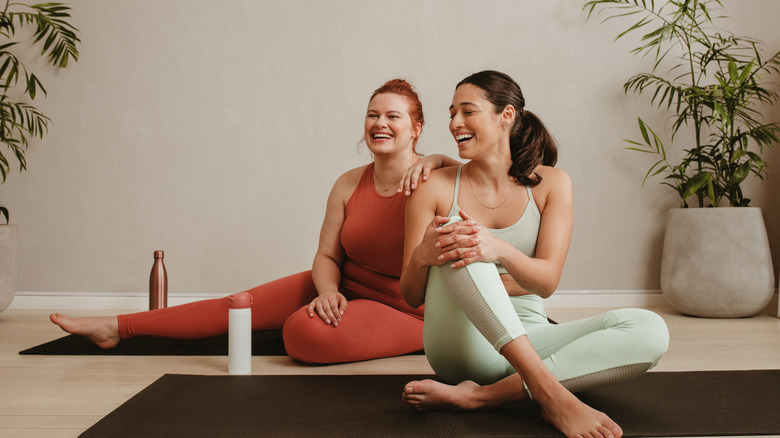 Jacob Lund/Shutterstock
Dating websites and mobile apps like Tinder, Bumble, and eHarmony have quickly become some of the most popular ways to find a romantic relationship. Among the long list of dating apps geared toward singles who love to exercise are Datefit and Fitafy. Both apps claim to be a community for people who love to exercise, value health and fitness, and hope to meet others who share their goals and interests.
Advertisement
One of the latest fitness dating apps available, Lunge, launched in January of 2023. It gives members the opportunity to meet someone at their local gym. "Our research shows that individuals who attend the same gym or exercise class are very compatible," app founder Steve Cole said (via GlobeNewsire).
It's really a no brainer when you think about it. Two people, in the same place (a gym), doing the same thing (exercising) on a regular basis are likely to have similar goals and interests (being active and healthy). The same can be said for people who practice their hobbies in public, like disc golf or bingo. 
So if you want to increase your chances of meeting your perfect match at your gym, a fitness dating app or a Facebook group for your fitness center can help.
Advertisement