The Eyeliner Look That Will Complement Almond-Shaped Eyes Best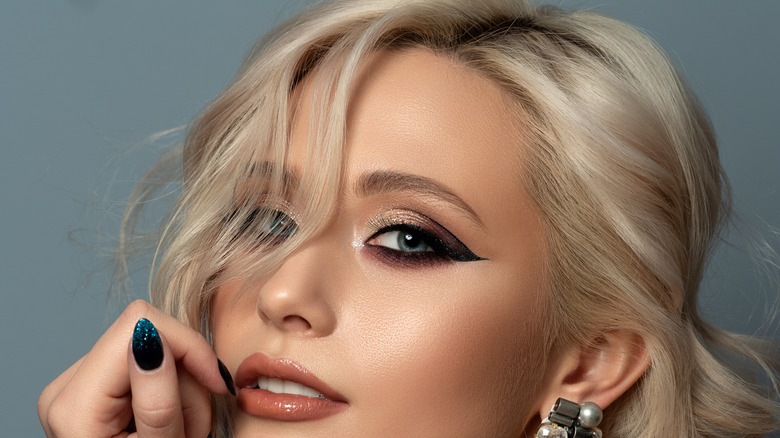 ldutko/Shutterstock
Since times immemorial, almond-shaped eyes have been considered the highest standard of beauty. Right from Cleopatra's kohl-rimmed look to Priyanka Chopra's sultriness, eyes in the shape of almonds have lent themselves beautifully to any sort of makeup look for centuries. In case you are confused about what your eye shape is, almond-shaped eyes are rounded in the middle and taper off alluringly to the sides. This shape ensures there is plenty of scope to experiment with a variety of makeup looks.
Advertisement
For those who love using eyeliner more than other makeup items, this eye shape is also easy to experiment with. But most makeup artists and experts agree that the eyeliner which compliments almond-shaped eyes best is a winged-out or cat-shaped eyeliner.
Makeup artist Sara Edward Wayne tells Who What Wear that the 'outside-in' liner technique is most suitable for almond-shaped eyes. For this, you need to draw "a straight line from the upper outer corner of the lash line, bringing it to the center of the upper lash line, and then drawing another line at the outer corner to start your wing. Finish it off by filling in the line across the eyelid and adding a swipe of mascara for flirty lashes." She also advises staying very near the lash line while making the line for it to look its best.
Advertisement
Other eyeliner techniques to try for almond-shaped eyes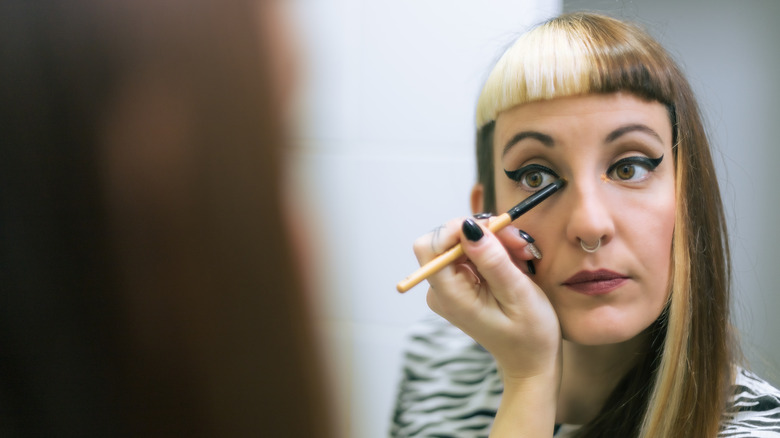 David Esteban/Getty Images
Just as every almond is not the same, every almond-shaped eye isn't alike either. You can stand apart from other almond-eyed beauties by following the natural shape of your eyes. "I personally believe each eye will bring out the most flattering and natural shape of each eye on its own. Some eyes work particularly well with eyeliner and the feline look. And some are rounder, where I go for the more Dolly look. Each eye almost takes me to a different look," makeup artist Jo Baker tells Who What Wear.
Advertisement
If you prefer to stick with a cat eye or a winged liner, you can still experiment with how dramatic or subtle the liner is. A tried and tested look is to start with a thin line from the inner corner of the eye and make it thicker as you move outwards. The thickness will depend on the level of drama you seek. Eyeliner applied to the waterline can also drastically change your eye look. A darker color will give a sultry look and close the eye in, while a brighter or lighter color will make your eyes look bigger than they are. You can even play around with a bold, graphic liner to really make your eyes pop.
Tips for enhancing eyeliner on almond-shaped eyes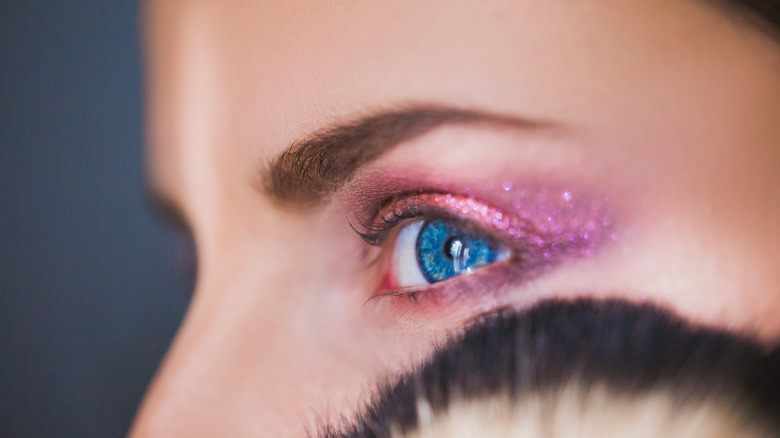 Myroslava Malovana/Shutterstock
Fortunately, there isn't much you need to avoid in terms of makeup looks if you have almond-shaped eyes. If you are wondering if liquid or pencil eyeliner is better for you, the liquid kind is perhaps easiest to use on almond-shaped eyes as it allows you to effectively control the amount of product you apply. Gel or pencil liners also work well but can be harder to control in terms of achieving a particular result.
Advertisement
Attempt to bring attention to the inner part of your eye as that will enhance your almond eyes for a beautiful look. You can do this by wearing light or bright-colored eyeshadow in the inner corner where your eyeliner is applied very thinly.
Dramatic cut creases also look flattering on almond eyes as they enhance the curvature of the eye shape. If you enjoy experimenting with colorful eyeshadows, you can use a single eyeshadow applied in a winged-out shape to mimic eyeliner, but with a different result.
Don't forget to play up the undereye area by adding either a colored eyeliner in your lower lash line or using a pop of colorful shadow. Makeup artist Jamie Dorman tells Byrdie that adding eyeshadow on the bottom lash line can serve to emphasize your eye shape. She prefers to exaggerate the eyeshadow in the outer corners of the lower lash line for maximum effect.
Advertisement