The Backwards Makeup Hack Promises Long-Lasting Makeup In Even The Worst Humidity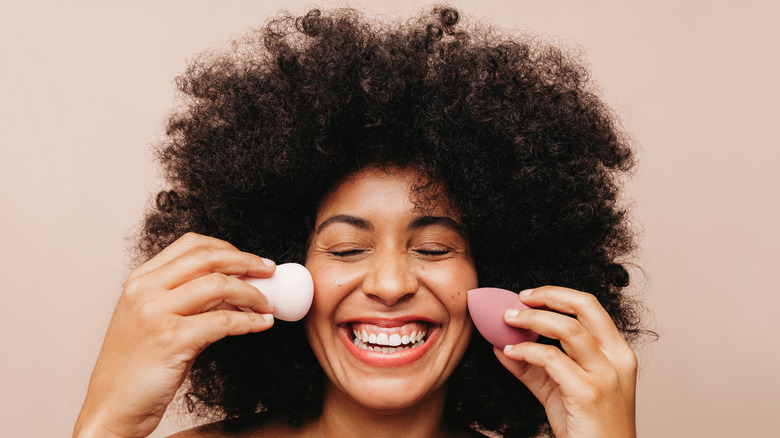 Jlco - Julia Amaral/Getty Images
We've all been there before — it's one of the more sweltering days of the year and you are determined to keep your makeup in place. Even if your makeup game is strong, you might be a little anxious, given the weather conditions. Humidity, in particular, is notorious for wreaking havoc on everything from our skin to our hair. Thanks to TikTok, though, there's a life hack for this all-too-common problem.
Advertisement
Makeup experts know all of the tricks of the trade when it comes to the application of cosmetics. However, TikTok influencers have turned technique on its head with the backwards application of makeup. It's exactly what it sounds like — applying everything from your concealer to your mascara out of order, but for good reason. If you do it correctly, you can supposedly walk outside on even the most humid of days and not have to worry about your makeup creasing or your face melting away — literally.
Cosmetic company pros and TikTok makeup gurus alike are all about it, but is the backwards makeup hack really the key to looking flawless all summer long? You might think you already know how to give your makeup maximum staying power, but this hack has officially changed the game.
Advertisement
How to begin the backwards makeup TikTok trend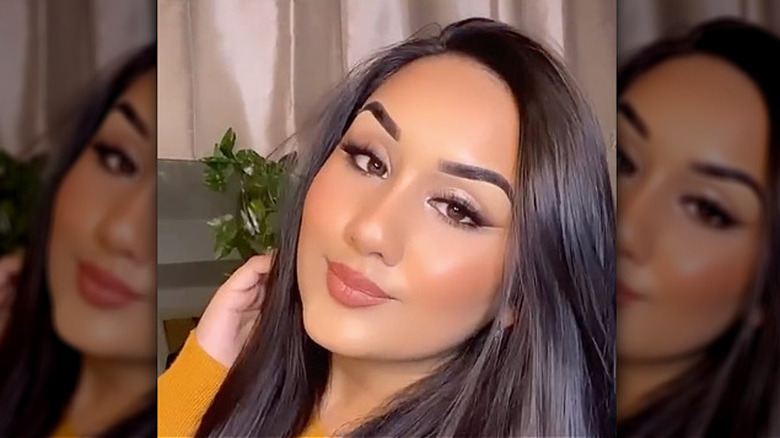 TikTok
The backwards makeup hack is officially the application method you'll want to use this summer if creasing, smudging, and other humidity-related issues are currently top of mind. There are already several videos on TikTok, showing beauty influencers how to execute the process perfectly — the hashtag "#backwardsmakeup" has more than 3 million views. If you're ready to begin, leave your skepticism at the door and grab your makeup bag.
Advertisement
If your skin leans toward oily, start by using an oil blotting sheet to remove any excess to give yourself a flawless base. Then, apply a moisturizer of your choice, but be sure to use a product that you know your skin can easily absorb. A gel, for example, may be perfect in this situation, or an oil-free lotion that doesn't clog your pores. Once the moisturizer has set, apply your go-to setting powder across your face. Be sure to get those pesky areas where oil is prone to building up during the day — your eyelids, nose, and under-eye areas, just to name a few.
After you have applied your setting powder, it's time to grab your setting spray. Spritz the spray onto your face, and be sure to focus on the more oil-prone areas, just as you did with your setting powder. Give it a moment to dry before preparing for the final steps.
Advertisement
Completing the backwards makeup look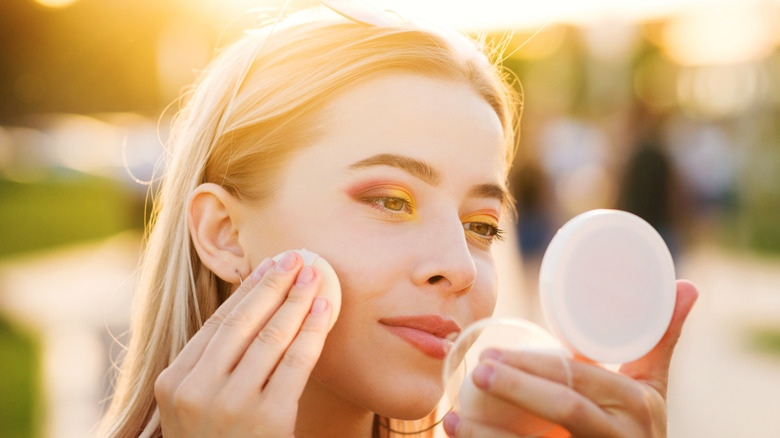 Vagengeym_elena/Getty Images
To solidify your backwards makeup look, you might want to reach for a primer to ensure that sweat and oil buildup doesn't become problematic later in the day. Apply it to areas of your face that are prone to unwanted shine. Once you've finished, you can top off the look with your favorite foundation. Blend it to your liking, and you're ready to head out the door into the heat of the day.
Advertisement
Although TikTok is usually credited with this process rising in popularity, some makeup experts say that it's actually been around for a long time. "I have seen an application technique similar to this when working in stage makeup, for dancers, or even in Bollywood films, where the actors or dancers need a full-coverage foundation that can be sweat through and won't move," makeup artist Yvonne Macinnis told Allure.
However, one factor to consider before you make this your go-to method for applying makeup all summer long is your skin type. Many makeup artists caution that those with dry skin might not be as satisfied with the results. As Tommy, an NYC-based makeup artist, explained to Allure, "I'd be hard-pressed to recommend this to someone whose skin is dehydrated, flake- or fade-prone." Cracking or flaking, for example, are real issues that can pop up while using this method. That being said, there's no harm in giving it a try — especially when humidity is a real threat.
Advertisement