The Ultimate Guide To Color-Correcting Concealers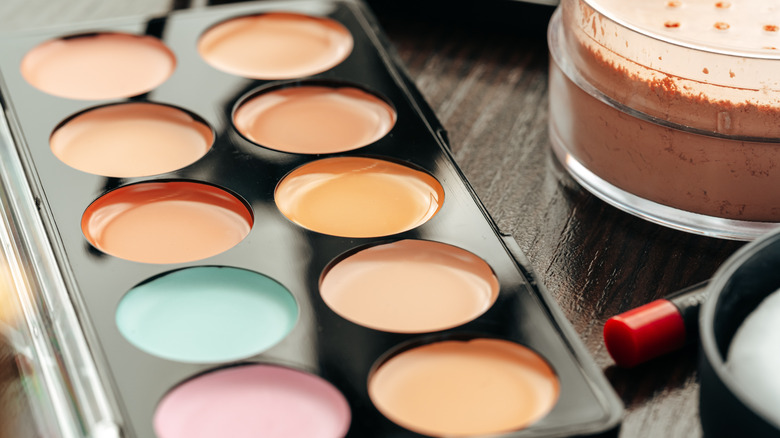 FabrikaSimf/Shutterstock
Before we jump into the world of color-correcting concealers, let's take a moment to acknowledge just how common and normal acne, skin redness, undereye circles, and any form of skin discoloration are. While minimizing the appearance of those can help boost your confidence, we also highly encourage you to embrace your skin even on its worst days. After all, makeup should be fun and help you feel better, but it's important to remember that we don't need it to be beautiful. Now that we've got that out of the way, let's talk about color-correcting concealers.
Advertisement
Do you ever feel like no matter how much of your go-to concealer you use, your undereye circles or rosacea are still popping through? And the more concealer you lay on top of it, the cakier your makeup looks, making you feel even more self-conscious than before you started. If that's the case, you definitely need to incorporate color-correcting concealer into your routine. Trust us, once you get the hang of it, you will realize just how much of a game-changer it is. 
When used properly, color-correcting products can help you achieve a flawless, natural-looking finish without using heavy products and multiple layers of makeup. Whether you're a color-correcting pro or a petrified beginner (yes, the green, in particular, is super intimidating), we've got some tips that can take your color-correcting routine to the next level.
Advertisement
What is a color-correcting concealer, and what shades are there?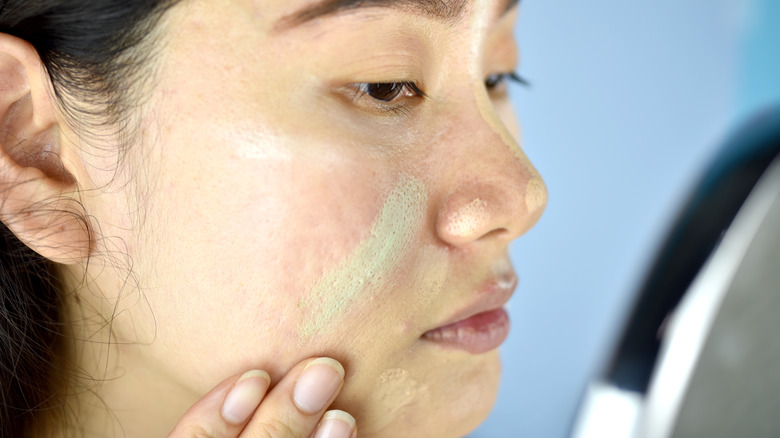 artfully photographer/Shutterstock
We'll admit it first: Color-correcting concealer can be very intimidating, especially if you have no idea how to use it. After all, there is no green or purple on our skin naturally, so you might wonder just what to do with concealers of that color. "It's all color theory," celebrity makeup artist Jen Tioseco tells Allure. "Skip the lipstick trick you've seen on TikTok and grab a product specifically formulated for the task."
Advertisement
While the makeup industry is constantly evolving, currently, there are six popular color concealer shades — green, yellow, peach or orange, purple or lavender, pink, and red or coral. The way these are used is called color theory, which involves looking at a color wheel. To determine which shade to use, take a look at the discoloration you want to cover up and identify its color. Then take a look at the color wheel and choose a concealer in the shade that is opposite the color of the skin discoloration. Once you figure out the right shades for the skin concerns you're trying to cover up, you're one step closer to a more even and flawless complexion.
Best color-correcting concealer shade for acne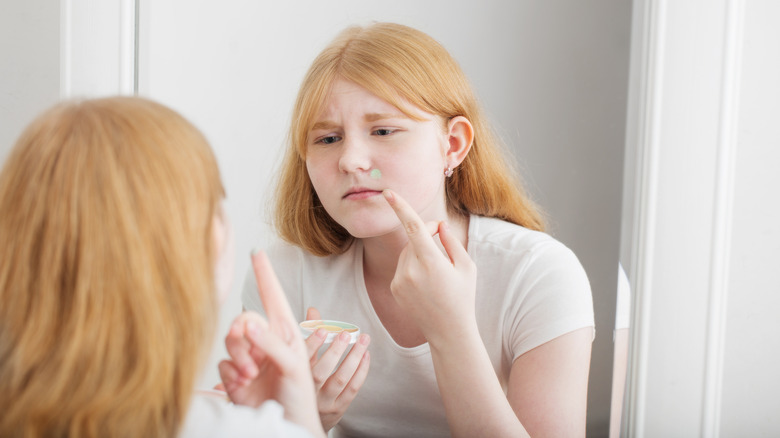 Maya23k/Getty Images
If you suffer from acne, a green color concealer can take plenty of the redness that comes with it away. "If you need help with covering a super red break out, I would reach for a higher coverage green concealer and spot conceal as needed; first layering the green concealer, then topping it with your foundation," celebrity makeup artist Aliana Lopez suggests to Elle. "Any discoloration that still peaks through can easily be covered with your normal concealer."
Advertisement
Since you want to be rather precise when applying a green concealer, using a thin brush is best. Apply a dab of the concealer to the back of your hand and dip your brush into that, ensuring you don't transfer any bacteria into the concealer tube — something that easily happens if you directly dab the concealer applicator onto the blemish. When using a green concealer for pimples, it's best not to blend the edges too much, as you want the green to only cover the red places and not any of the surrounding normal skin.
Best color-correcting concealer shade for undereye darkness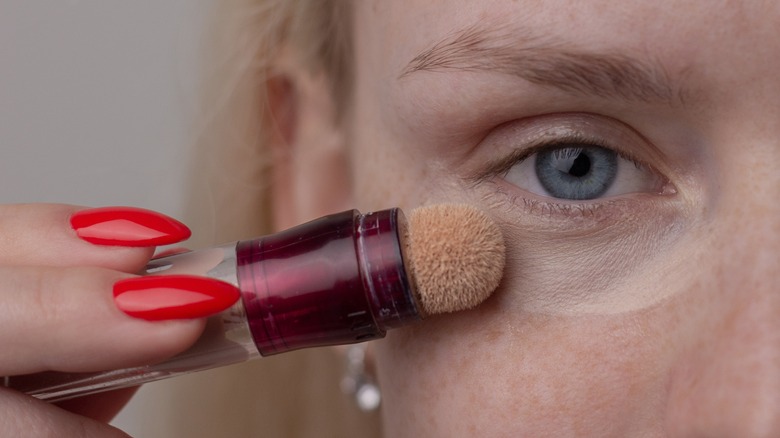 Andrei Lapkin/Shutterstock
If you're someone who often has dark undereyes — whether it's from a lack of sleep or genetics — a yellow concealer is your best friend. Since yellow is the opposite of blue and purple on the color wheel, it will perfectly neutralize those tones.
Advertisement
If you have fair skin, a yellow concealer isn't that much different from your regular concealer, which is why you might even get away with not applying foundation or a regular concealer on top of it. However, if you have an olive skin tone or a deeper one, you will definitely need to cover up the yellow concealer as it will neutralize the purple and blue tones, but it will be too visible and bright.
Since finding an undereye concealer that doesn't crease is hard enough on its own, we recommend adding a bit of yellow-toned concealer to your go-to concealer and mixing it before applying it to the dark areas. Not only will this ensure that you don't need to apply two separate layers, but it will also look much more natural.
Advertisement
Can you use blush as an undereye color-correcting concealer?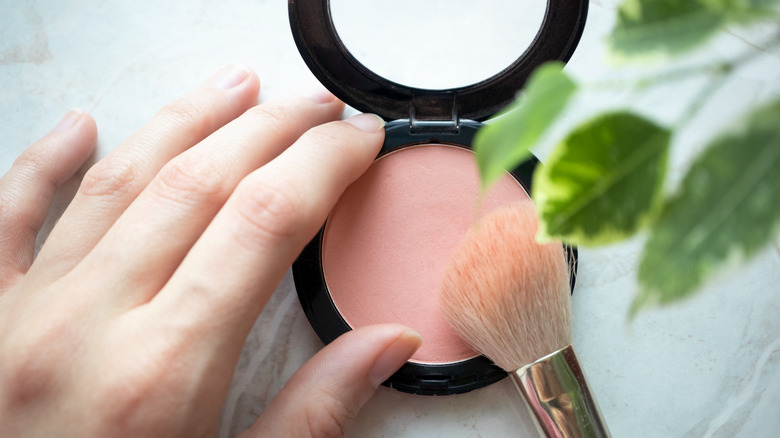 Olhakozachenko/Getty Images
TikTok has a significant influence on makeup trends and often shows us how to use makeup products in a new way. While many of the makeup tricks from TikTok aren't necessarily expert-approved — using blush to fight undereye darkness definitely is. "We usually call this underpainting, which gives a lift to the face and adds color at the same time," makeup artist Lauren Purvis explains to Byrdie.
Advertisement
There are a couple of methods to cancel out the darkness of your undereye with blush. You can use liquid or cream blush and blend it into your concealer before applying it to your undereyes, or our favorite method — you can set your undereye concealer with a light pink or coral blush powder. If you have mostly blue and green undereyes, pink is the best choice, while coral and orange powder blush is a great option for purple undereye tones.
Best color-correcting concealer shade for rosacea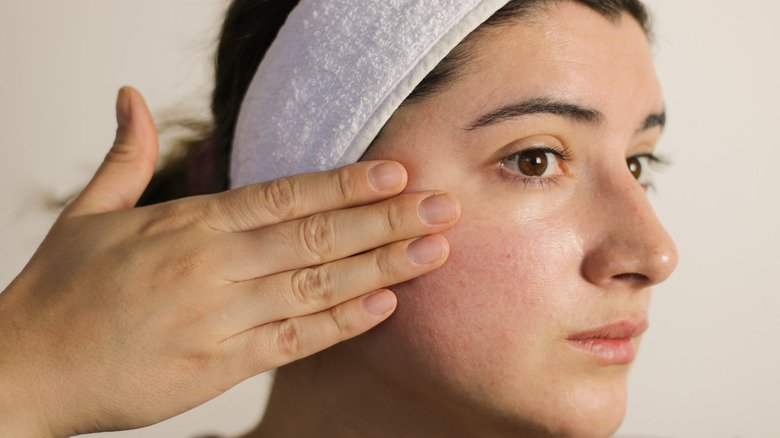 Liz Jara/Shutterstock
Similar to the redness of acne, you also want to combat the redness of rosacea with a green color corrector. However, since rosacea tends to be spread over a wider surface, using a foundation brush or sponge is best. Once you distribute the color-correcting product, you can always go in with a smaller brush to add some extra neutralizing in specific spots.
Advertisement
If you have rosacea on your cheeks, you can often be tempted to cover it up entirely, but you'd be surprised just how stunning it can look if you embrace your natural redness as blush. To do this, only use the green color corrector in spots you usually wouldn't apply blush. Since your cheeks are already naturally red, use your favorite blush to slightly even out the redness. This way, you won't end up with numerous layers of makeup that can result in cakiness.
Best color-correcting concealer shade to brighten yellow patches and dullness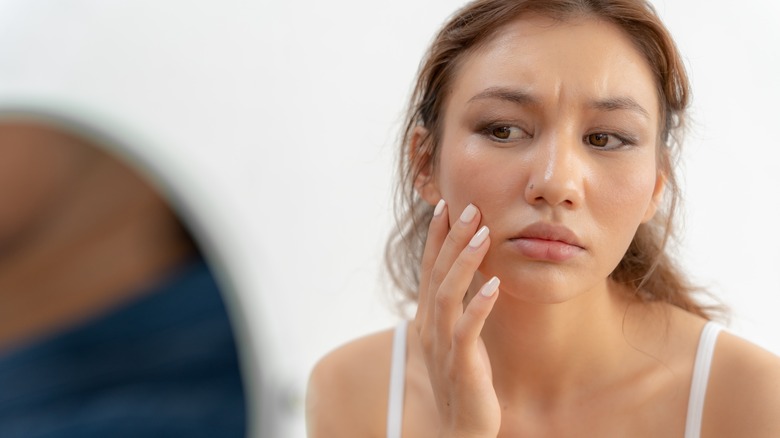 shisu_ka/Shutterstock
Green and yellow concealers are definitely more common and popular than lavender ones — but the truth is that most people could benefit from a purple tone underneath their foundation. Since lavender is the opposite of yellow on the color wheel, it is perfect for combating dullness and bringing some life back into your face on days when you're just not feeling your best. However, if you suffer from rosacea or naturally have a more pinkish undertone — you should stick to green and yellow products, as purple will mostly enhance the redness.
Advertisement
It's best to apply a thin layer of a lavender color-correcting product underneath your foundation with a sponge, as it will ensure the product is distributed in a thin and even manner. Once you apply your usual go-to products on top of that, you'll notice how much brighter and fresher you look.
Can you use color-correcting concealer on its own?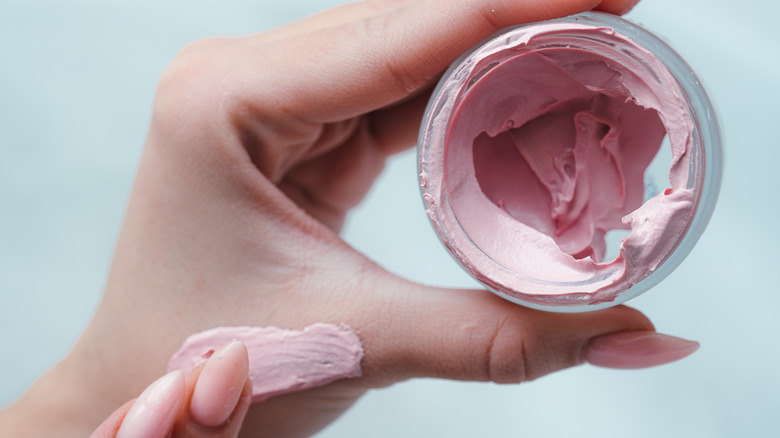 DmitryStock/Shutterstock
Adding an extra step to your makeup routine is not only more time-consuming, but it also adds another layer to your face, which can be problematic if your makeup usually creases or tends to move around. "The benefits of color correctors are that they have the opposite color of the discoloration," celebrity makeup artist Andrew Sotomayor tells Today. "That means they reduce the amount of coverage that you need in terms of a concealer or a foundation." While some makeup artists swear by only using it underneath foundations and regular concealers, the truth is that you can rock color-correcting products on their own, granted that you blend them really well.
Advertisement
If you're using a yellow or orange color corrector for your eyes, ensure you blend it perfectly and then set it with a skin-toned loose powder. If you're covering up redness, apply the green in a thin layer just over the red spots, making sure the green is not visible once you're done. The last thing you want is to have a green cheek or a yellow undereye. And as previously mentioned, if you're afraid you won't blend the product well enough, simply add some color-correcting product to your usual foundation or concealer and apply that instead. This way, you're immediately starting off with a color closer to your actual skin but with a hint of the shade you need for neutralizing.
What color-corrector shades suit darker skin tones?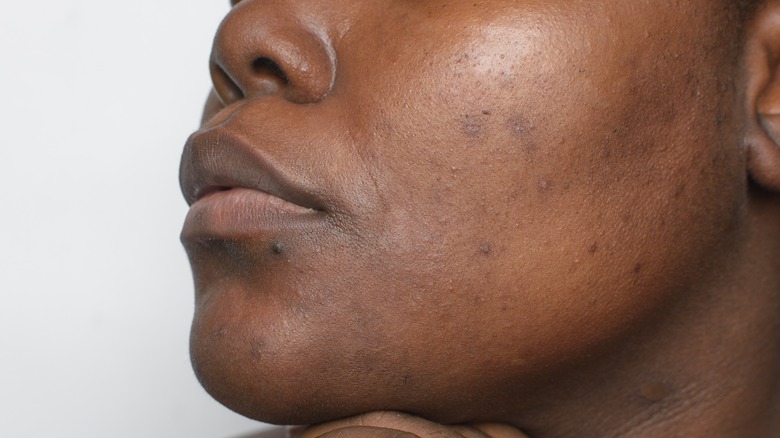 this_baker/Shutterstock
When it comes to makeup and color theory, what works for one skin tone might not work for another. The general rule is the darker your skin is, the darker your color-correcting shades should be, as well. Celebrity makeup artist Mary Irwin explains to Byrdie just how to ensure you're picking the right color. "I take into consideration the natural skin tone — super fair skin, which is also a bit more prone to redness, gets a very pale mint. Slightly darker skin does better with a darker green, and it also depends on what you're covering," Irwin says. "If you're working with a little bit of redness from acne, you'll need a lighter green than if you're covering a port wine stain.
Advertisement
For your undereyes, instead of a light banana yellow, you can opt for a coral, peach, or even a bright red shade if your skin tone is very deep. Instead of a light lavender for dullness, pick a deeper purple color. The effects will be the same, but you won't end up struggling with colors that are simply too light for your skin.
What formula of color-correction concealer is best?
Twinsterphoto/Getty Images
When it comes to color-correcting concealers, just like regular concealers, they come in different formulas. The most popular ones are liquid, cream, and stick concealers — and the best match for you depends on what you're looking for.
Advertisement
Opt for a liquid one if you want lighter coverage and a color-correcting concealer that blends easily. This choice is great for undereyes as well as anyone with skin that's on the drier side. If you are covering small specific areas that need lots of neutralizing (like acne or dark spots), opt for a cream concealer that will still blend nicely but will give you higher coverage. Lastly, if you need to use a color concealer on a larger area, pick a stick, as it can be applied directly to the skin and blended with a brush or sponge.
However, keep in mind that these are just rough guidelines — if you prefer a particular formulation, just stick to that. Makeup is all about what you feel works best for you, and sometimes that might go against general advice or what makeup artists recommend.
Advertisement
Less is more when it comes to color-correcting concealer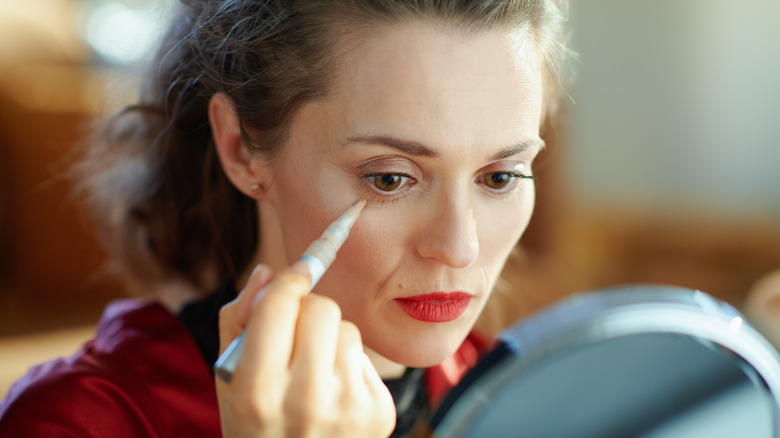 Centralitalliance/Getty Images
When it comes to color-correcting products, there are two rules that are essential no matter what: You should always apply less than you think you need, and you should ensure the edges are blended properly. "A common mistake I've noticed is the use of too much product," makeup artist Mali Thomas explains to Allure. "Only use color correctors in areas where there is discoloration to create a more natural canvas."
Advertisement
The amount of color corrector you're using also depends on whether you're going in with a regular concealer or foundation on top of it. If you are, you can use a bit more color-correcting product (only if it's actually necessary), as the makeup on top of it will cover it. If you are rocking a bit of color-correcting concealer on its own, use only a tiny amount, as you don't want it to look like there's an odd color on your face.
Can color-correcting powders do the same thing?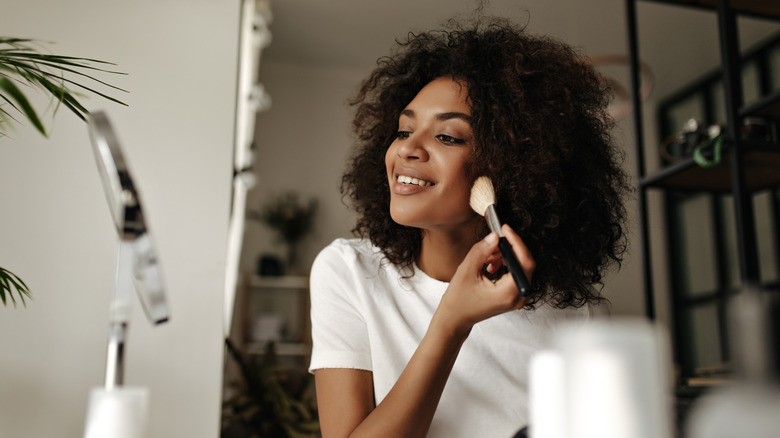 Look Studio/Shutterstock
If color-correcting concealers are a bit too intimidating for you — which we totally understand, as the bright greens and purples definitely look like they shouldn't go on your face — an easy way to begin using color-correcting products is to incorporate powders. Since powders are more translucent than liquid or cream products, it's much easier to apply and blend them, and the chances of you using too much aren't as high.
Advertisement
A vibrant yellow powder is perfect for brightening and setting your undereyes all at once. A green powder is great to neutralize rosacea or a sunburn on your face, while a lavender one can help bring dull skin to life. The only thing we wouldn't recommend is using a powder to color conceal acne. While it can neutralize some of the redness, acne usually looks better if you use a green concealer first.
Color-correcting primer is better for larger areas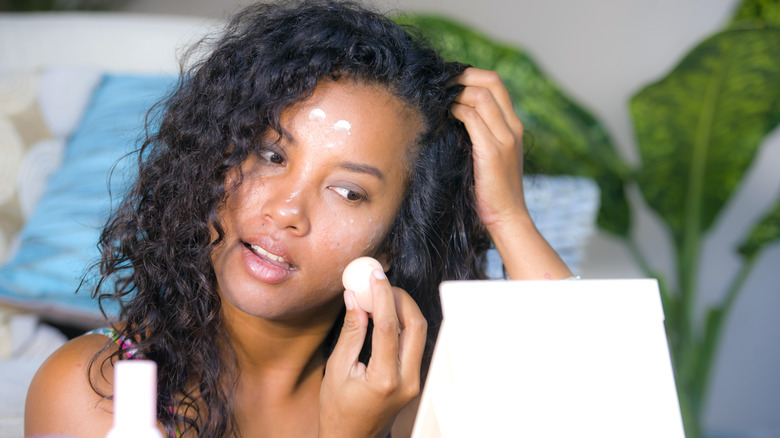 Marcos Calvo/Getty Images
Apart from concealers and powders, color-correcting primers also exist. Depending on what you're trying to neutralize, pick a color-correcting primer in lavender, green, peach, pink, or yellow. A color-correcting primer is particularly good if you're looking to cover a larger area of your face, which makes it a great choice for dullness or redness.
Advertisement
Since a primer also helps your makeup go on smoother and stay on for longer, it is essentially doing more than just color concealing. However, be aware that a color-correcting primer isn't as pigmented as a concealer, which means that it will end up giving you a similar effect to a color-correcting powder. However, it is great as a first step in neutralizing, after which you can go in with a color-correcting concealer underneath your eyes or on any red spots. In fact, for most people, color correcting will be necessary in multiple spots — you might need some yellow under your eyes, some lavender on your cheeks, and some green on the chin breakout.
Can you mix a color-correcting product into your foundation?
AliceCam/Shutterstock
Yes — if you paid attention, you already know that this is one of our favorite tricks. However, just because you can blend color-correcting products into your foundations, concealers, and moisturizers, that doesn't mean there aren't a couple of rules.
Advertisement
First of all, you should always test this out before rocking it out. Mix your color-correcting product into your foundation or concealer and apply it to one area of your face. Check a couple of hours later to see how it holds up. Sometimes, mixing two products can cause a change in consistency, clumping, or separation — and while that might not be evident at first, it can occur later thought the day, especially as a product can also react once it sits on your skin and absorbs its oils.
Generally speaking, mixing primers and foundations is mostly safe, as the two end up sitting on top of each other on your face anyways. Mixing two different concealers, on the other hand, can be a bit trickier, which is why sticking to the same formula (and, when possible, the same brand) is best. Once you have established that the two products work well when mixed, make sure you have nailed down the proportions. It's always best to start off with only a tiny bit of the color-correcting product, mix, and then see if you need more of it.
Advertisement