Everything You Need To Know To Choose The Right Highlighter, From Color To Formula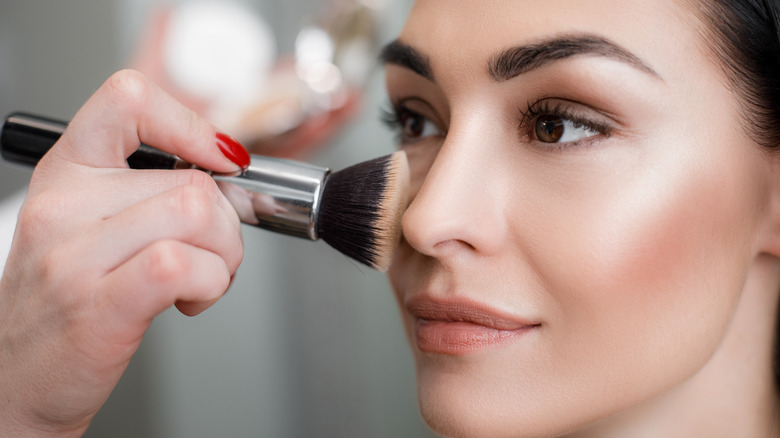 Olena Yakobchuk/Shutterstock
We may receive a commission on purchases made from links.
From enhancing your natural glow to adding a pop of sparkle, highlighters can help give your skin that fresh, "clean" look without going overboard on products. One of the most widely sold beauty products on the market, highlighter is a great way to add a finishing touch to a look or give your makeup that professional shine from your own vanity.
However, using a highlighter correctly, or even choosing the right highlighter to begin with, can be harder than you'd think. It's easy to accidentally go a shade too dark or buy a highlighter without checking the color correctly and throw off an otherwise stunning look. But how can you find the right shade for yourself without testing every single highlighter in the drugstore?
Here are some tips on how to choose the right highlighter for you, from navigating different formulas to matching your skin's specific undertones and your makeup goals correctly.
Figure out if you're highlighting right in the first place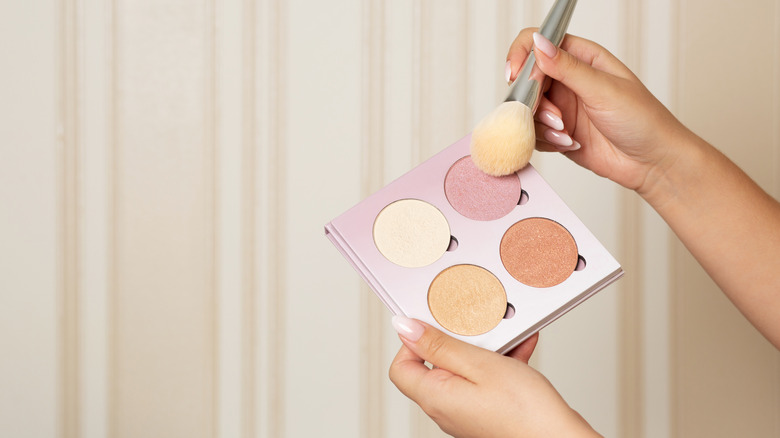 Viktoriya Pavliuk/Shutterstock
When buying a highlighter in a shade raved about on social media or pulled off effortlessly by a celeb, it can be frustrating to find that it just doesn't look right on you. Like picking the right foundation or concealer, there is no one-size-fits-all option — the shade and undertone of your highlighter matter. Picking up a random highlighter from your local drugstore without considering what effect you want to achieve can result in an overly metallic look or a highlight that barely shows up on your skin at all.
In a discussion with Allure about the best way to use a highlighter with darker skin, professional makeup artist Nick Barose states that "on deep skin ... the glow is there already so you don't need to add too much frost or shimmer." Choosing a highlighter that's too light for you can create less of a frosted, shining effect and more of a white cast. On the other hand, going with a highlight that's much darker than your skin tone doesn't necessarily mean it'll be a better match; this can actually counteract the highlighting effect you're trying to achieve. Overall, knowing which tone goes well with your skin and how to avoid these mistakes can make all the difference in perfecting your highlighting technique.
Consider the areas you're targeting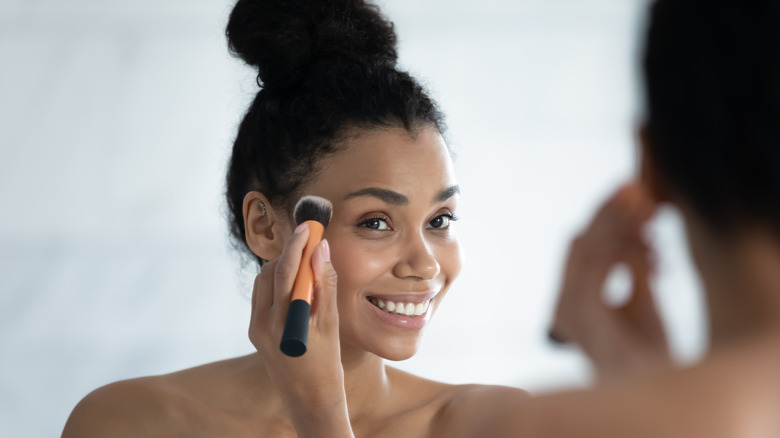 Fizkes/Getty Images
If you're in the process of looking for the right highlighter, it's important to know what you actually want to achieve by applying this product. In general, highlighting is intended to make the high points of your face pop and to emphasize the natural beauty of your features. However, different products can achieve different results and are not necessarily intended for the same purposes.
If your goal is to add extra dimension and brightness to your face, consider which shade and formula of highlighter will suit the inner corners and lower eyelid areas of your eyes. Alternatively, if you're wanting to add shimmer to your brow bone, chin, and neck, try buying a more subtle, skin-colored highlight to get that dewy, fresh effect without looking too unnatural. Highlighting is not just reserved for your face either; a more dramatic, glittery highlighter can be applied to your arms and chest for a subtle take on the body glitter trend.
Picking the right formula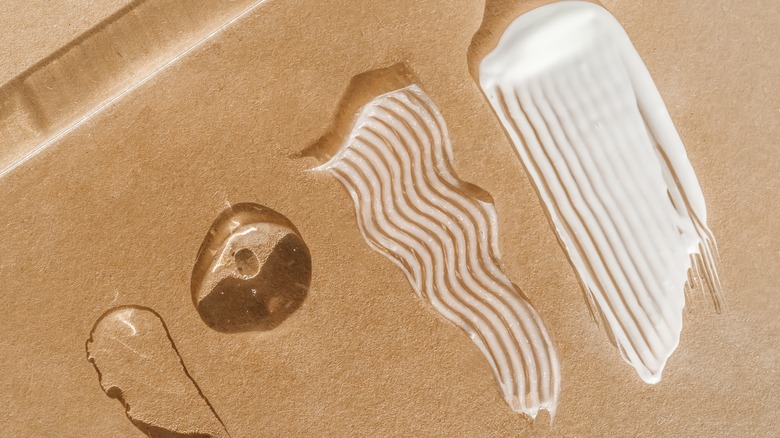 marevgenna/Shutterstock
Although traditionally found in palette and compact forms, there is a larger variety of highlighters on the market than you'd think. Alongside compact powder highlights, you can buy loose pigment highlighters and liquid highlighter in dropper bottles. If you're not a fan of either of these formulas, you can always try more solid foundation-style creme highlighter sticks and even clear highlighter in lip-gloss-style tubes.
So, why is knowing the difference between these different formulas especially important? Each of these different product styles is intended to create different effects on your skin. Liquid highlighters might be the product for you if you're concerned about accidentally exaggerating dry skin or prominent pores. On the other hand, if you're more a fan of the matte, powdered look or want to avoid looking overly oily, a powder-based highlighter is probably the best formula for you. Ultimately, the type of highlighter you choose is up to you, however, and what you want to accentuate most about your face.
Sheer vs. intense highlighting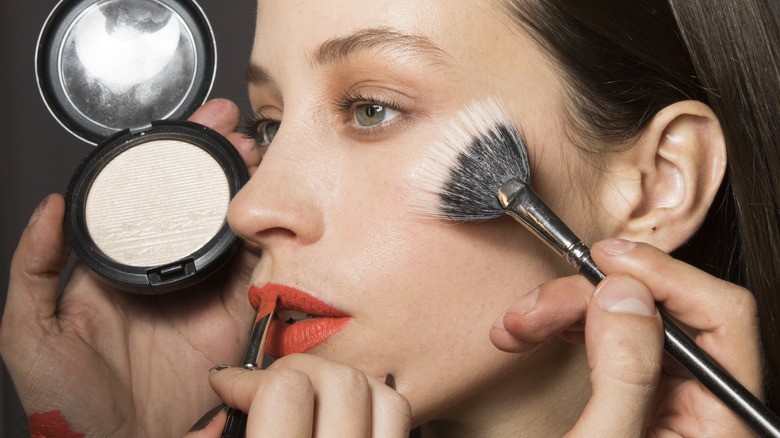 Rosdiana Ciaravolo/Getty Images
While knowing which formulas work for you and which areas of your face you want to highlight are important, it's still easy to accidentally go overboard with your highlighter and create a look that's more sweaty than serene. Not only do different highlighters create different effects on your skin, but there is no one-size-fits-all way of applying them. 
According to professional makeup artist Carlina Zacarias, the best policy with highlighting is often less is more. "Highlight that is too shiny can make you look like a light bulb," Zacarias tells Insider. "It's supposed to be used to create a glow — not high beams." For a smoother, more subtle look, choose a highlighter that's only one or more shades lighter than your actual skin tone, and apply it gently with a brush or sponge. Alternatively, try a colored or glitter-based highlight applied with a thicker brush for a more intense, nighttime highlight.
Using a highlighter on pale to lighter skin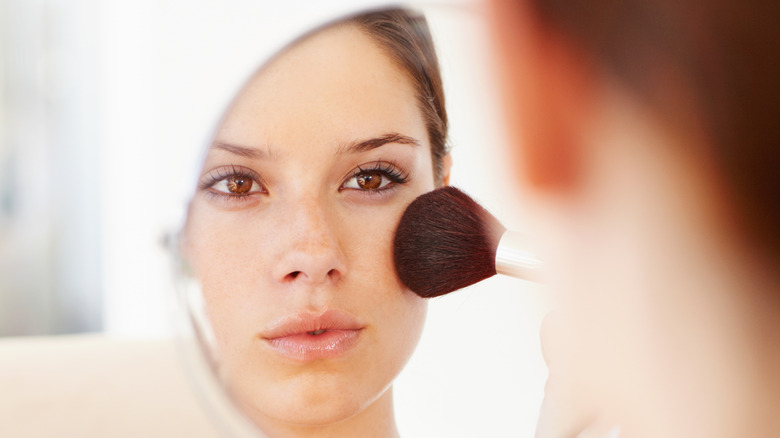 Urilux/Getty Images
When used correctly, a highlighter can give pale skin a beautifully rosy glow. However, it's easy to throw off an otherwise perfect look by choosing a highlighter that isn't right for your skin's lighter undertones. Against pale skin, the wrong highlight can be noticeably too orange or leave a dark cast on your face that's not easy to ignore.
For paler skin types, the best shade of highlighter is usually one with a pink to lilac undertone – these colors help to brighten rosy tones in your skin without being too overpowering. Silver, pink, and rose gold colored are also recommended for lighter skin if you're looking for a natural peachy warmth that doesn't leave you looking dusty.
Still concerned that your new highlighter is actually the wrong shade for you? Try dusting the highlight lightly on your upper cheekbones and checking the pigments' visibility in natural light before incorporating it into your daily makeup routine.
Highlighting medium to dark skin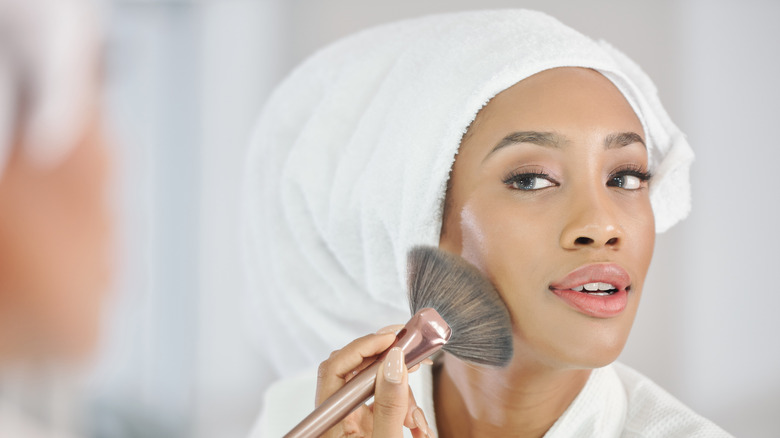 Dragonimages/Getty Images
While too dark of a highlight can leave a dark cast on lighter skin, the opposite is true when choosing the wrong highlight for medium to dark skin. Finding a highlighter that doesn't look chalky or lends itself to a sheer look can be difficult, especially if you aren't sure what to look for. 
Ultimately, your skin's undertones and coloring are unique, so it's up to you to make the decision on what shade of highlight is the most flattering. However, it's generally recommended that for darker and olive skin, you should stick to golden undertones and warm bronze shades rather than whites and pastel pinks. 
If you're struggling to make a decision on the actual pigment of the highlighter you buy,  go for medium champagne to deeper peach colors. We recommend avoiding powdery, silver-toned highlights as they typically provide a cooler finish that's metallic in nature. That's fine if you want to embody a robot, but we're all human (or at least we think we are). By contrast, warmer tones can be more easily blended into your skin for a smooth, sun-kissed look. 
Choosing the right highlighter for your tools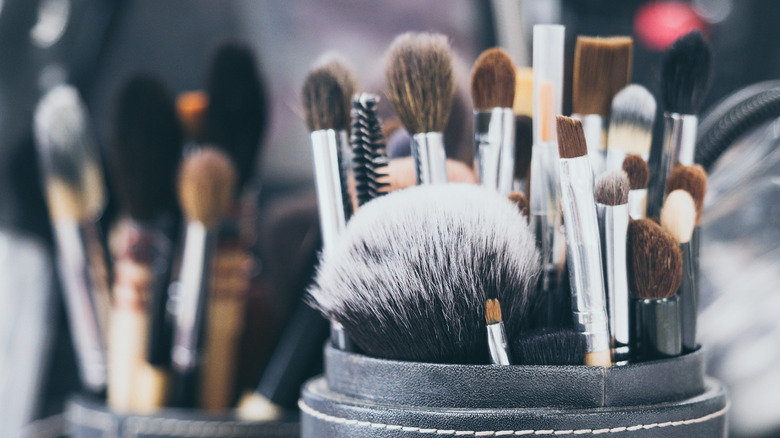 Jm1366/Getty Images
The purpose of using a highlight is to brighten and show off the high points of your face, as well as give your makeup that professional-looking finishing touch. However, choosing the right highlight to fit your makeup collection can be difficult. In reality, it's easier than you'd think to apply a highlighter with the wrong tool and end up with a look that isn't as flattering as you intended. 
When you're standing in the drugstore trying to decide which highlighter to buy, try thinking back to the beauty tools you already own. If you're a fan of small detail and fluffy brushes, it can be better to go with a traditional compact or powder formula over a liquid dropper highlighter. Powder and compact-style glitter highlights can be applied more precisely and easily with a smaller makeup brush. Alternatively, using a small fan brush is a good way to make your highlight more subtle or apply it even more precisely to your cheekbones.
On the other hand, if your makeup tools consist only of brushes, buying a liquid or gel highlight may not be the best formula for you. As liquid highlighters are generally harder to control than powder, using a brush that's too big or rough can result in a patchy application. If you've got your mind set on a liquid highlighter, try applying it using a damp sponge, a small beauty blender, or even your fingers to gently dab it onto your skin. 
Finding a highlighter for acne-prone skin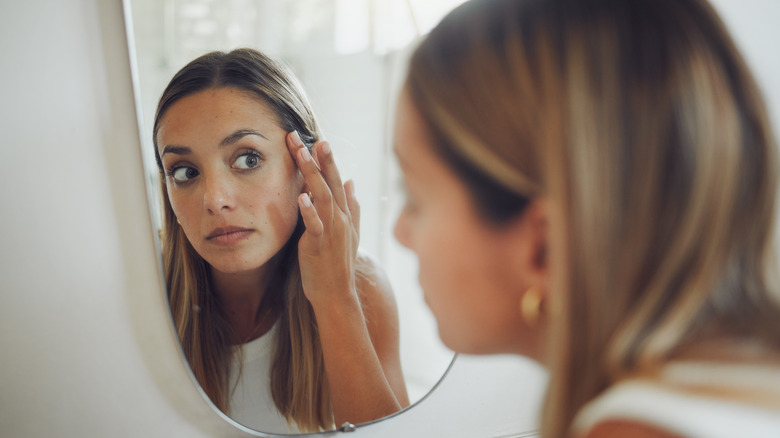 Peopleimages/Getty Images
Highlighting products are intended to flatter your skin tone and add some glow to your skin's natural beauty. However, if you're looking for a highlighter to suit acne-prone skin, knowing what to reach for can be tricky. Since the majority of highlighters are intended to leave a shiny after-effect or help you master that glazed donut skincare trend, finding one that doesn't take your look from glowing to overly oily can be a minefield. Moving the product around your face over time through touch transferring and accidentally exaggerating acne scars and texture are all common concerns when picking a drugstore highlighter.
However, while looking for a highlighter that doesn't exaggerate your acne can be hard work, there are, in fact, highlighting products recommended to suit acne-prone skin that you should look out for at the drugstore. Look for a powder highlight — preferably made with clean ingredients — that doesn't settle into your pores or leave you with a cakey effect, like Tarte Shape Tape Glow Bar. If you're wanting a liquid highlight that doesn't rub off your foundation or leave you looking too oily, try the Benefit High Beam Liquid Highlighter for a subtle rosy glow. 
Finding unscented and paraben-free highlighters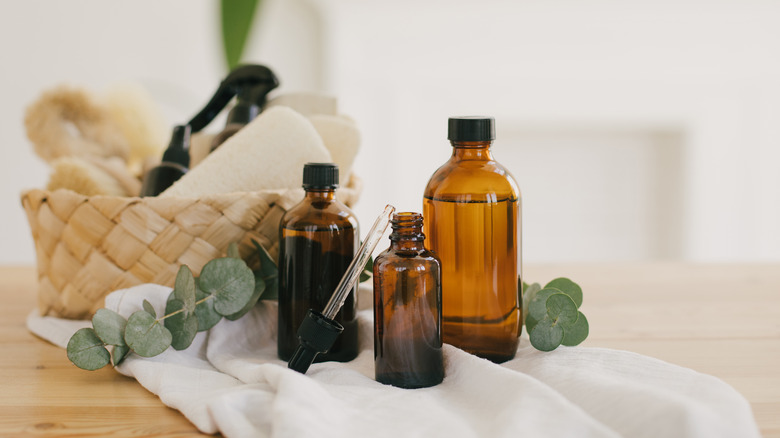 polinaloves/Shutterstock
So you know what kind of formula you want to buy and the color of your new highlighter, but what about finding a paraben-free and unscented highlighter? If you're looking for makeup with simple ingredients or concerned about triggering an allergic reaction, it can be daunting to grab whichever highlight you see first on the shelf. While the FDA does not require every makeup product to be paraben free, there is now a much larger range of brands offering paraben-free and fragrance-free highlighters. Popular paraben-free or partially paraben-free skincare and makeup brands include Clinique, Aveeno, and Burt's Bees.
When it comes to paraben-free highlighters specifically, do your research beforehand to ensure you get your hands on a product that offers paraben-free ingredients. One brand to check out is e.l.f Cosmetics. A fully cruelty-free and vegan makeup brand, e.l.f. Cosmetics is affordably sold in most drugstores and can be a great alternative to start with if you're unsure about committing to a high-end highlighter. 
For unscented cosmetics, there is also a range of brands — both high-end and affordable — selling fragrance-free or fragrance-reduced highlighters. A cruelty-free and majority-vegan brand, bareMinerals offers its Endless Glow Highlighter, which is paraben and fragrance-free. If you want to invest a little more cash into your new highlights purchase, ILIA's Liquid Light Serum Highlighter is a fantastic unscented alternative to traditional liquid highlighters. 
Keeping your base in mind when choosing a highlighter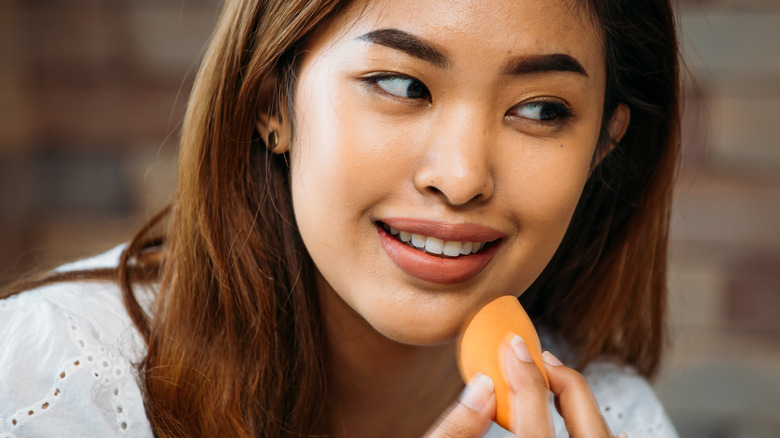 Twinsterphoto/Getty Images
If you want to give your skin a glowing and healthy look, it's essential to consider the steps you take before applying the highlighter to make the wisest purchase. Alongside primer and moisturizer, highlighter can have different effects depending on whether or not you decide to apply a liquid foundation, pressed powder, or keep your skin bare beforehand.
When it comes to buying a highlight to apply over liquid foundation (or just applying your foundation beforehand at all), the general recommendation is less is more. This is where those makeup testers are your best friend. Testing how well your highlighter layers over your foundation before buying is key to avoiding purchasing a highlighter that's incompatible with your regular makeup routine. If testers don't exist for the product you desire, you can still purchase it, so long as you apply it correctly. 
To avoid that "too much" look, try keeping your foundation in the areas you want to apply highlight to a minimum — or don't even wear foundation at all, as you don't actually need to wear foundation to use highlighter. Brushing your highlighter over a concealer base or simply onto bare skin is still a good way to give your skin that dewy sun-kissed look. To avoid overapplying your highlight or accidentally transferring it to other areas of your face, give your highlighted areas a few pats with a sponge or your fingers after applying to check for any excess fallout. 
Applying powder highlight
Since power highlighters are one of the most popular formulas on the market, you'll generally find a wider selection of colors and tones when shopping for them at your local drugstore. If you're a fan of the matte, powdered look, a powder-based highlighter is probably the best formula for you. Unlike liquid highlights intended to give a dewy, sheened effect, powder-based highlights can smooth out your complexion and help you to avoid looking overly oily. Applying a powder or compact highlight may seem fairly simple, but in reality, it's easier to make a mistake than you'd think.
It's important to keep in mind the look you want to achieve when using this kind of highlight. As a more subtle formula than a creme or liquid highlights, it's easy to accidentally go overboard and end up with an overly metallic shine that's hard to correct. When applying powder highlight, it's recommended that you use a small amount of highlight at a time and keep building the product in the areas you wish to highlight until you're satisfied.
Want to try out a powdered highlight but concerned about going overboard with spending? Try looking for a lower-priced (but still reliable) highlighter, such as the Physicians Formula Murmuru Butter Highlighter. On the flip side, if you're prepared to spend a little extra, the Hourglass Ambient Lighting Palette packs a punch and even comes with three different highlighter shades to choose from.
Alternatives to traditional highlighters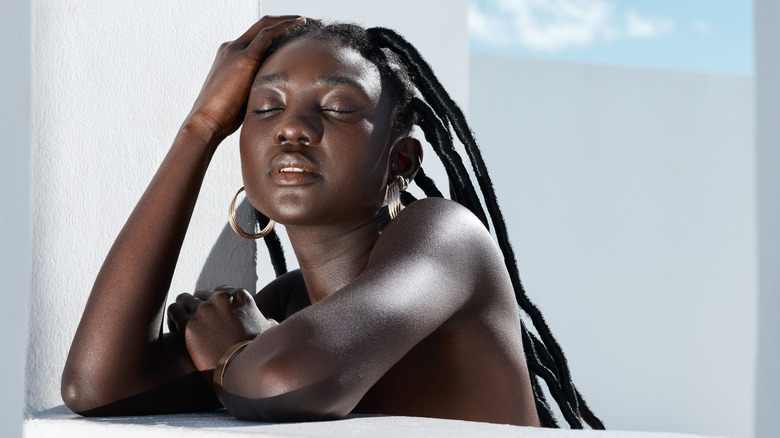 Peopleimages/Getty Images
Wanting to buy a highlighter but thinking that the traditional formulas might not be for you? If powder, liquid, or cream highlighter products don't seem appealing, you're in luck. Alongside the regular brands found in the cosmetic aisle of your local drugstore, there is a wide range of alternatives to traditional highlighters that are also readily available to buy.
If you're looking for a full body glow as opposed to just a pop of shine to your cheekbones, then a shimmer oil or body illuminator might be the go-to highlighting product for you. Shimmer lotions and oils are the perfect alternatives to traditional highlighting — and like regular highlight, they can also be used on your face just as easily as your body. Intended to be semi-long lasting, these products can be applied with a sponge or just your fingers for an all-day shine.
For a cute festival look or a more over-the-top, night-time-highlighter look, body glitter could be the highlighter for you. While not as easily appliable as a basic powder or liquid formula, skin-safe glitter products are a great way to take your look up a notch and make sure that you stand out in a crowd. Products such as the NYX Face and Body Glitter are safe to apply all over your body and face, as well as mixed in with your favorite lotion to ensure long-lasting sparkle.