The Mental Refresh That Should Be Part Of Your Spring Cleaning Routine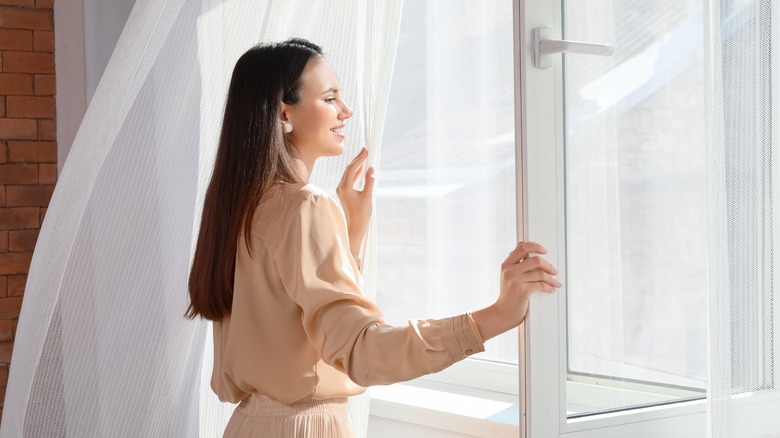 Pixel-Shot/Shutterstock
Spring is the season of renewal and rebirth. If you look outside during the start of spring, you'll see trees and flowers starting to bloom, the weather warming up, and the days starting to get longer. For many people, spring is the perfect time to get rid of clutter and clean out the home. As the days go from gloomy and cold to bright and warm, we crave an uplift to the space around us. Decluttering and deep cleaning our home is such a great way to get a fresh start. However, the home isn't the only place that could use a refresh. Have you ever thought that a mental refresh should be part of your spring cleaning routine?
While the idea of spring cleaning your mind might seem silly, consider how good it makes you feel when you have a clean, decluttered home. The same goes for your mental state. The more negative thinking, bad habits, and junk you are able to remove from your mind, the better you will feel. Utilize the spring as a time to not only clean out your closet, but to deep clean your mental space.
How to declutter your mind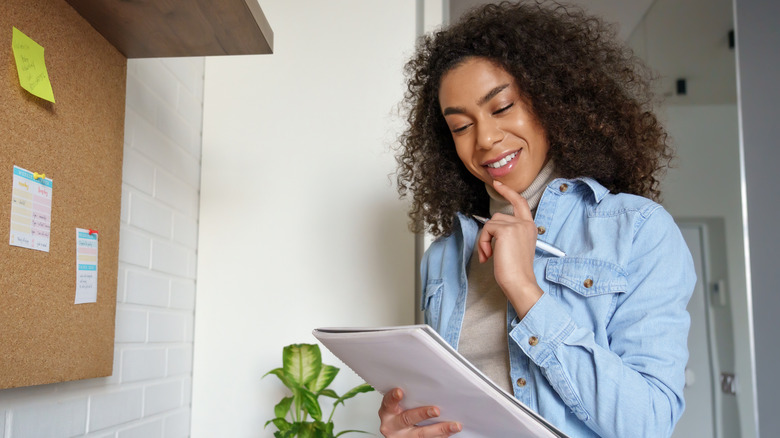 Insta_photos/Getty Images
Now that it's spring and you want to do a mental refresh, there are a few easy steps you can take. The Jefferson Center recommends getting your priorities straight first. You may need to take stock of what is holding you back or blocking you from having a clear mind. If you are unsure, writing down goals would be a good place to start. 
It's not uncommon for those New Year's resolutions and goals to fizzle out by spring. This is why spring cleaning is an ideal time to re-establish a few healthy routines in your life. Sit down and declutter your mind by writing out everything you have stored in your head. This may include to-do lists, dreams, goals, and things that are causing you unwanted stress.
After you have gotten those things out of your head and onto paper — work to make categories to declutter the mess. Make a short and long-term goal list for the things you want to accomplish. Take note of the things you wrote down that are causing you stress. Are you able to eliminate any of those things in your life? In looking at that long to-do list, what can you delegate to others so that you don't have so many responsibilities to care for? Now that you are able to see all of the clutter from your mind, it's easier to spring-clean the mess. 
Make a fresh start
fizkes/Shutterstock
Once the mental decluttering is over, and you have organized your tasks and goals, take the time to make a fresh start. With a clear mind, you have the perfect opportunity to freshen up your mental space. This is the perfect time to change up your pace and live a slower life. Work on keeping your mind clear of clutter by adopting a mindful exercise you can do on a regular basis. Try a mindful meditation or breathing exercise in the mornings before the outside world becomes overwhelming. Keeping your mind clean and clear will help you stay present with the people in your life. You won't be so rushed to go from one task to another because you have done the work to freshen up your mind.
According to Cleveland Clinic, spring cleaning provides us with many health benefits. It improves focus, lifts our moods, and you get a sense of accomplishment when you have finished the job. The same theory applies to our mental refresh. After you did the work to get the clutter out of your mind (and you've shifted to a slower way of living), sit back and relish in the huge accomplishment you achieved. In today's busy world, it's not easy to go against the grain. But spring cleaning the mind offers us a healthy alternative to the rat race.