Zoned Priming May Change The Game For Your Makeup Application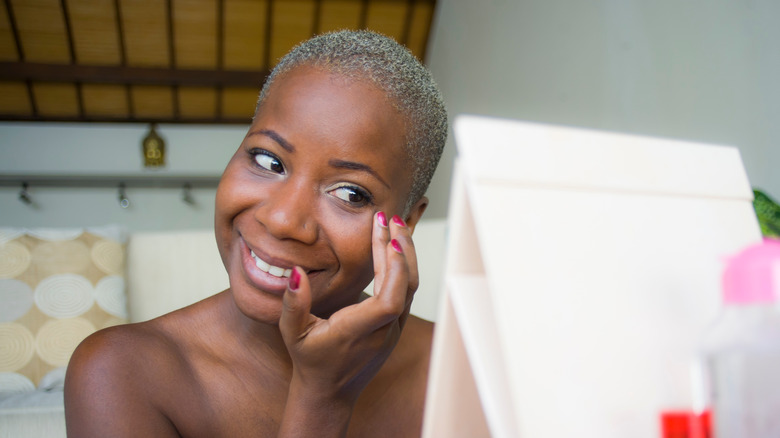 TheVisualsYouNeed/Shutterstock
If you're a seasoned makeup lover, then you may be all too familiar with the routine of reaching for your primer as you gear up to prep your skin for what's ahead. According to MarketWatch, the primer market is a multimillion-dollar industry and is expected to grow exponentially within the next decade, which is reflective of its sheer popularity. Traditionally, many of us apply the product all over our face to create a solid base before moving on to the next step of our makeup routine. However, it turns out that there could actually be a better way to apply primer. Say hello to "zoned priming."
This technique could help you level up your makeup game and achieve a flawless finish in no time. But what is it? It turns out that the trick involves using several products on your face rather than one. As a result, implementing this trick into your routine could benefit you in several ways. Let's take a look at "zoned priming" in more detail.
Zoned priming focuses on several different facial areas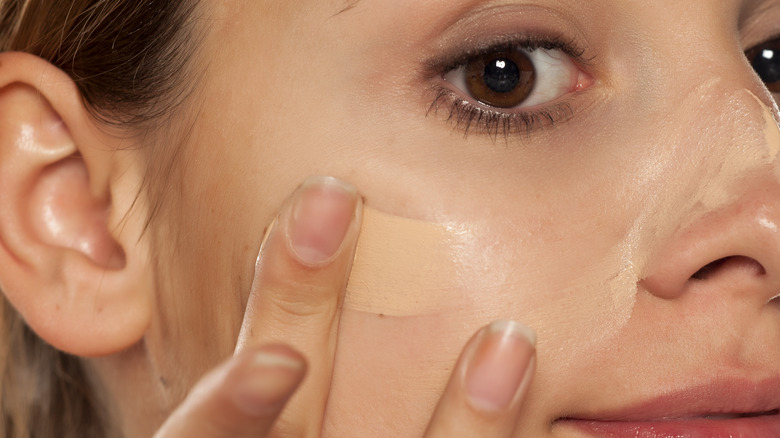 Vladimirfloyd/Getty Images
Naturally, you're likely wondering what "zoned priming" is all about. This technique does what it says on the tin. Instead of one primer, you use several different ones to target different "zones." 
"Zoned priming lets you address specific areas on your skin for their own concerns," celebrity makeup artist Neil Scibelli explains to Well & Good. "For example, say you're typically dry on the outer cheeks and chin, but you get shiny in like the T-zone, you would zone prime your T-zone with a mattifying primer. Then, you could apply a hydrating primer or just moisturizer to your dry spots." Of course, using this technique will allow you to use specialized ingredients, thus helping your skin to stay in its best condition for makeup application.
In addition, if you want to take your makeup game to the next level, you could even try experimenting with a color-correcting primer to achieve a natural look that will even out your skin tone. If you are an eyeshadow user, you can also apply primer to your eyelids. This method is a helpful trick if you often apply eye products such as eyeliner or eyeshadow. Using the correct primer for each area of your face will help you when applying your makeup, as it will allow for a flawless finish.
It supports perfect makeup application
Now you know what "zoned priming" is, you know why using the correct primer based on your skin type is key — so it's equally important that you determine your skin type to get in on this trend. However, not only does this cater to your skin's needs, but it can also help your makeup to perform at its best.
If you already use primer, then you know that the popular beauty product can help your makeup last much longer versus if you didn't use a primer. However, zoned priming may enhance this effect, as it delivers precisely what your skin needs in the right areas. Likewise, only applying it in specific places allows the rest of your skin to perform at its best.
This will help your makeup look as seamless as possible when sat on your skin, as the primer underneath works its magic. On the contrary, adding primer where unnecessary may have the opposite effect and could negatively impact your makeup longevity and overall look. For this reason, you must choose the correct primer to reap the best benefits when it comes to your makeup application.