Wait, Should We Be Freezing Our Beauty Blenders? It's Not A Bad Idea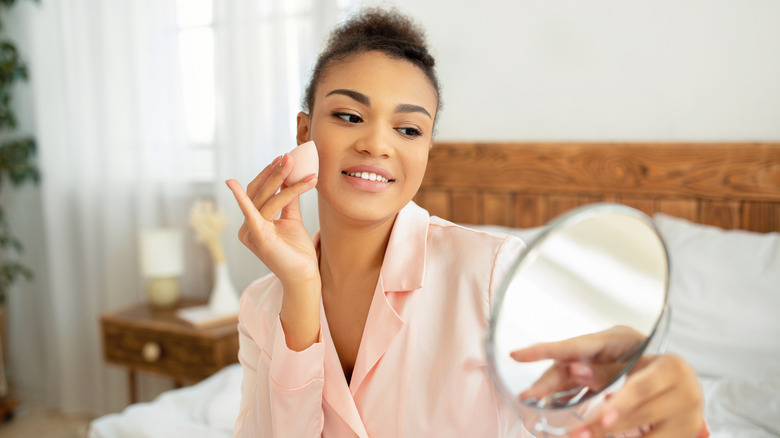 Prostock-studio/Getty Images
Beauty blenders are an amazing tool for makeup. The egg-shaped sponge has become a massive star over the last decade, making its way into the makeup kits of everyone in the beauty community over the years. Not only is the tool ideal for foundations, BB creams, concealers, and so much more, but it's perfect for beginners and advanced makeup lovers alike. Despite it being a great tool as is, many TikTok users have been finding new ways to make the beauty blender even better.
Recently, people have been putting their damp beauty blenders in the freezer. The trend was started by TikTok user @gwmakeup, who showed users how to freeze their makeup sponges for the best results. Since then, the video has gone viral, with hundreds of users stitching the video and trying the hack themselves. With their makeup looking smoother than ever, this might be a great step to flawless skin.
How to freeze your beauty blender for a flawless makeup application
Freezing your beauty blender might sound crazy at first, but people seem to really love it. Users claimed that on the first use, the frozen beauty blender felt amazing on their skin. They also commented that they loved how the foundation seemed to blur their pores and create a beautiful finish.
For clarification, you don't have to reach for the original Beautyblender product for the hack, as there are tons of "dupe" products out there that emulate its texture. Of course, any makeup sponge with a similar material will do the trick.
To replicate the hack for yourself, the first thing you need to do is soak the beauty blender in water. Make sure to use a clean makeup sponge to avoid any icky bacteria from spreading on your face. From there, leave the sponge in your freezer for at least an hour or until it feels hard to the touch. Afterward, use the beauty blender as usual and enjoy your flawless base.
Can anybody use the frozen beauty blender hack?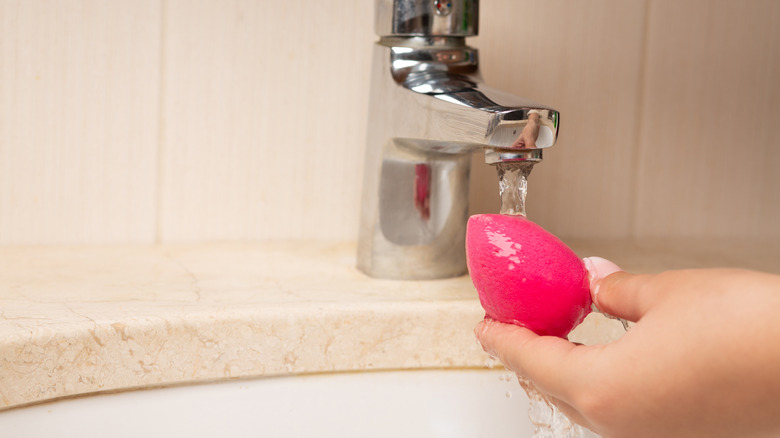 Pavlyukv/Getty Images
Despite it being an intriguing hack, it is not for everybody. Makeup artist Zoë Moore explained to Refinery29 that while this hack is great for depuffing the skin, the foundation you use really makes the difference.
"When it starts to thaw, the water will mix with any oil-based foundations and result in a cakey, unblended finish," she explained to the publication. She believes the best option is to blend with your fingers since the warmth from the hands will also create a beautiful finish — which is especially helpful for those who use oil-based foundation.
It is important to note that if you are prone to redness or any skin sensitivities, having a cold beauty blender on your face might not be the best idea. Instead, opt for warming up your foundation for a similar result. If this does still seem like a hack for you, it might be best to put multiple beauty blenders in the freezer at a time so you always have a sponge ready to go.