The MUA Hack That Gives The Appearance Of Fuller Lips With Just A Bit Of Makeup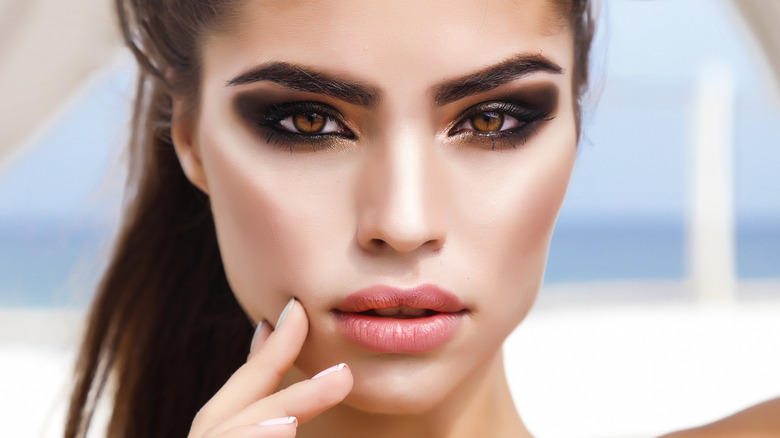 Diana Indiana/Shutterstock
If there's anything on Kylie Jenner's face that her beholders can't take their eyes off, it's probably her prominent, full-of-life lips that make for an ultimate pucker. It's no exaggeration to say that shapely lips are one of the most appealing features of a woman's face. "When you look at the anthropological history of the female body and sexuality, full lips signal not only sensuality, but being excited about having sex," anthropologist Jamie Gordon tells Women's Health.
For those not endowed with naturally full lips but not ready to undergo a lip augmentation either, fear not! All you need to achieve a surgery-quality plump pout is some basic makeup tools and a really good beauty hack — like the one shared on social media by celebrity makeup artist Mary Phillips, who's worked with A-listers like Kendall Jenner, Hailey Bieber, and Jennifer Lopez. Her makeup tutorial videos on TikTok and Instagram have been gaining tremendous popularity with makeup enthusiasts and budding MUAs. 
Like her other beauty techniques that have gone viral before, this pout-enhancing hack is super easy to master and can be a game-changer in your everyday makeup look. Here's how you can recreate this technique by yourself. 
How the hack is done
What you need to achieve fuller lips, according to Phillips' hack, is a lip liner and a lip gloss. To create a new outline for your lips, shade your nude lip liner at the corners of your mouth and trace along your lip line as you run toward the center of your top lip. To overline your lips for a plumper look, but in the most natural way possible, draw the liner just outside your actual lip line toward the top and stay as close to the border of your lip as possible along the sides.
Next, extend the line slightly at the very top of the upper lip and the very bottom of your natural lip. Then, accentuate your lips' cupid's bow by following the natural shape of your upper lip, bringing it up a bit higher than your actual lip line. Next, smooth out the harsh lines with a soft brush. Then, start blending the outer border of your lips with a concealer to lend them instant definition. 
Once you're done, fill it in with a lipstick of your choice. Top it off with lip gloss from the middle to the corners to give your lips a glossy luster. And now — you have a fuller, shinier pout to your smile. While this lip-enhancing technique is pretty effective itself, there are other things you can do in your makeup routine to amplify the plumping effect.
Other ways to make your lips look fuller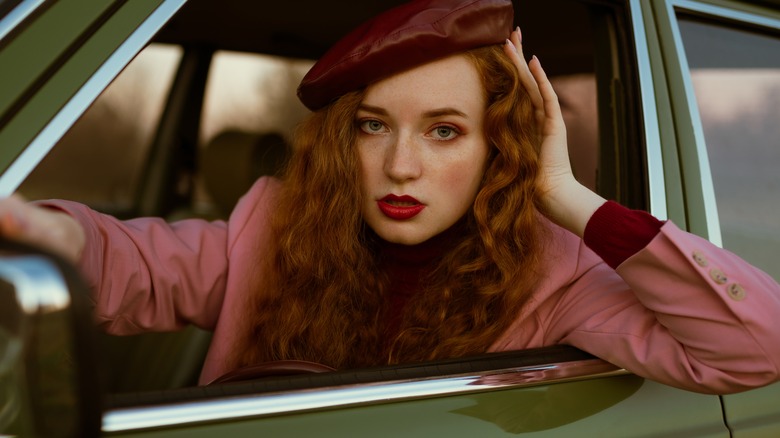 Victoria Chudinova/Shutterstock
One way to make your lips look plumper is to exfoliate with a lip scrub before putting on makeup. Exfoliating your lips helps eliminate dead skin cells and product build-up, allowing lipstick application to go on smoothly, preventing dry patches throughout the day, and helping your lipstick stay on for longer. After exfoliating, moisturize your lips with a lip balm to lend them extra moisture and softness. 
In the next step, apply a lip primer to create an even base for your lipstick to go on and make your lips look smoother. If fuller lips are your goal, choose a primer designed to plump lips. Before overlining your lips, dab some foundation or concealer all over your lips until your actual lip line becomes less noticeable so you can create a new lip line. Then, add some setting powder to your lips to mattify the base. 
To keep your look natural, use a lip liner with a natural, matte, or satin finish. Over-lining-wise, trace slightly outside your actual lip line to make your lips look bigger. After over-lining, you can use the lip liner to fill in the rest of your lips or double up on lipstick shades that resemble the natural color of your lips. Then, add a coat of plumping lip gloss to boost shine and create the illusion of a more voluptuous pout.