Does Caviar Have Skincare Benefits? Your Guide To The Luxurious Firming Ingredient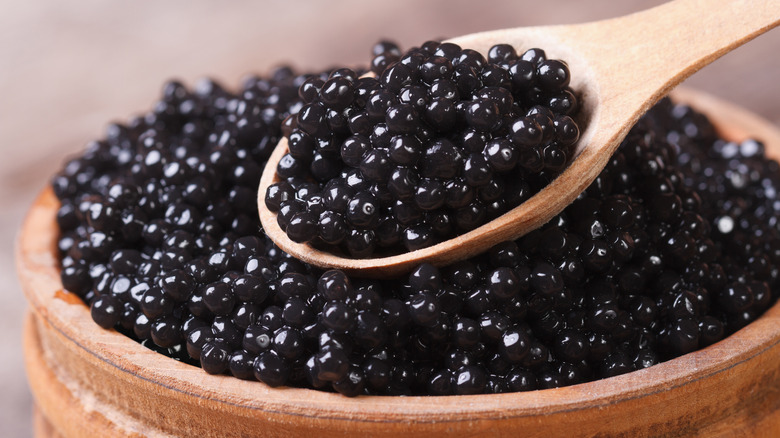 Alleko/Getty Images
Not only is caviar delicious, but it's also loaded with nutrients. The superfood is known for its rich concentration of calcium, good fat, vitamin C, vitamin E, vitamin A, and vitamin B12. These nutrients aid in the body's development of neurons, red blood, and protein cells, as well as the digestion of fats and carbohydrates. Regular consumption of caviar can help fortify your immune system, improve memory, reduce fatigue, maintain the health of the retina, boost sleep quality, and aid in digestion.
If you're looking to improve the look and feel of your skin, caviar can help with that, too. In the world of skincare, caviar extract is known as a powerful emollient active ingredient. It can lend the skin a boost in hydration, enhance skin tone, and diminish signs of aging. Here's how to introduce this luxurious firming agent into your beauty routine to tighten and revitalize your skin.
Benefits of caviar on the skin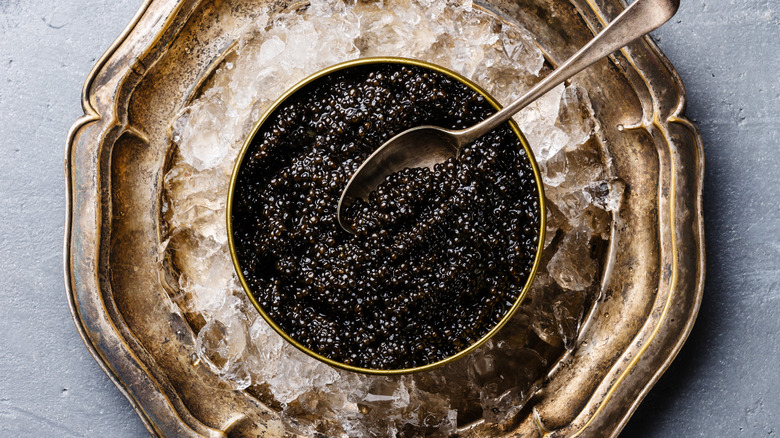 Lisovskaya/Getty Images
"Caviar is rich in omega-3 fatty acids, vitamin D, and B12. It's a natural antioxidant and has a soothing effect," cosmetic chemist Ginger King tells Well+Good. Because of this, caviar is especially helpful for people who have dry, dehydrated skin. Caviar's moisturizing and nourishing qualities help fortify the skin's barrier function and aid in restoring moisture levels in the skin.
The antioxidants in caviar extract also have the ability to reduce inflammation, prevent the breakdown of elastin, minimize wrinkles, and protect the skin against hazardous UVA and UVB rays. That's why it is a popular ingredient in a number of high-end anti-aging products. But although caviar lends your skin additional protection from the sun, it cannot replace SPF. For maximum sun protection, use both sunscreen and caviar. 
Another reason why caviar skincare is considered an effective anti-aging ingredient is that it promotes the development of collagen and ceramide in skin cells, which helps to tighten and lift skin while deeply hydrating it. It is also a generally safe and well-tolerated ingredient for all skin types. However, if you have an allergy to any sturgeon fish, or even to caviar itself when ingested, consult your physician before trying it topically. 
How to introduce caviar into your skincare routine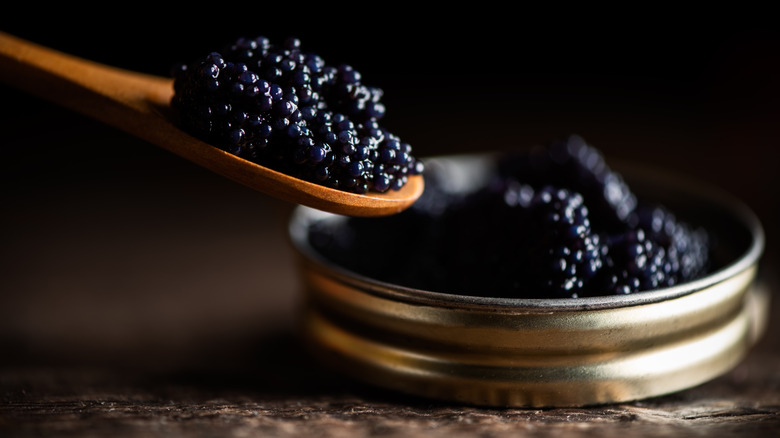 Fabiobalbi/Getty Images
Numerous skincare products, including moisturizers, masks, and serums, include caviar extract. But moisturizers seem to be the most popular way to introduce the ingredient into a skincare routine, board-certified cosmetic dermatologist Dr. Michelle Green tells Byrdie. "Adding caviar extract to a moisturizer formula ensures that the powerful properties of caviar are fully absorbed into the skin, continually promoting hydration and a youthful appearance over time," Dr. Green explains.
Caviar extract contains heavy moisturizing elements, which can leave a thick residue on the skin and make a greasy, pore-clogging base for makeup when used during the daytime. Therefore, dermatologists recommend saving caviar cream for nighttime, when skin cells go through the renewal and repair process. 
When it comes to layering, hyaluronic acid and retinol are extremely potent anti-aging ingredients to pair with caviar extract. Retinol boosts the formation of collagen and improves the feel of the skin, while hyaluronic acid plumps and softens the skin. When used in tandem, they amplify the anti-aging effects of caviar extract and make your beauty routine work more effectively.