You Definitely Need A Clear Lip Liner In Your Makeup Bag - Here's Why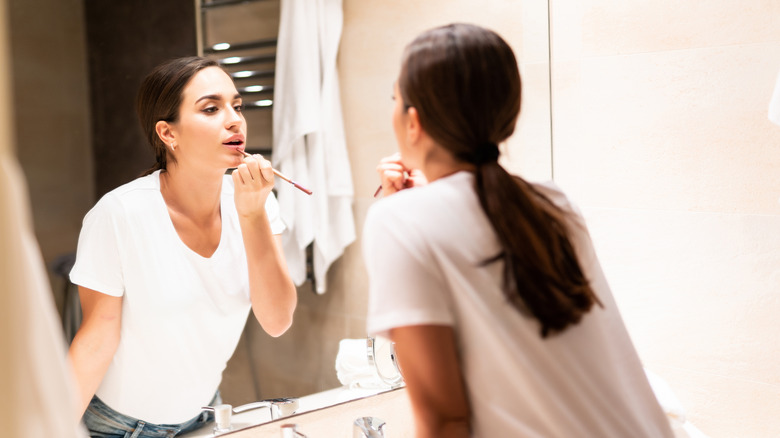 Diana Grytsku/Shutterstock
Lip products make up a large segment of the makeup industry, with lip gloss, lip liner, and lipstick selling a combined $720 million in 2022 alone, according to Statista. If you're a seasoned makeup lover, then you likely already have a few of these items in your makeup bag, especially if you love nothing more than a plumped and defined lip. However, there is one makeup product that could give your trusty go-to lip liner a run for its money. Say hello to clear lip liner. Although it may sound strange, this makeup product has an exciting array of benefits to give your makeup look the extra oomph it needs — particularly if you like to focus on your lips.
Clear lip liner works perfectly with other lip products and could even help you shape the lips of your dreams. Below, we'll take a look at why you should consider adding a clear lip liner to your makeup bag.
It's suitable for all skin tones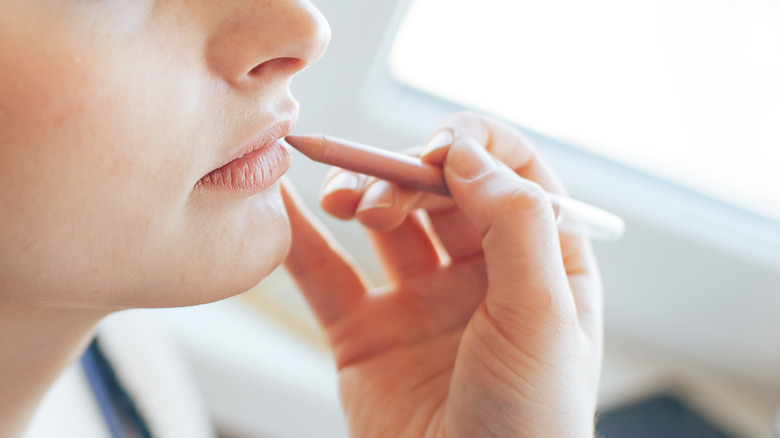 Vitaliy Karimov/Shutterstock
One excellent benefit of a clear lip liner is that it is suitable for a wide variety of skin colors and shades, meaning that anyone can wear it. This could save you time that you may otherwise spend trying to find the perfect shade of lip liner that suits your skin tone and preferred lipstick shade, which can sometimes be tricky at best. Clear lip liner is also an excellent gift choice for someone who is a makeup lover, as you won't need to worry whether they will like the shade!
A typical lip liner is a great tool for making your lips appear larger and plumper, and it is often intended to match the color of your lipstick. However, this is precisely why having a clear lip liner is beneficial. Rather than having to search endlessly for a shade that perfectly matches your lipstick color, clear lip liner works in harmony with every shade that you can think of, ranging from black to the brightest red hues. This makes clear lip liner an incredibly convenient product, particularly if you're often out and about and need a quick touch-up. All you have to do is outline your lips, apply your lipstick, and you're ready to go.
It could save you money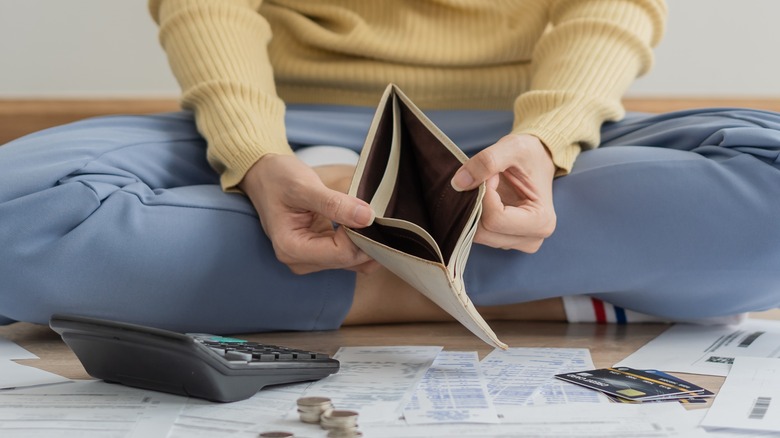 Kmpzzz/Shutterstock
Now you know clear lip liner is incredibly versatile. However, this isn't the only benefit you could reap from the product. In the long term, using a clear lip liner could save you money, especially if you often shell out your hard-earned cash on various colored pencils. If you're someone who doesn't often wear lipstick or who prefers to wear a full face of makeup, then this is a good product to have in your arsenal — particularly if you're on a budget. So, not only is using clear lip liner a win for your lips, but it's also a win for your purse strings as well. If this isn't a reason to add one to your makeup bag, what is? 
However, it is important to note that if you often use regular lip liners, then it may not be as cost-effective, as you will have to replace those too. If you calculate how much you spend on each, then you should be able to discover if this benefit applies to you.  
It helps to lock your lip color in place
In addition to being able to match any lip color, a clear lip liner also has other advantages over a colored lip liner. Speaking to Refinery 29, makeup artist Zoë Moore explains why the product is so advantageous, "A clear lip liner can help prevent feathering from lipstick, as it acts as a primer." Of course, this is great news for your lips, as it will help to keep your lipstick to appear in prime condition, as well as lock it in place. Primers are often used on the face to help your makeup apply perfectly, so a clear lip liner may also help to create this effect on your lips. 
So, if you're looking for a product that is versatile in nature, cost-effective, and will help your lip products to stay in place, then a clear lip liner is a winner. Of course, like with any makeup product, practice makes perfect, so it may take a bit of getting used to before you achieve a perfected lip look.