What Is A 'Financial Dominatrix'?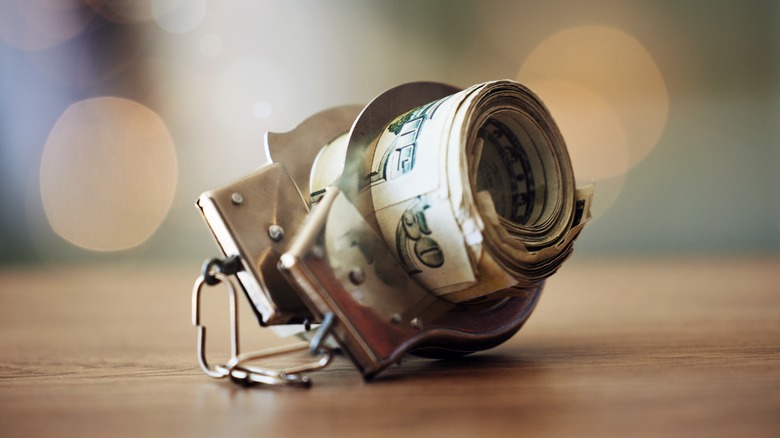 PeopleImages.com - Yuri A/Shutterstock
There's no doubt that every relationship has its unique dynamic, which is part of what makes them all so special. However, some share the same fundamentals, attractions, and particular preferences. For instance, there are various kinds of female-led relationships, including ones that can end up being quite financially lucrative. That's especially true if you're what's known as a financial dominatrix. The name certainly hints at the full meaning, which involves powerful women controlling submissive figures that offer them payment in the form of money or gifts understood as tributes. Although submissives — known as finsubs or other monikers — can be men, women, or non-binary, they all desire to be dominated in various ways, including financially.
Advertisement
"It's controlling someone through their wallet," financial dominatrix Mistress Marley explained to The New York Times. "I love waking up every day realizing that submissive men pay all my bills and I don't spend a dime."
Of course, that's just a simplified explanation, and there is much more involved when it comes to these particular money-related relationships. From how it really works to how much money a financial dominatrix can make, there's no doubt that you'll find yourself intrigued by this kind of pricey arrangement.
How financial domination really works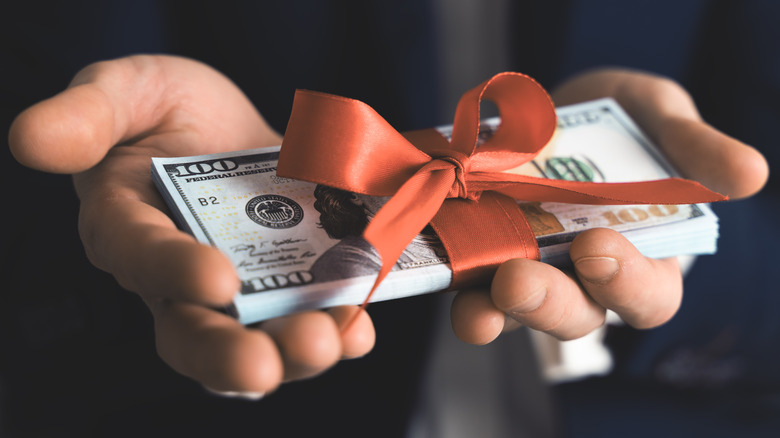 Velishchuk Yevhen/Shutterstock
Being involved with a financial dominatrix includes one person offering another money or gifts and the other responding with a specific kind of attention. However, there is much more to know regarding the ins and outs of this sort of connection. For instance, some of the domination may come in short messages and brief interactions; at other times, it might be hours-long sessions (in-person or online) meant to fully wear down and break down the submissive person. The latter option will possibly involve a spending limit. If that's the case, the session will end when all the money is spent. The same goes for a session meant to empty the sub's bank account.
Advertisement
For anyone who is shy or has other reasons to protect their identity, the fact that you don't need to meet in person is definitely a perk. Some interactions merely involve sending pictures that can obscure the subject's face if they don't want to be identified. When it's time to pay up, money can be sent online using platforms like OnlyFans or Stripe. If gifts are preferred, a financial dominatrix may set up an Amazon wishlist or accept gift cards. The dom will offer their distinctive expertise in return for the payment and presents.
Findom is about power and control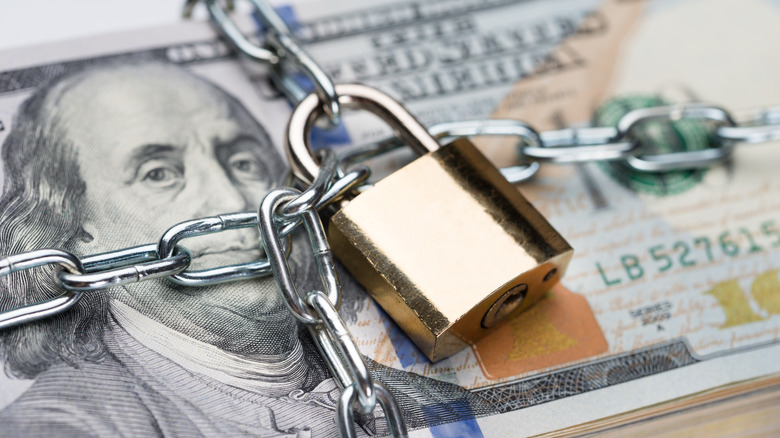 Andreypopov/Getty Images
It might be difficult for some people to understand why anyone would want to hand over their money to a financial dominatrix. It has to do with a particular kink. Joe Kort, a sex and relationship therapist and co-director of the Modern Sex Therapy Institutes, explained to The New York Times, "It's a power exchange, just like in B.D.S.M., only it's without ropes or chains — it's with money. The money is, in fact, the chains, because dommes are tying up subs financially."
Advertisement
Indeed, BDSM (a.k.a. bondage, discipline, sadism, masochism) can be practiced in many forms. However, all involve some power play. It's also relatively popular, with 47% of women and 60% of men revealing in a 2016 study that they have imagined being a dom. On the other hand, there are people attracted to the submissive side. A person identified as R.J. told The New York Times they had given over $150,000 during their findom relationships and noted, "It's this feeling of giving up complete control, of someone having ownership over you. I find that really arousing."
Phillip Hammack, a professor of psychology at the University of California, Santa Cruz, who is also the director of its Sexual and Gender Diversity Laboratory, confirmed, "The arousal is in the act. It's about that loss of control." That's why some findom relationships don't even involve touching.
Advertisement
Findom doesn't have to include physical contact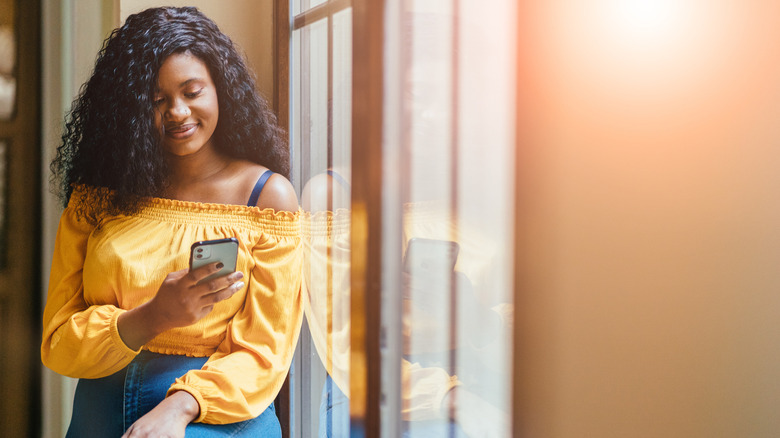 Iryna Inshyna/Shutterstock
Many relationships — including ones involving power and control — include a physical aspect. That can certainly be true when it comes to a findom situation; however, it doesn't necessarily involve any physical contact. Financial dominatrix Mistress Harley told Cosmopolitan, "There is absolutely no sex and usually no touching of any kind involved. This is a submissive person giving me money because it gives me pleasure to receive it and them a pleasure to give it."
Advertisement
Of course, there are some exceptions. If a dominatrix wants to offer a kind of power play that includes physical contact — or even sex in one form or another — that's both their choice, as well as one the sub must agree to. Even Mistress Harley is willing to meet up with her subs, but only to be paid, which she controls as well. The subs hand over their ATM or credit cards, and she takes money from their accounts herself. She also pointed out, "The most I've ever allowed a submissive to touch me was to kiss my feet after spending thousands and thousands of dollars on me."
If that doesn't sound quite like the kind of arrangement you're interested in, don't worry! Forming a relationship with a financial dominatrix as a submissive also involves figuring out what works and doesn't work for you.
Advertisement
You have to find the right financial domination fit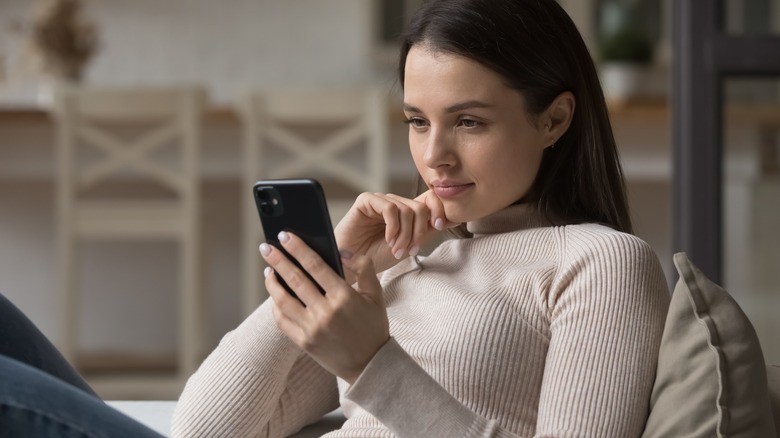 fizkes/Shutterstock
Being involved with a financial dominatrix or, in turn, someone who is submissive may seem pretty straightforward on the surface. However, the intricacies of the relationships make them satisfying for both people. Or not satisfying at all. That's why, as Ethan, a submissive figure based in Yorkshire, England, told BuzzFeed News, "It's just like any other relationship in that some don't work out because you don't want the same thing out of it."
Advertisement
That also means that as a dominatrix and a sub, it's crucial to find out what you want, your goal, and what you're comfortable doing. As a dominatrix, you should define clear boundaries for yourself and your submissives. Also, think about what kind of interactions you are interested in and what you don't want to offer — considering everything from your ideal subs to how you can be compensated. As a submissive person, do the same, as well as come up with a budget for yourself if needed.
Remember to keep in mind that you can try out various arrangements and change things as you feel necessary. Just be sure that the other person (or people) involved are on the same page and consent to whatever is being offered and received on both ends. If that's not the case, then it might be time to end one relationship and move on to something that's a better fit.
Advertisement
Financial domination can be healthy or harmful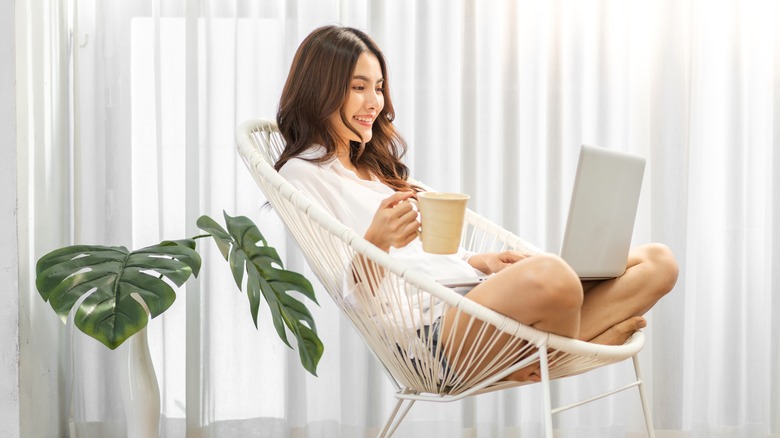 Art_Photo/Shutterstock
Financial domination may seem iffy to those unaware of the motivations and connections involved. Although dodgy circumstances might pop up — as they can in any relationship — sex therapist Kelly Wise, Ph.D., told Men's Health that findom can be healthy. It just needs to be done safely, including limits, openness, and, as always, consent. As a financial dominatrix, Jenna Sativa also acknowledged the demands of the position, saying, "It is definitely easier money than anything else I've ever done, but at the same time, it's not easy, because you have to put in a lot of time and money for these clips. These guys want to see you looking good when they're giving you $100 for every paycheck."
Advertisement
Beyond that, those who dominate can feel a responsibility toward their subs. That means giving them the attention they pay for as well as controlling the arrangement when it may be getting out of hand. Financial dominatrix Bratty Nikki explained, "Anytime I've seen someone who's pushing themselves too far and was feeding an addiction, I've let them down gently or told them I don't think we should continue. You want to push the envelope, but you don't want to push them off the ledge. It is a delicate dance."
"[It] does take a personality that is caring," financial dominatrix Tatiana added. That's perhaps just one thing that people may not realize about this kind of arrangement.
There's confusion around being a financial dominatrix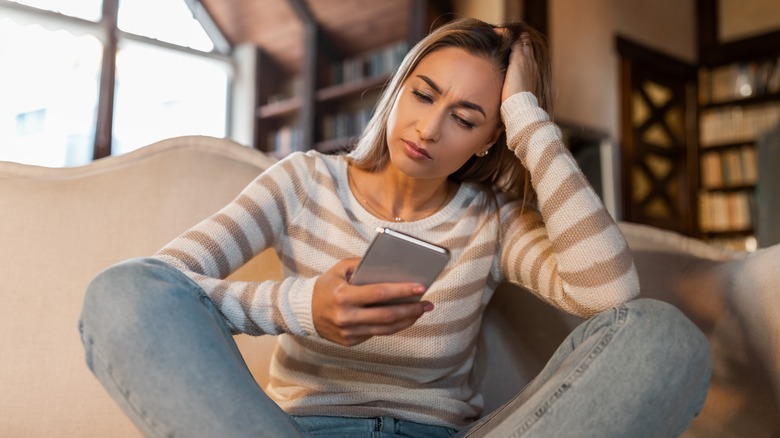 Prostock-studio/Shutterstock
Even if you're aware of financial domination, you might be confused about certain aspects of being a part of this kind of relationship. A financial dominatrix known as Food Fetish told Refinery29, "One of the biggest misconceptions is that it's easy, and that you're going to sit there and say, "Give me your money!" and people are just going to give it to you. You have to be giving something in order to get something — that's what people don't understand."
Advertisement
That's not to mention that people dismiss findom as something that anyone can do without being informed about what's involved or proficient at what's required. They also don't realize that a financial dominatrix has to be reliable and keep up with a steady stream of messages, images, videos, or posts if needed.
Additionally, Food Fetish brought up the importance of finding your niche within the findom community, noting that some don't realize they can't simply do the same thing as others. They instead need to make their mark in their own way. She explained her attitude toward her content, saying, "Once you put something on the internet, it's there forever, which is why I decided to create my own lane..."
Advertisement
Beware of fake findoms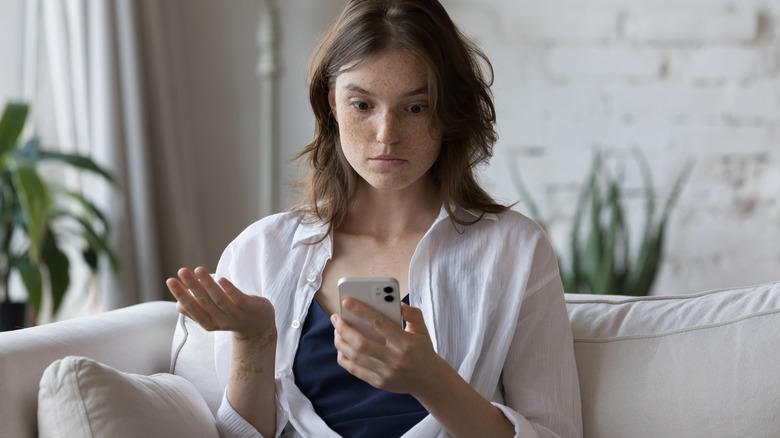 fizkes/Shutterstock
Perhaps another misunderstanding about being a financial dominatrix is that you can do whatever you want to the submissives under your control. That's definitely not true, as there's a responsibility, as we've mentioned. Failing to fulfill that is not only a breach of trust but can also be a sign that something fishy is going on, such as a fake findom. A man named Chris told BuzzFeed News, "I had a few different doms. There wasn't much actual domming going on, I would just talk to them and on occasion I'd send them something ... A lot of these people don't have any ethics."
Advertisement
"Online though — especially on Twitter and Facebook — there are hundreds and hundreds of fakes, and they're usually catfish, that is, men pretending and posting pictures taken from somewhere else," financial Dominatrix Krystal Goddess told Mel Magazine. Fortunately, if you're a submissive person looking for a dom, you can protect yourself by knowing what to do before entering a findom arrangement. Another financial dominatrix, Princess Abbie, said, "They should search for the domme's name on social media and see if they're mentioned in any call-out posts, and pay attention to how and what they tweet. These accounts get weeded out by the community, so scammers earn a bad name quickly."
Advertisement
Of course, if you or the financial dominatrix you're interested in are legit, then a fair share of money might change hands.
A financial dominatrix can make a lot of money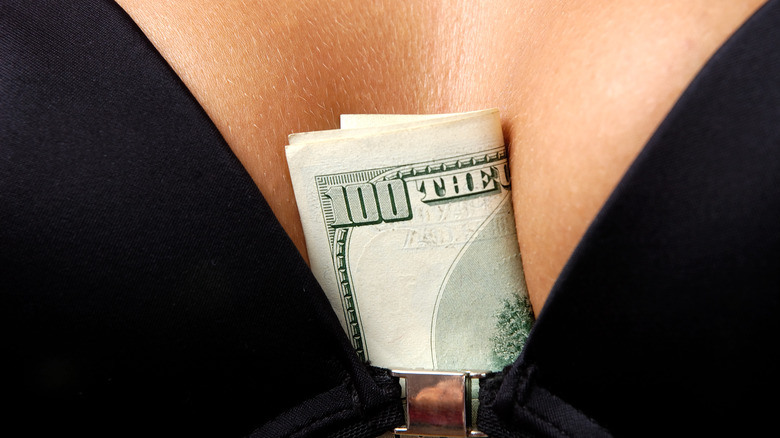 YouraPechkin/Shutterstock
Whether you are (or are interested in) working as a financial dominatrix or are intrigued by the idea of being submissive to one, there are plenty of details to consider. Of course, in the end, money is a significant factor. So, how much can a financial dominatrix make? That depends on how many subs they have, what they offer, and how much they charge, among other things. However, thanks to people who have opened up about their findom income, you can get an idea.
Advertisement
TikTok user Hope Vicious shared a video answering a question asking if her subs have to pay a certain amount of money. It was a definite yes. On top of requiring them to send her money and buy gifts continually, she told her followers, "I do have a minimum and some people would consider it high but I actually consider it quite low for what the going rate is for doms with my level of experience. So the minimum weekly tribute that I accept is $100 a week."
While that's impressive, Mistress Marley told The New York Times that she was only two years into being a financial dominatrix when she started earning up to $2,500 a week. Yes, each week! She also provided screenshots showing she can now make $5,000 weekly. She noted, "So many people are thriving off of this industry online. I know this because I'm thriving."
Advertisement