Coach's 'Coachtopia' Brand Is Taking Sustainability Seriously By Recycling Products
If Coach's rebranding efforts have taught us anything, it's to expect the unexpected. After all, the fashion house's latest designs are nothing like your grandmother's bags. Of course, the American luxury designer still offers several tasteful leather creations inspired by their earliest lead designer, Bonnie Cashin. Yet recent collections have featured brighter colors, playful trims, and other unexpected details, thanks in part to the influence of Coach creative director Stuart Vevers. Between Vevers' innovation and the fortuitous resurgence of Y2K fashion, Coach has earned its place as a favorite label among fans across generations.
It should come as no surprise that Coach is also embracing one of the fastest-growing trends in fashion: eco-friendly design. Last Thursday, the brand announced the launch of a new sustainably produced label, known as Coachtopia. Whether you're a loyal Coach fan or prefer buying fashion pieces sustainably, the whimsical Coachtopia collection has something everyone can appreciate. Ahead, we'll uncover everything you need to know about Coach's latest venture in ethically sourced design.
Why Coach is moving toward more sustainable fashions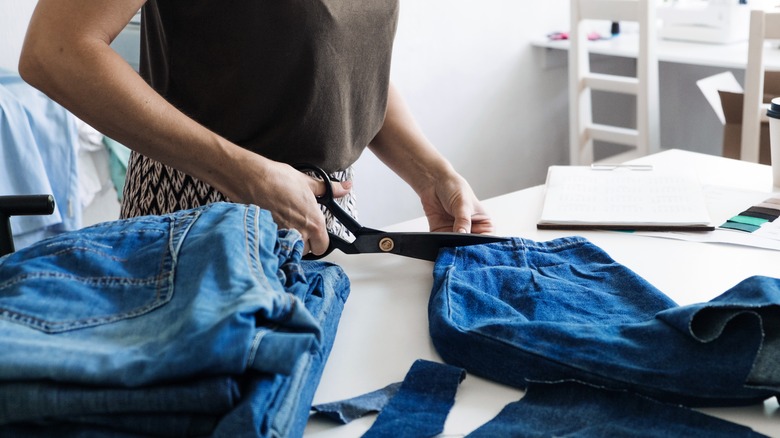 Iryna Imago/Shutterstock
It's no secret that the global fashion industry generates significant pollution. According to a recent McKinsey report, nearly half of the textile industry's total greenhouse emissions come from creating new materials. Today, countless fashion houses and retailers alike have evolved to reflect the changing values of modern consumers. Designers like Gabriela Hearst and Stella McCartney are known for their ethical and environmentally friendly practices, and several retail lines have followed suit. H&M, for example, paved the way with its Conscious Collection in 2010, while the recent controversy surrounding Shein led the Chinese fashion giant to adopt more sustainable policies.
Over the years, Coach has been under fire for their underwhelming reputation in terms of sustainability. In 2021, the fashion house faced consumer backlash for destroying "unsalable" goods, such as returned handbags. In response, the brand vowed to discontinue the practice and even launched a new line: Coach (Re)loved, featuring recycled and repurposed designs. Coachtopia is the brand's latest venture toward more sustainable fashion.
Whereas Coach (Re)loved upcycles older fashions, Coachtopia products are fashioned using leftover scraps sourced from textile distributors and the brand's own cutting room floor. "The idea behind Coachtopia is to not just create new and beautiful craft from waste but also to close the loop by designing out waste in the first place," Vevers told The New York Times. In addition to scrap materials, Coach utilizes recycled fabrics and trims to create its cheerful Coachtopia collection.
A closer look at the Coachtopia launch
Curious about what the Coachtopia collection has to offer? With just under 100 items available at the time of writing, handbags appear to be the star of Coachtopia's otherworldly show. Several bags feature the noughties hobo Ergo silhouette, while others, like the Wavy Dinky, incorporate a chainlink resin strap reminiscent of mid-century lucite handbag designs. The sub-label also features clothing, from graphic tees to patchwork denim selections, as well as wallets, shoes, and bag charms. A recycled canvas Tote Bag featuring colorful spotted mushrooms is $195 at the time of writing, while the Checkerboard Wavy Dinky bag retails for $495.
Coachtopia's overall theme is playful, likely crafted to attract Gen Z and millennial attention with a fusion of noughties designs and '70s imagery, from cherries and mushrooms to rainbows and crescent moons. This is likely due in part to the company's partnership with its Beta Community, a team described by Coach as "diverse and inspiring Generation Z individuals who are feeding their opinions and ideas into Coachtopia products." One Coachtopian collaborator in particular, Sabrina Lau, is the artist behind many of the striking graphic designs in the collection.
Want to get your hands on some of these beauties? You'll have to act fast. Despite the line's recent launch date, an incredible number of Coachtopia handbags have already sold out at the time of writing. Fortunately, Coach has swiftly announced restocking dates for sustainable styles like the Ergo bag.