More Isn't Always More: Why You Should Avoid Multiple Scalp Treatments At Once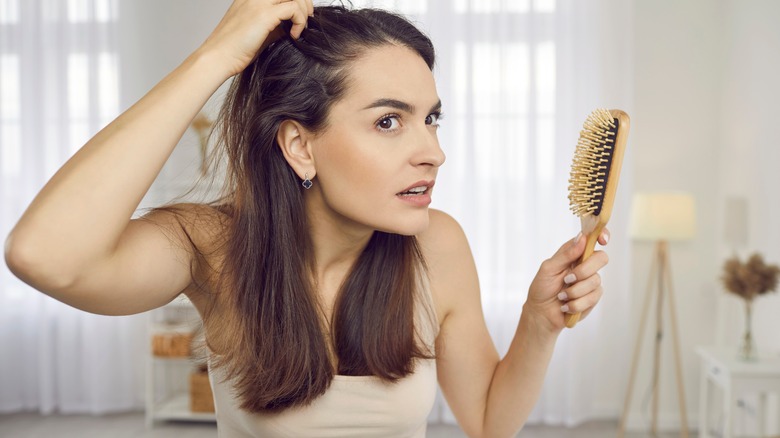 Studio Romantic/Shutterstock
We may receive a commission on purchases made from links.
When it comes to skincare, it is easy to forget about our scalp in the process. The scalp is a part of your skin, and when it is out of whack, we can often suffer from dryness, dandruff, and so much more. To combat or prevent this, people usually opt for scalp treatments as an easy fix. According to the Academy of Beauty Professionals, doing occasional scalp treatments is great for unclogging hair follicles, getting rid of dandruff, and even preventing hair loss.
Considering the benefits, it's no surprise that scalp treatments have been gaining popularity lately. TikTok swears by using glycolic acid to treat dandruff, and as a result, many companies are rushing to create their own treatment to supply the heavy demand. With the influx of choices, people are putting multiple treatments on their scalps, but this option can do more harm than good, often leading to worse scalp issues than what they started with.
Watch out for the ingredients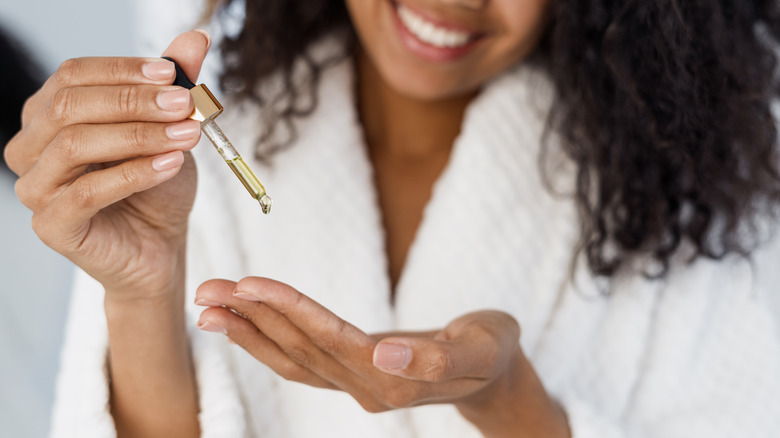 Brizmaker/Getty Images
Active ingredients are a big deal when using these treatments. Some of the most common ingredients used in scalp treatments are glycolic acid and salicylic acid; they are great for providing chemical exfoliation to the scalp. Dr. Sharon Wong, a London-based consultant dermatologist, spoke to Etre Vous about the benefits of glycolic acid, explaining that it's "one of the smallest of the alpha hydroxy acid molecules, making it highly effective in penetrating the stratum corneum to disintegrate and lift away dead skin cells." Salicylic acid, on the other hand, goes deep into the pores to remove dirt and oil, as well as help with any itchiness or microbial issues.
While both ingredients are amazing, they don't mix well together. According to the Inky List, when these ingredients are combined, it can lead to over-exfoliation and irritation of the scalp, making any issues potentially worse than before.
How to use a scalp treatment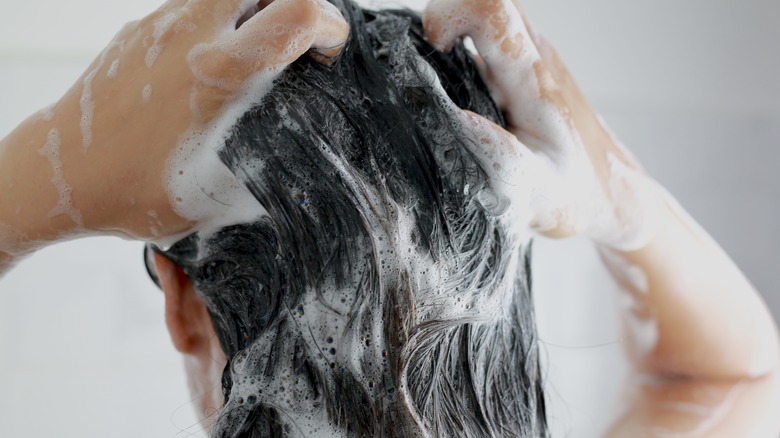 fongbeerredhot/Shutterstock
When using a scalp treatment, it is beneficial to be as simple as possible with it. Your best bet is to review the label and pay attention to what kind of treatment you are using. If it is meant to be a temporary treatment, it is important to only keep it on your scalp for the recommended time and rinse thoroughly. Make sure to get all of the treatment out of your hair in order to not suffer from adverse effects.
Avoid exfoliating your scalp too often if you have sensitive skin, especially when using a salicylic acid- or glycolic acid-based treatment. Doing so can cause lead to visible irritation and may even trigger certain conditions such as eczema, according to Healthline. Sure, there are effective ways to repair your skin after over-exfoliating, but it is so much better to avoid the process altogether.