Our Best Tips For Applying Blush On Textured Or Scarred Skin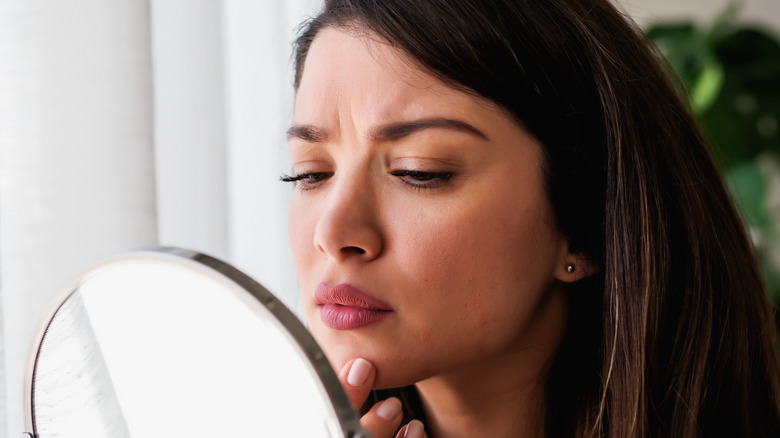 Lordn/Shutterstock
While many people associate acne and pimples with puberty, the truth is that it is not uncommon for these skin ailments to follow us into adulthood. The American Academy of Dermatology Association notes that acne can appear during any stage of life, and it can even continue into our 40s. Although some of us escaped the long-term impact of zits from our teenage years, not everyone is as lucky. The Cleveland Clinic states that 80% of people between the ages of 11 and 30 will experience acne, and one out of five of these individuals will develop scars as a result.
Fortunately, there are several different treatment options available for those who have scarred or textured skin — regardless of whether they developed from a single pimple or aren't acne-related at all. A dermatologist can point you in the right direction, and some of the recommended options may include lactic acid, retinoids, or alpha hydroxy acids. Microdermabrasion and chemical peels can also improve the texture of your skin without the need for a more invasive procedure.
Until you can discuss your options with your dermatologist, though, you can hide your scars with your makeup — even your blush! While it may seem counterintuitive to use a colorful product on an area you're trying to mask, blush can still be in your rotation, so long as you don't opt for a cream variety.
When to opt for powder blush over cream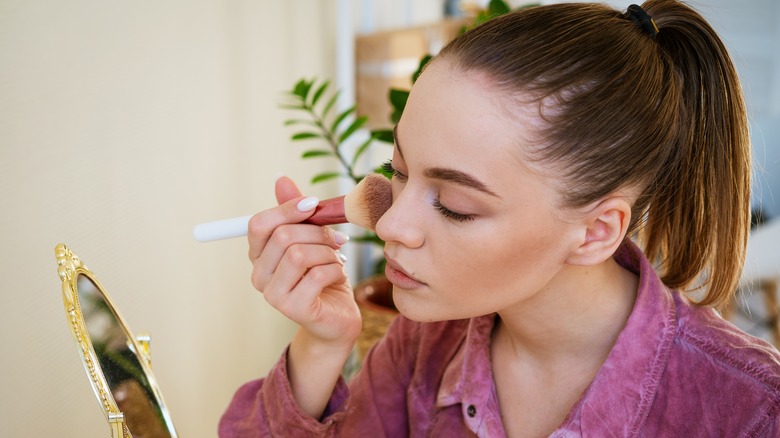 Pereslavtseva Katerina/Shutterstock
Even if you aren't big into blush, there may be a special occasion when you want to add a little color to your cheeks. As blush enthusiasts know, wearing it can instantly add liveliness to your overall appearance. Furthermore, it can help you create a bit of warmth for a healthier look.
If you're interested in trying blush on your textured or scarred skin, steer clear of creamy products. "A powder is preferred over a cream blush because cream will get into the skin's texture," makeup artist Bobbi Brown told The Zoe Report. Before you begin, apply a thin layer of sheer powder to your skin to develop a smooth foundation. Then, use a brush to add your blush. "Just smile and apply blush to the apples of the cheeks, so it gives you a natural flush," Brown continued. "Then, use your brush to extend the blush towards the hairline. This will soften the look and naturally lift the face."
If you find that powder blush is emphasizing your acne scars rather than hiding them, take other blush formulas into consideration that are designed to complement your skin type. For example, an oil-free blush specifically designed for your complexion may be what you need to add color to your cheeks with confidence.
Choosing blush that works for your complexion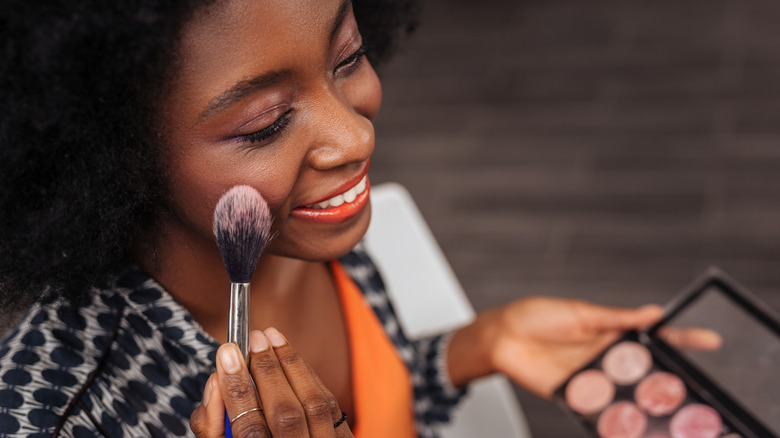 Dmytro Zinkevych/Shutterstock
As anyone with textured or scarred skin can tell you, covering up these blemishes is no small feat. However, taking the time to prep your skin before applying any makeup can go a long way. Using a moisturizing primer or face cream is best, as it can help you layer and build your coverage until you have the smooth palette you want. Then, you can softly brush your foundation over your skin.
When you're ready to begin using your concealer, don't be afraid to use your fingers — this allows you to be more precise, and you'll be able to smooth the concealer flawlessly over your scars. Once you move on to your blush, feel free to use your fingers (after cleaning them, of course) to add it to your cheeks if you're applying a cream formula. Just be sure to begin with a small amount to avoid adding too much color. If you're working with a powder blush, use a round makeup brush and a swirling motion while applying it for a natural look.
When it comes to blush, many people fret over selecting the perfect color for their skin tone. Generally speaking, those with fair complexions pair well with blushes that have a pink or berry shade. Those with a medium skin tone often sport blushes with peach and rose colors well, while people with dark complexions can easily flaunt hues from coral to red-brown.