The Low-Bun Hair Hack That Looks As Effortless As It Is To Do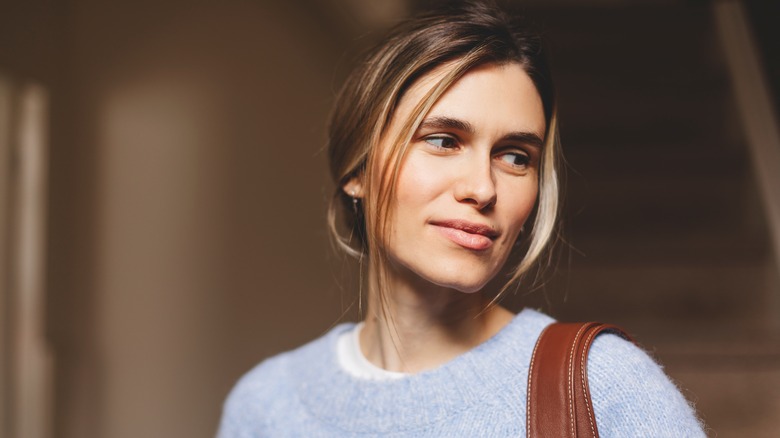 Ekateryna Zubal/Shutterstock
Do you need an easy, low-maintenance look that keeps hair out of your face and looks amazing for any occasion? A low-bun is where it's at. It's often the go-to hair-do when you haven't washed your hair or when it's just too humid to even think about doing your hair. After all, buns are super versatile — from fashion shows to the grocery store, they can be worn anywhere. Whether you're an everyday bun-wearer or new to the bun game, we have a hack for you.
Advertisement
There are bun hairstyles for every hair length, but we're here to offer a tip for the medium to long-hair folks. This hack comes from none other than Chris Appleton, a celebrity hairstylist for icons like Jennifer Lopez, Ariana Grande, and Kim Kardashian. He shared his advice on TikTok in a video that reached over 3 million people. Therefore, it's safe to say this low-bun is a hit. 
The low-bun hack
Some days you don't want a low-bun that's neither slicked-back nor super messy. Luckily, Appleton's hack is a perfect middle ground between the two, and it takes less than a minute.
You start out with a low ponytail and pull your hair through only about a third of the way through the last loop to get a small bun. Then, take the extra strands of hair that you didn't pull into a bun and crisscross them around the hair tie, covering it completely. To secure the bun at the bottom, use a bobby pin and you'll have a cute, casual bun with little to no fly-away hairs. Plus, you can pull a few pieces of hair to the front for a face frame, as Appleton does in his video. 
Advertisement
Like most buns, you can wear this low-bun anywhere, like to work or on a night out. In fact, one fellow user found Appleton's trick quite utilizing saying, "As a nursing student who can only wear buns, this is saving me."
Another low-bun tip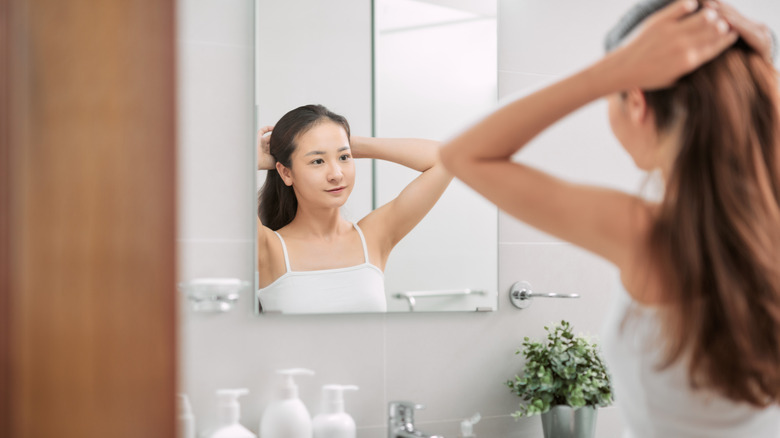 Makistock/Shutterstock
With hair, there's never just one way to achieve the look you want. If you want another option, social media user Stephanie Mihaila has a similar low-bun hack in her Instagram video, which garnered over 12k views. It's very similar to Appleton's hack, except for the last couple of steps. 
Advertisement
Mihaila starts with a low ponytail, tying her hair back and loosening some strands to add some extra volume — a good tip for people with thinner hair. Then she creates a small bun on the last loop, just as Appleton does in his video. However, instead of crisscrossing the extra pieces around the bun, Mihaila ties the two strands of hair together at the tips with a smaller elastic band, creating a loop. She twists that loop to create a tighter hold and then wraps it over the bun. Lastly, she pulls on the extra pieces to secure them together, hides the hair tie, and pins any extra pieces sticking out. This tip adds a little bit more hold so the bun doesn't fall out. Regardless of which you choose to do, both hacks create a cute and simple bun, so try them out and see which one is your favorite. 
Advertisement