TikTok's Wet T-Shirt Hack Promises Shinier Hair & Couldn't Be Simpler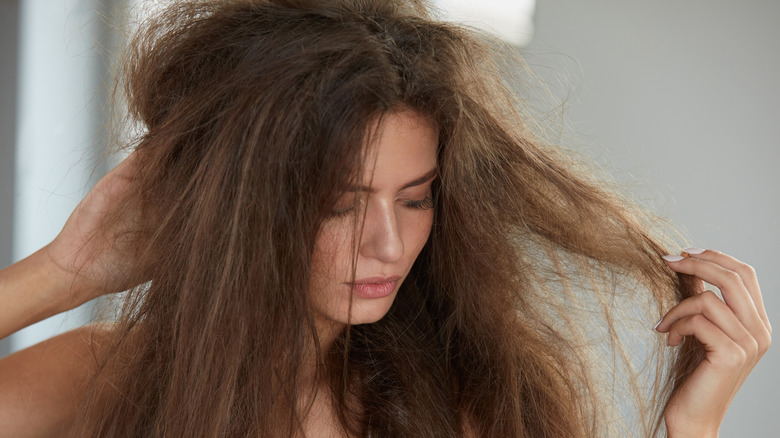 Puhhha/Getty Images
If your hair naturally has a dull appearance despite the effort you put into keeping it hydrated and healthy, you might've already given up on the shine factor. Those who aren't lucky enough to have lustrous locks typically have to use hair products to give their tresses any shine. Now, a new TikTok hack can supposedly do all of that work for you. The result is shinier, head-turning hair.
Advertisement
TikTok creator @audreyvictoria_ posted a video that has her followers buzzing after proving that all you need is a warm, wet cotton T-shirt to get the shiny hair you've always wanted. Best of all, it also gives you softer tresses, which might come as a relief if you're constantly frustrated by dry, unruly hair.
Use any hair masks or scalp treatments that may be necessary while your tresses are still dry. Then, grab a T-shirt that is large enough to wrap around your head and prepare to hit the shower. You can begin your normal hair-washing routine. The TikTok hack comes into play once you've fully rinsed your hair. When you're ready, reach for your favorite conditioner and begin combing it through your hair with your fingers. After your tresses are fully saturated, you can bring that T-shirt into the shower with you to start the shine-boosting process.
Advertisement
How to add shine to your hair in just 30 minutes
While you're still in the shower, soak the T-shirt in warm water, as @audreyvictoria_ does in her TikTok video. Make sure you wring out any excess water to avoid dripping once you step out of the shower. Wrap all of your hair up into the T-shirt, and set a timer for 30 minutes. Once the 30 minutes are up, you can unwrap your tresses and begin to rinse out the conditioner you applied with cold water. While @audreyvictoria_ doesn't show how she dries her locks in the TikTok video, she does flaunt the final product. To say her hair looks shinier is an understatement, which may be why the video has more than 1 million likes.
Advertisement
If you have 30 minutes to spare and a T-shirt, this TikTok hack likely won't do any harm if you're looking for a simple way to increase the shininess of your hair. However, it helps to understand why your tresses may be lacking shine in the first place. Everything from improper hair care to poor nutrition can play a role in dullness. Even environmental factors, such as sunlight and cold air, can strip the shine from your hair. If your tresses appear to be dull, you may want to consider using a clarifying shampoo. This can remove hair products that have built up on your locks over time.
Going the extra mile to get shinier hair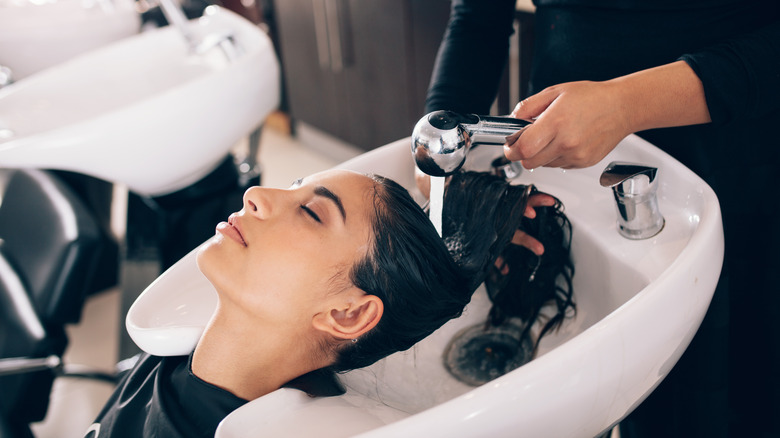 Jacob Lund/Shutterstock
If you tried the TikTok trick in the video posted by @audreyvictoria_ but want better results, there are other ways you can increase the shininess of your hair. Cleansing can certainly help when it comes to removing buildup on your locks, but if dryness is already an issue, you might want to focus more on rehydration. John Frieda points out that naturally dry hair has rougher cuticles, which may be to blame if you're struggling with dullness. To overcome this specific challenge, look for a restorative hair mask with moisturizing ingredients such as avocado oil. Keep in mind that certain hairstyling tactics, such as the use of blow dryers and straightening irons, can sap moisture from your tresses. A heat protectant is a necessity if you rely on these tools for styling.
Advertisement
If you still aren't seeing the shiny results you desire, you might want to visit your salon to speak to your hairstylist about alternative options. For example, they may be able to help you determine if a keratin smoothing treatment or glossing session is best for your specific hair type. They can also help you better understand your natural hair texture and give you tips for maintaining its shine at home.