Clothing Swaps Are The Environmentally-Conscious Trend You Should Embrace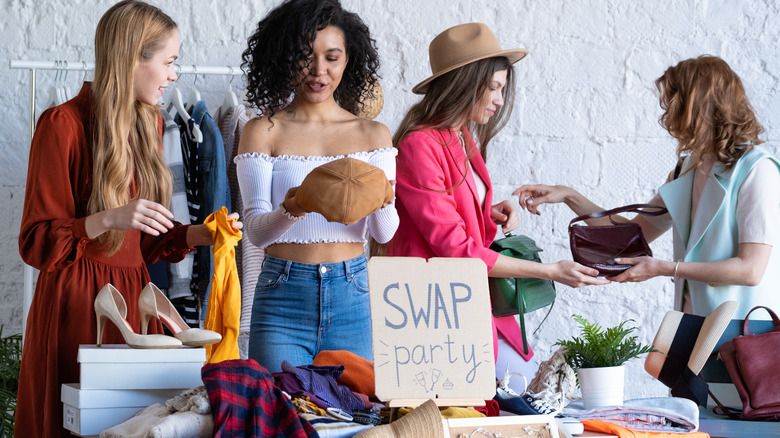 Fotoksa/Getty Images
There's no debate anymore about the current climate crisis. Scientists are saying that we are in the midst of a mass extinction, with deforestation, record heat, melting ice, and the thawing permafrost all contributing to the global warming crisis, per The BBC. But these things, along with our reliance on coal, oil, and natural gas, aren't the only culprit here. Human practices surrounding waste have had a major impact. Landfills are responsible for the contamination of soil and groundwater, and emit various compounds that create smog, unclear air, and speed up the mass extinction of flora and fauna, per NPR. One of the biggest culprits in landfills is fast fashion; you know, those trendy outfits you buy at H&M or Forever 21 that are cute for a season but then fall apart very quickly. The fashion industry produces approximately 100 billion items of clothing each year. Earth.org states that 92 million tonnes of these items wind up in landfills, so we need to reevaluate our approach to fashion.
If you want to keep your impact on landfills low, and still update your wardrobe in a sustainable way, it turns out that your local community clothing swap might hold the answer. That's right, don't throw out last year's H&M finds, swap 'em!
Swap 'til you drop (to save the environment)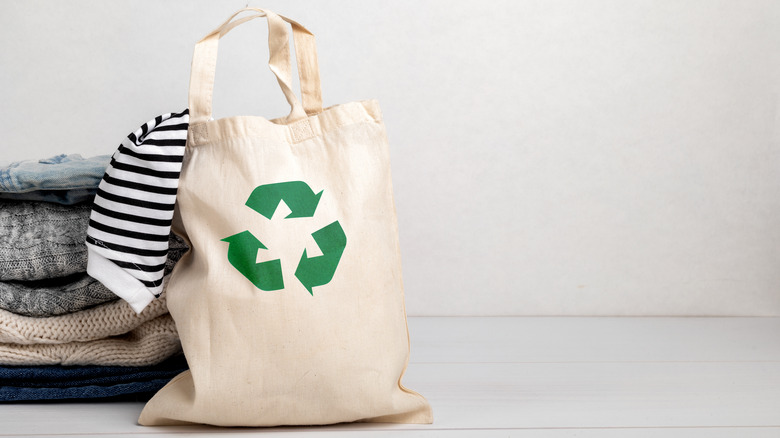 Netrun78/Shutterstock
You've probably seen notices on Facebook for a local clothing swap: often in churches, community centers, or hosted in backyards, swaps offer a sustainable alternative to dumping your old threads. Bring any of your gently used and pre-loved garments and swap them for new-to-you garments from others. The events are super fun, connecting you with your neighbors, and you get all the benefits of shopping therapy without spending a dime. Quite often, any items not snatched up are donated to women's shelters. The altruism doesn't end there — clothing swaps reduce the number of textiles (like polyester and other synthetic fibers) that end up in landfills, which create harmful greenhouse gases, per Reclypt. Nature.com reports that the textile industry produces 1.2 billion tonnes of CO2 equivalent per year. If that number seems a bit abstract to you, just know that is greater than the emissions of all international flights and maritime shipping combined. That's an image strong enough to give anyone pause.
The same outlet reports that our demand for fast fashion has risen 60% since 2000, so if we want to temper that demand, clothing swaps could have an impact. Since we exist in a supply-and-demand model, swapping reduces that demand, and thus less garments end up harming the climate, making swaps a sustainable way to shop and swap 'til you drop without making the earth go pop!
Swaps are an act of personal activism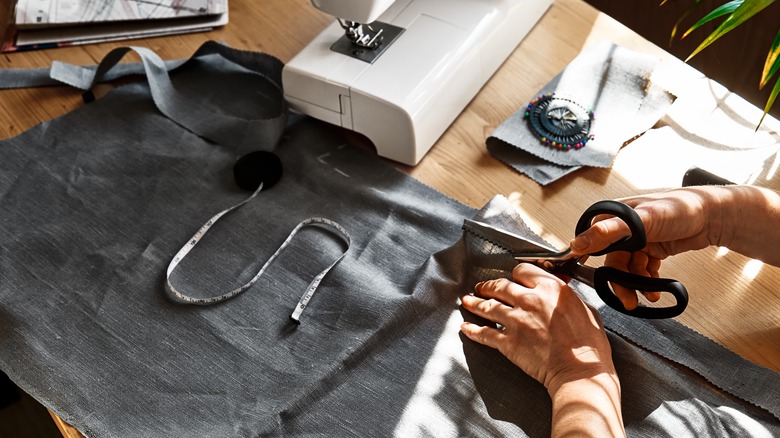 Caterina Trimarchi/Shutterstock
Swapping as a fashion trend is also a great way to take the climate crisis into your own hands. Climate change activist Greta Thunberg has said, "We can't save the world by playing by the rules, because the rules have to be changed. Everything needs to change – and it has to start today." A swap might be your trendy and fun way to harness your inner activist. 
There are even more ways to turn your fashion and wardrobe into an activist's tool for fighting the climate crisis. Thread the needle, fam. That's right, mending, darning, and fixing your old garments is a great way to keep them out of landfills. If you never learned how to sew, taking your garments to a seamstress or tailor is a cost-effective and sustainable way to make your favorite trendy items last longer. Ultimately, a lot needs to happen for us to reverse the climate crisis, and that long road not only begins with small steps, it begins with our own carbon footprints.