Why Patience Is Key To Prevent Cakey Makeup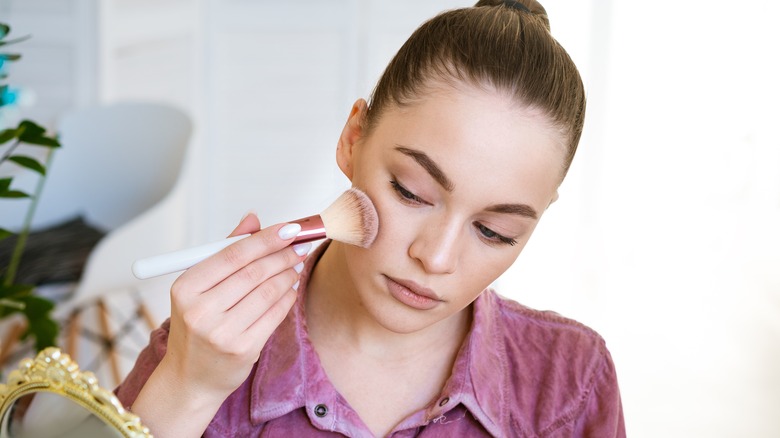 Pereslavtseva Katerina/Shutterstock
Even the most skilled at-home makeup users will tell you that you simply can't avoid a bad day sometimes; whether you run out of eyeliner at the last minute or humidity is working against you, you might be unsatisfied with your final look due to an array of uncontrollable factors. That said, cakey makeup is completely avoidable.
Advertisement
"Makeup can cling to the dry patches of your face in a different way, causing it to look patchy and cakey," celebrity makeup artist Monika Blunder tells NewBeauty. Educator Lynnette Cole adds to this sentiment, noting that uneven skin texture is often highlighted by foundation — something no one wants to see as they're applying their makeup. While a healthy skincare routine is essential to minimizing makeup mishaps during application, there are steps you can take to reduce them as well. As it turns out, patience is key, with many of us slathering on our moisturizer, primer, and foundation too quickly.
If you're wondering why your final look ends up cakey despite the endless amounts of moisturizer you use to hydrate your skin beforehand, you might not be waiting long enough. When your skin doesn't have the opportunity to absorb your moisturizer, for example, you may start with an uneven canvas and not even realize it.
Advertisement
Correcting mistakes that can result in cakey makeup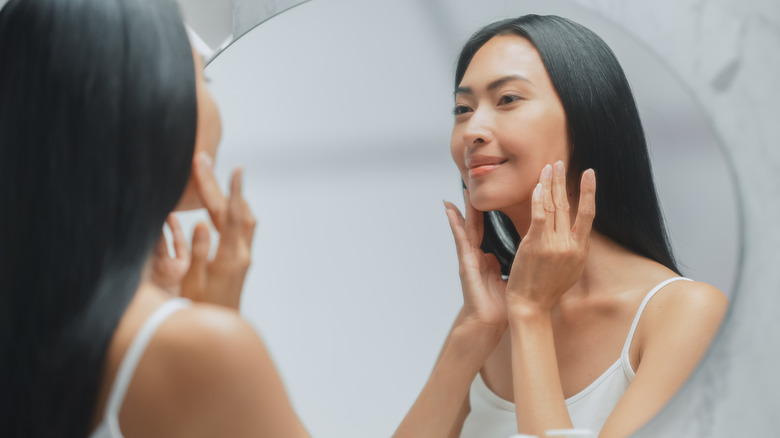 Gorodenkoff/Getty Images
As you moisturize your skin prior to applying any makeup, be mindful of any particularly rough patches on your face. A hydrating balm or dry oil may be more efficient for quickly hydrating these areas prior to cosmetic use. The goal is to have smooth skin across your face before you reach for your makeup. Once you apply your moisturizer, give your skin as much time as necessary to absorb it. This step might be all you need to avoid a cakey final look. If you're unsure of how long to wait, use 10 minutes as a starting benchmark.
Advertisement
If waiting for your moisturizer to kick in doesn't seem to be preventing a dreaded cakey look, you might want to reconsider your foundation. Ideally, your foundation should provide coverage, but it's important to be mindful of its pigmentation. A foundation saturated with pigments, for example, can create an unwanted heavier, cakey appearance.
In the event that you aren't willing to part with your foundation, do some cleanup with a makeup sponge. A damp beauty blender or sponge can be used after you apply your foundation to remove any excess. It's also more ideal than using a makeup brush, which can potentially add unwanted texture and patchiness to your face. When you're ready to seal your look, apply finishing powder where necessary; too much powder can create the cakey appearance you're trying to avoid.
Advertisement
Saving your look when it starts looking cakey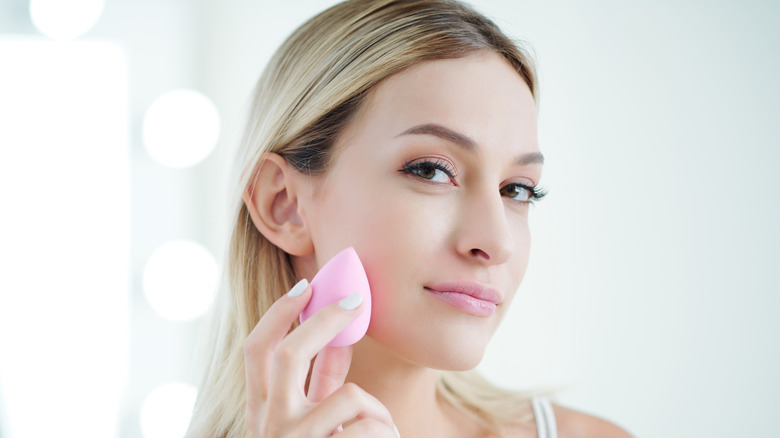 Dragonimages/Getty Images
If you get to the finish line during the makeup application process and find that you're looking a bit cakey, you don't have to start over. There are a few ways you can salvage your hard work. "The best way to fix caking makeup is to take a clean foundation brush, spray the brush with a setting spray or toning mist, and with circular motions, blend in the existing makeup," celebrity makeup artist Tomy Rivero tells IPSY.
Advertisement
Just as you can use a makeup sponge to sop up excess foundation, you can also use it to rehydrate dry patches that are contributing to your cakey look. Simply moisten the sponge with a hydrating facial mist, and then dab it onto any dry areas of your face. Finish off the process by re-blending the affected areas to create a flawless appearance. Another product you might already have on hand to save your look is an oil-blotting sheet. Simply use one of these sheets on cakey or shiny areas that could use correcting — be gentle as you blot to prevent any unwanted smudging of already-applied makeup.
In the future, don't forget about the importance of skincare maintenance when you're not flaunting your favorite makeup. Routine exfoliation and moisturizing can give you the clean slate you're looking for when it comes time to apply cosmetics.
Advertisement