Does Cleaning A Beauty Blender In The Microwave Really Work?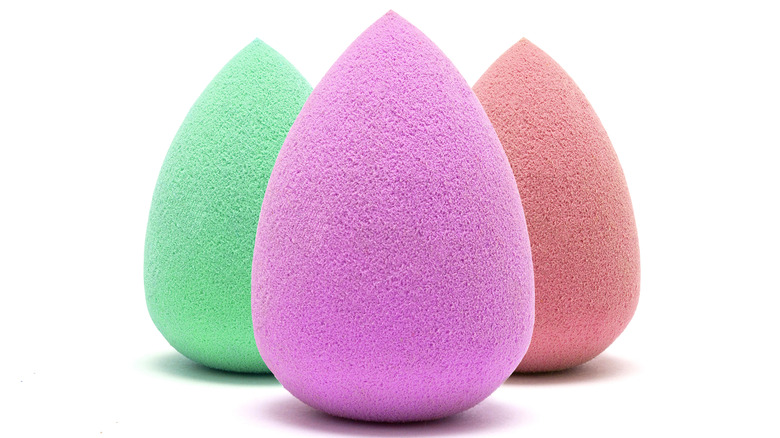 Shamaan/Shutterstock
Beauty blenders have undeniably revolutionized the makeup game. While a fair few still reach for their trusty Kabuki makeup brushes, almost everyone has made the switch to the game-changing pink ball of magic. No one could quite believe that an unassuming little sponge could turn into the makeup tool to end all makeup tools the second you run it under a bit of water. Once it doubles in size, it melts your foundation or concealer into your skin in ways a brush never could. 
The beauty blender has had the makeup world in a chokehold for quite some time now. Over the years, numerous hacks and tricks to get even more use out of them have continued to emerge, too. Who could forget the viral TikTok frozen beauty blender era when people discovered that placing your Beauty Blender in the freezer for a few hours would give you an even more poreless and smooth makeup application, per Refinery29. 
There's no shortage of ways to use your Beauty Blender, it really only has one downfall: the clean-up. Considering it is a sponge, your blender soaks up the product and should ideally be washed between every use, but the truth is that virtually no one sticks to that regimen, per Teen Vogue. It's too much work. But could a new, trending super-efficient cleaning method make you stick to that cleaning routine?    
The miracle microwave method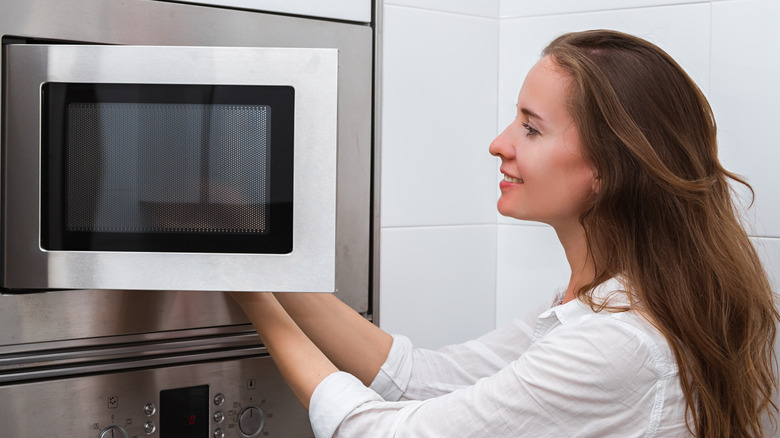 tsarev igor/Shutterstock
Cleaning your beauty blender is a heavily debated topic. While it's clear that it's necessary to wash it after every use, almost nobody actually commits to that. Some people commit it to a weekly wash schedule, while others tend to simply hoard these blenders to always have a fresh one to reach for every day. Cleaning your sponge may feel like a hassle, but the truth is there are a number of ways you can clean it, including by dipping it into a soap bath, per Glamour. 
Perhaps no one could have suspected that a microwave would be involved in the latest viral cleaning method for beauty blenders, though the microwave trick actually dates back to 2014, per Reddit. Since then, it has made its way into countless people's cleaning routines. 
The method involves placing your Beauty Blender into a bowl or cup filled with a mixture of soap and water, then popping it into the microwave for one minute, per Teen Vogue. For visual learners, @TheLifeOfCoko showed the process on Twitter and was in awe of how brand new her beauty blender looked immediately following the microwave process. 
While the method works to give beauty blenders new life for many, Allure points out that it's important to make sure you place it into enough soapy water. Some have attempted to place the beauty blender directly into the microwave and were left with a charred mess.