The 'Russian Lip Filler' Trend: What It Is And How To Achieve The Look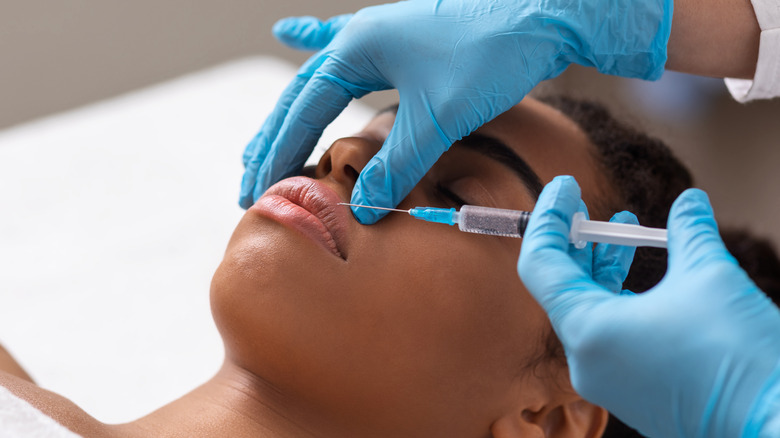 Prostock-studio/Shutterstock
We may receive a commission on purchases made from links.
Lip filler is a divisive subject in the beauty scene. The procedure is an attractive choice for many — after all, lip filler can soften lips, smooth smokers' lines, and provide volume and fullness to thin or aging lips. Some people are lip filler fanatics, going for frequent touch-ups and embracing the look of a "just done" pout. Still, others remain staunch opponents of the body modification that's taken the world by storm over the last decade.
Advertisement
No matter what your opinion is on lip filler, however, the popularity of this aesthetic procedure shows no signs of fading. True, naturally full lips have been a desirable trait for ages. Though fillers are often criticized as a "modern" trend, lip enhancements have existed for centuries. But since the mid-2010s, stars like Kylie Jenner and fellow social media influencers have ushered in an era of full, pouty lips through the use of injectables.
Today, the art of lip filler has evolved to encompass a wide variety of looks ranging from natural to dramatic outcomes. You may have heard of Russian lip filler, a pout-plumping injection method that's caught on with beauty fans and practitioners around the globe. The innovative technique is a stark departure from lip filler styles of the past, providing patients with shapely, natural-looking lips. Glam spoke with board-certified injectionist and cosmetic dentist Dr. John Z. Xu to reveal everything you need to know about Russian lips — and how to determine if this style of lip filler is right for you.
Advertisement
What is Russian lip filler?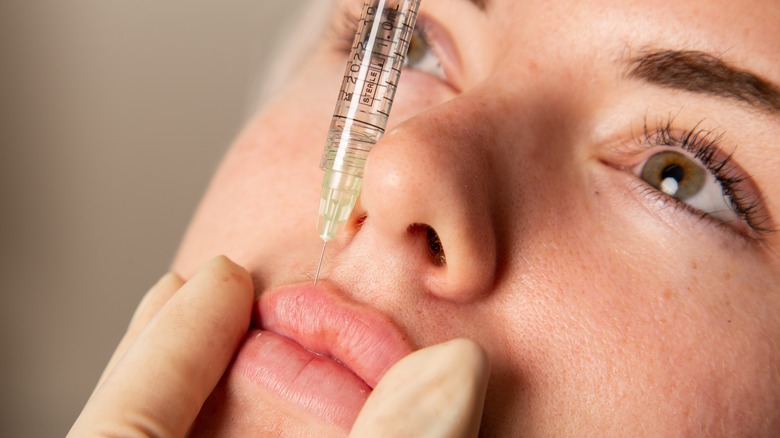 Kat Om/Shutterstock
You've come across this technique through social media or med spa advertising, but what exactly is Russian lip filler? "The Russian lip filler refers to a specific injection technique that involves multiple vertical injections as opposed to injecting horizontally with a classic technique. The focus is on creating a lifting effect on the lip to increase height along with emphasizing the cupid's bow in the center of the lip," Dr. Xu tells Glam. Some practitioners claim to have created this technique, but it most likely developed over time, inspired by the popular "Russian doll" method.
Advertisement
There are many reasons why people get lip filler — to eliminate fine lines, add definition, and even correct lip asymmetry. Russian lip filler can enhance the Cupid's bow and lip border, so the silhouette is best for those seeking voluptuous, doll-like lips. To better understand what these cherub lips look like, think of the well-defined pouts of celebs such as Rihanna, Taylor Swift, and Angelina Jolie. That said, many of us prefer a softer Cupid's bow and rounder lip shape. If you don't love your Cupid's bow but still want to pursue lip filler treatments, you consider exploring other injection methods. When the Russian lip technique is used on well-defined lips, it can exaggerate the very curves some wish to downplay.
Advertisement
How does Russian lip filler differ from other injection methods?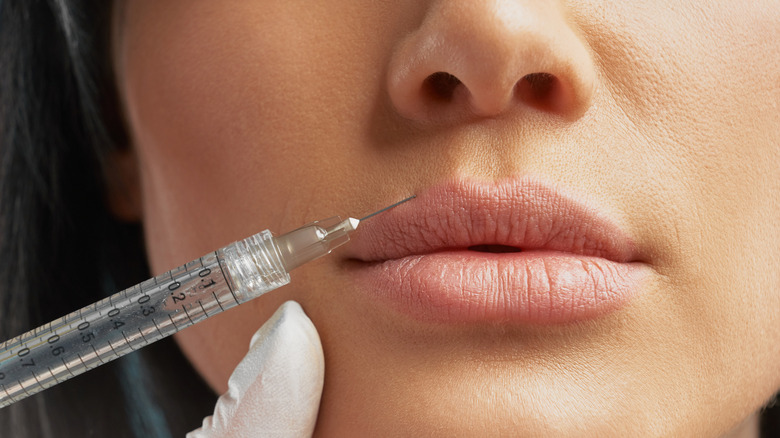 Serhii Bobyk/Shutterstock
Traditional methods of injecting lip filler normally focus on injecting more filler to fewer injection sites, adding plenty of volume but minimal change to the shape of the lip border. This style of lip filler was commonly spotted on filler fans during the early 2000s, prior to the onset of tailored injection methods like Russian lips. Of course, conventional filler placement is still used today, but an increasing number of injectable enthusiasts have taken to the look of Russian lips. Another key difference between the two styles? Russian lip filler may take longer to administer than classic lip filler treatments due to the intricate placement of the injections.
Advertisement
If you're interested in disguising a long philtrum, Russian lips may be preferable to the injection styles of the past. "The Russian lip technique is used to increase the height of the pink area of the lip, creating the appearance of a shorter philtrum, the area between the base of the nose and lip. It does not focus on adding as much projection of the lip or volume along the lateral areas of the lip," says Dr. Xu. In other words, the Russian lip places more filler in the center of the mouth — so if you're looking to add volume along the sides of your lips, make sure to communicate this to your provider.
Understanding the risks associated with Russian lip filler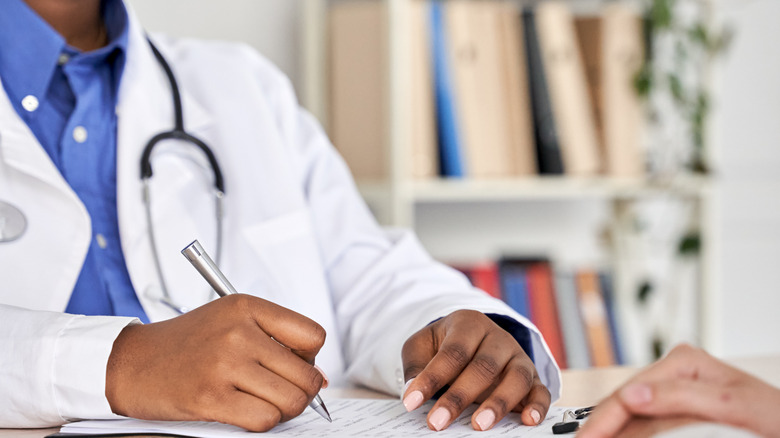 Ground Picture/Shutterstock
As with any injectable treatment, it's important to consider the potential risks associated with Russian lip fillers. Russian lips rely on the use of hyaluronic acid fillers, like Juvéderm or Restylane, to bring fullness and definition to the lips. Hyaluronic acid is a substance naturally produced by the body, and it's generally viewed as safe in aesthetic applications. Typically, side effects of lip filler are limited to swelling, bruising, and similar concerns. However, injecting filler carries some degree of risk due to the delicate blood vessels and arteries located near injection sites. While it's quite rare for serious complications to occur, they can include tissue death, clotting, or vascular occlusion.
Advertisement
Fortunately, lip filler is considered a lower-risk procedure than other facial fillers when it comes to potentially developing severe complications. Still, it's crucial to choose an accredited, board-certified injectionist to minimize your chances of encountering such issues. When selecting a provider, ask them about their treatment protocol for addressing adverse reactions. You may not be a good candidate for lip filler if you have an active cold sore or oral herpes outbreak or if you have certain medical conditions, like lupus or diabetes. In the event of temporary oral infections such as cold sores, you may need to reschedule your treatment for a later date. Above all, always be honest with your provider about your medical history in order to achieve the best results with filler treatments.
Advertisement
Alternatives to Russian lip filler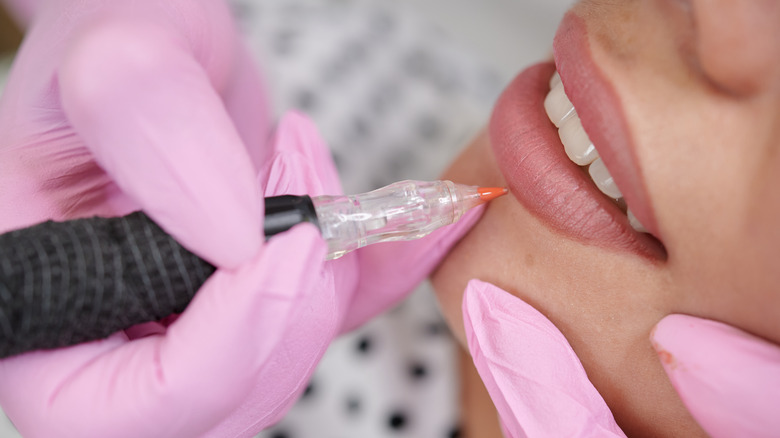 Konstantin Goldenberg/Shutterstock
The beauty of lip augmentation is that there are many ways to enhance your lips. If you're interested in lip filler but not sold on Russian lips, you can always pursue other styles of lip filler. Moreover, expert injectionists can customize your treatment method to provide you with your desired lip shape. "For someone with a strong profile due to the projection of their nose or chin, it may be better to use a classic injection technique to create fuller lips with some projection. Additionally, for someone with very thin lips, a classic injection will create more volume laterally," Dr. Xu tells Glam.
Advertisement
Beyond injectable lip fillers, you can also look into other aesthetic procedures for a more conservative — or dramatic — approach. Lip flips, for example, utilize small amounts of Botox placed above the mouth to enhance the appearance of fullness in the upper lip. Lip lifts, on the other hand, are a surgical intervention that can reduce the length of the philtrum and emphasize the upper lip. If you love the look of full lips but loathe routine touch-ups, you may want to consider lip implants, which can provide the appearance of fuller lips without fillers. Some treatments, like permanent lip liner, can give the illusion of larger lips with minimal invasiveness. If you want to experiment with something temporary, cosmetic lip-plumping products can give your lips a subtle hint of volume.
Advertisement
Does Russian lip filler cause migration?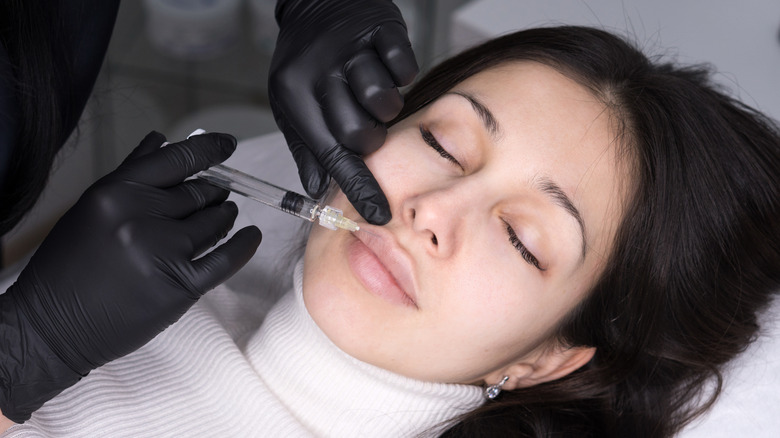 Vagengeim/Shutterstock
A common fear surrounding lip injections is filler migration. This phenomenon is widely discussed in online beauty communities but is not always well understood. Migrated filler refers to lip filler that's moved beyond the border of the lips, adding unnecessary volume around the mouth.
Advertisement
While migration is possible with filler, it's less common than you think. Typically, migration occurs due to several factors, including improper injection technique, placement, or aftercare. However, it shouldn't be anything to worry about — any professional injectionist is trained to recognize and treat the signs of migration before they start. 
Although there's no reason why Russian lip filler should lead to migration any more than regular lip filler injections, poor injection placement could lead to migration. "Migration may occur more with the Russian lip filler technique if multiple injections are done through the vermillion border of the lip, especially if the product being used is highly mobile and has a slower integration time. It's important to get your treatment done with a certified professional," says Dr. Xu. If you spot signs of lip filler migration after your treatment heals, reach out to your injectionist for guidance.
Advertisement
How to choose a Russian lip filler injectionist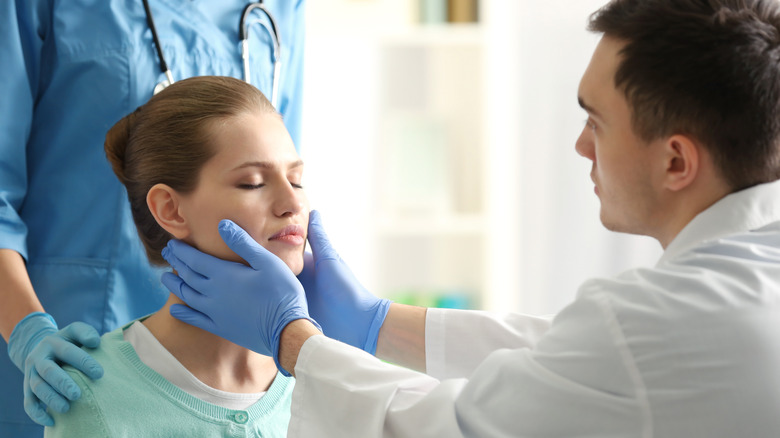 Africa Studio/Shutterstock
Choosing the right injectionist is the most crucial step in your lip filler journey. While Instagram photos may sway you, you must take a closer look at prospective providers before diving into any style of lip filler. Portfolio images are a great start, but your injectionist should be a licensed medical professional bearing accreditation from the American Academy of Facial Esthetics or the American Board of Aesthetic Medicine. You can use aesthetic resources such as RealSelf or The American Society of Plastic Surgeons to locate reputable providers in your area.
Advertisement
In the United States, laws pertaining to who can perform lip filler treatments or dermal fillers may vary. However, it's best to look for a doctor, physician's assistant, nurse, dermatologist, or dentist to perform your procedure. Furthermore, it isn't unusual for lip filler patients to travel in order to locate favorable injectionists. Russian lip filler is a specialized technique that requires an intimate understanding of facial anatomy, and popular clinics can have lengthy waitlists. Meeting with a desirable provider may take some time, but it's better to be patient than to choose a subpar injectionist. During your consultation, you can discuss the Russian lip technique with your provider and ask any questions you may have. It can also be helpful to bring photos with you to your appointment to give your injector an idea of your dream lips, though it may take more than one session to achieve optimal results. 
Advertisement
What to expect if you get Russian lip filler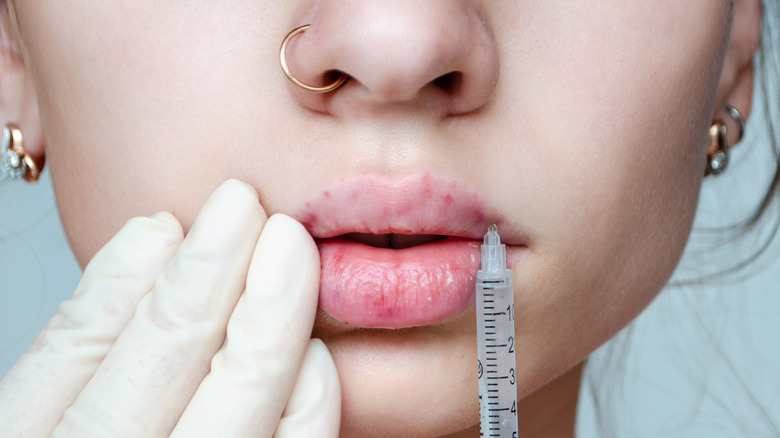 ECOSY/Shutterstock
Swelling, bruising, and tenderness are normal reactions to lip injections, including Russian lips. "Sometimes there can be more bruising and swelling with the Russian lip filler technique due to the multiple injection sites. However, there isn't a significant difference from traditional methods as long as the proper technique is used," says Dr. Xu. Immediately after receiving injections, it's normal to observe some pinpoint bleeding or bruising. Often, bruises may take a week or more to fade, so always schedule your filler treatments at least a week or two before any big events. Many providers suggest using ice or homeopathic arnica cream applied directly to the lips following the procedure, which can help minimize swelling and bruising.
Advertisement
While it's tempting to hide bruises with lipstick, it's best to wait at least 24 hours before applying cosmetic products to your new pout. Be careful not to massage the lips or put any pressure on them for the first day or two, as this can lead to migration or irritation. Lip filler red flags include lumpiness, excessive swelling, and discomfort. Adverse reactions to lip filler are unusual but can result from poor injection technique, an allergic reaction, or infection. If you suspect something's amiss with your filler, always consult with your provider or their office directly to address your concerns.
What if I don't like my lip filler?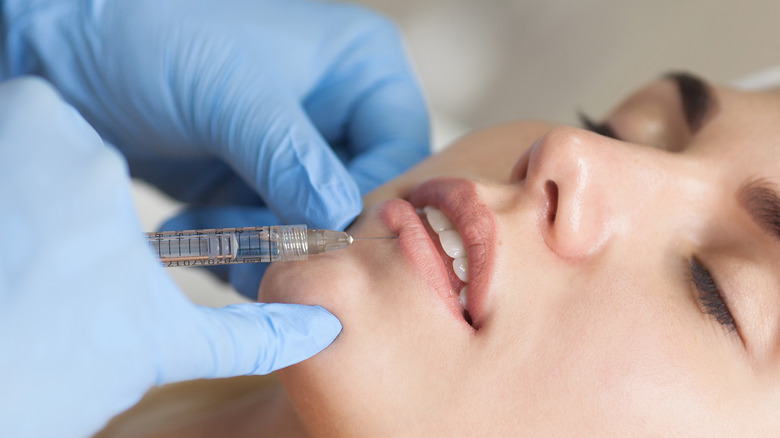 LTim/Shutterstock
What happens if you don't like your lip filler? Well, it depends on what you don't like. You may have loved the look of your lip injections during the first few days, only to see a drastic difference thereafter. It's normal for lip injections to decrease in size as post-procedural swelling goes down, but it can lead to feelings of disappointment. If you prefer the plumper pout you saw immediately after receiving injections, consider scheduling another round of filler. Whether it's your first time getting lip injections or you've skipped a few touch-ups, it can take an additional half or full syringe to build your lip shape and fullness. Just keep in mind that it's possible to go overboard with fillers. Some individuals are prone to lip filler "addiction," which can be fueled by body dysmorphia.
Advertisement
However, if you hate your lip filler altogether and long for your original lip shape, don't worry — you have the option to dissolve your lip fillers. Dissolving unwanted filler is relatively straightforward as long as your lips are treated with a hyaluronic acid-based product like Juvéderm or Restylane. A provider uses an injectable enzyme known as hyaluronidase to break the filler down, and the results are observable within minutes. The only downside to dissolving filler is that it may be slightly more painful than receiving lip filler treatments. What's more, dissolving may require more than one session to remove all traces of old filler.
Maintaining your Russian lip injections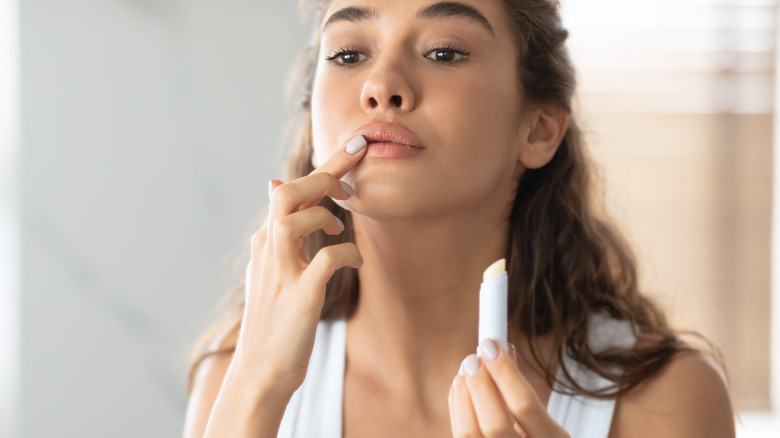 Prostock-studio/Getty Images
Want to know how to keep your lip injections looking full? Drink plenty of water, as lip filler products containing hyaluronic acid are attracted to H2O. This means your lips will appear plumper when adequately hydrated and may appear to "shrink" a bit when you lack fluids. Another easy way to amp up the volume is through regularly exfoliating and moisturizing your lips. After healing, use a gentle lip scrub and overnight lip mask to keep your pout soft and smooth. You may even want to try a lip-plumping gloss, like Too Faced Lip Injection, which can give you that juicy, "just-done" effect between sessions.
Advertisement
Depending on factors like your age, metabolism rate, and the product you use, lip filler can last between six and 18 months. However, the hard truth about lip injections is that some individuals metabolize filler faster than others. While your bestie may still bear the effects of filler treatments from several years ago, your injectables may only last for a few months.
Everyone's preference is different regarding touch-up routines, but the general rule is to go slow, especially with sculpted techniques like Russian lips. Some people may loathe your lip fillers — but all that matters is what you think. Still, if you're concerned about your filler habits or never feel satisfied with your results, speak to your provider, therapist, or a trusted healthcare professional. You could be struggling with body dysmorphia, affecting how you perceive your lips' appearance, and help is always available.
Advertisement