Permanent Lip Liner Can Be More Subtle Than You Think. Here Are The Pros And Cons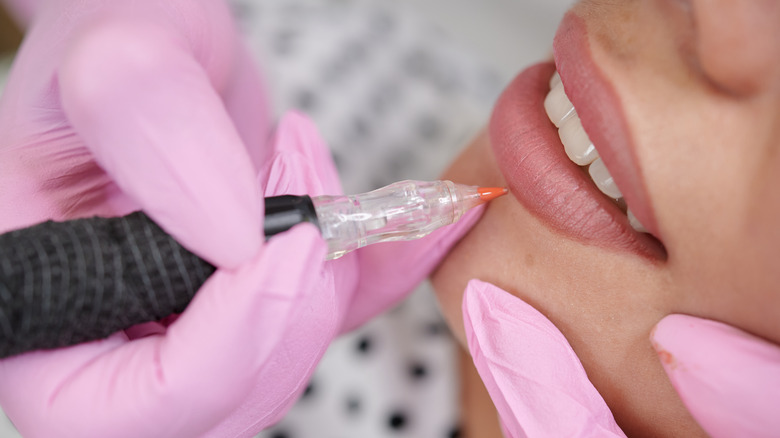 Konstantin Goldenberg/Shutterstock
Over the years, cosmetic tattooing has seen quite an evolution. Permanent makeup has existed since 1902 and was first developed by tattoo artist Sutherland MacDonald. His work focused on creating a subtle blushed look on the cheeks, but it paved the way for other artists to experiment with more precise applications around the eyebrows, eyelashes, and lips.
Advertisement
Once these procedures became more commonplace, poorly-blended lines and mismatched colors gave permanent cosmetics a bit of a bad reputation. Instead of a natural, flushed look, tattooed makeup evoked images of ultra-harsh lip liner and thick swaths of unwashable eyeliner. Thankfully, however, techniques have changed over time, and nowadays, it's possible to create a look that's nearly undetectable with the help of an experienced tattoo artist. That said, it's still important to consider whether this procedure fits you and your goals. Permanent lip liner is quite the investment, but it can bring major benefits if you're willing to take the plunge.
You'll cut down your time spent on your makeup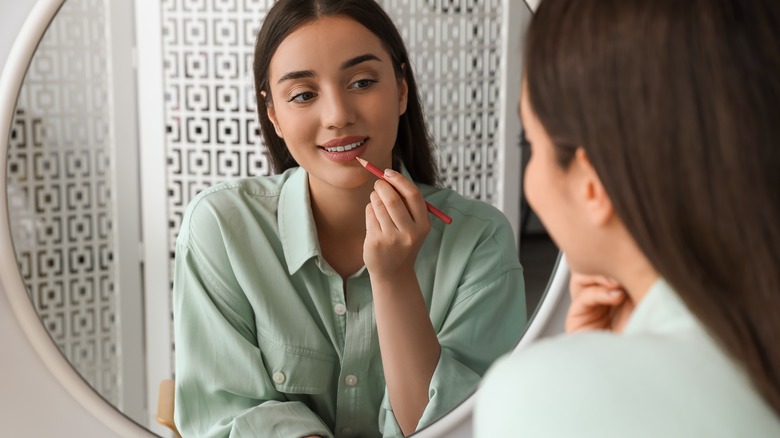 New Africa/Shutterstock
The main draw of permanent lip liner is that you don't have to reapply your favorite lippie daily. If a specific color has become your signature look, constantly applying and replacing lip liners to give yourself some color and definition can be a bit of a hassle. This is especially true for people with insecurities about their lips who frequently reach for cosmetics, even on a quick grocery store run or a lazy day. Opting for a tattooed version of the same thing can boost your self-esteem and make you feel confident without using additional cosmetics.
Advertisement
According to a study conducted by AOL and TODAY, women spend an average of 55 minutes each day fine-tuning their appearance. Something as simple as cutting lip liners out of your routine can help reduce the time spent in the mirror, making your daily routine run more smoothly.
But it can be uncomfortable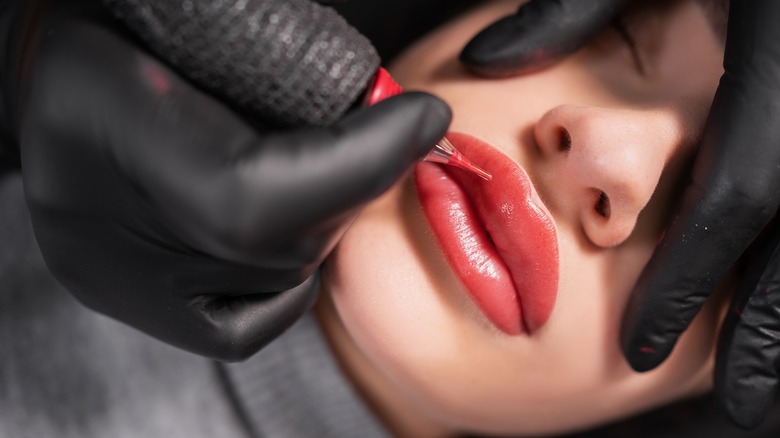 Lysenko Andrii/Shutterstock
As with any other tattoo, permanent lip liner will likely be uncomfortable. This is especially important to consider because the lips are one of the body's most sensitive parts, boasting over 1 million nerve endings. They're even more sensitive than our fingertips, the body part specifically designed to help us gather sensory data about our surroundings. Add the fact that the skin on our lips is much thinner than the rest of our body, and you've created a recipe for pain and swelling.
Advertisement
Luckily, most cosmetic tattoo artists understand this and don't want their clients suffering in the chair. Instead of leaving you to grin and bear it, most will use a numbing cream containing lidocaine, tetracaine, epinephrine, or benzocaine to reduce sensation in the area before starting with the needle. After the numbing agent sets in, you shouldn't feel more than dull pressure during the tattoo process.
Fortunately, it's a highly customizable procedure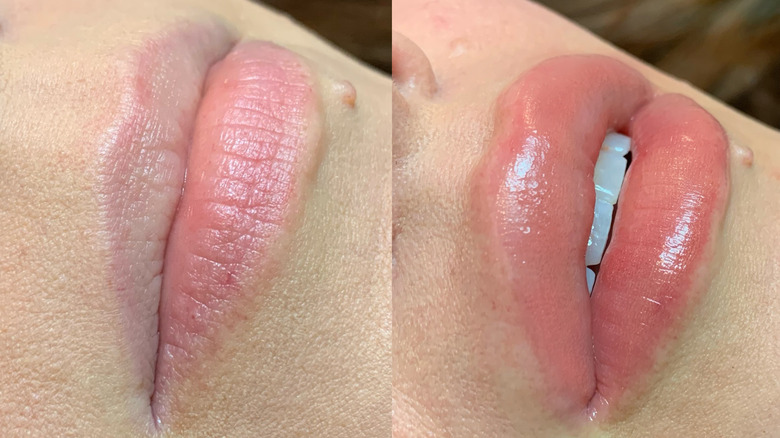 Jelbertson/Shutterstock
Sometimes, it seems like a million options for lip colors are on the market, which also translates to lip tattooing. By working with your artist, you'll be able to create a custom shade for your lips that will appear as subtle or bold as you want — anything from a my-lips-but-better blush to a bright red liner. During this process, your tattooer should consider your skin's natural shade and undertone to find a color that blends seamlessly with the rest of your skin.
Advertisement
Additionally, there are several options for placement. A simple liner with no blushing in the center of the lips is the most straightforward, but it can often appear a bit disjointed, especially if you go for a darker color. If you still want the look darker on the edges, there's also the option for a shaded or ombre liner, where the center of the lips is left bare, but the liner shade is faded to look less harsh. Finally, there's lip blushing, an all-over injection of color that can be done on its own or paired with a slightly darker liner shade.
You'll need color touchups occasionally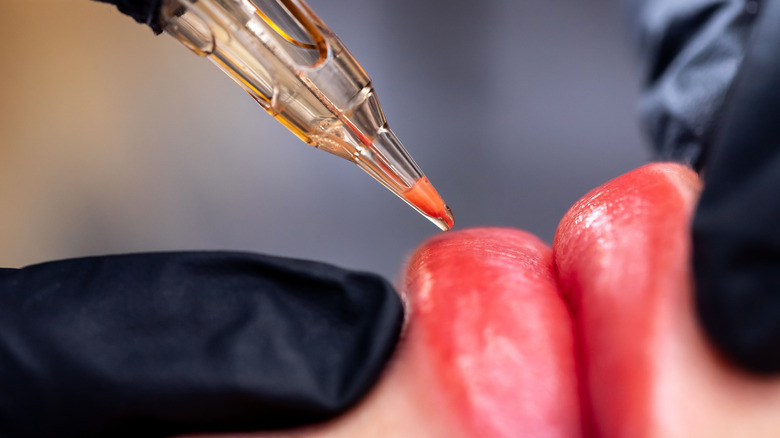 Parilov/Shutterstock
While cosmetic tattooing is often referred to as permanent makeup, it's actually more like a semi-permanent procedure. Instead of a regular tattoo that uses traditional ink, cosmetic tattoos use PMU pigments broken down by the body. This is excellent news if you're worried you won't find your perfect color or would rather go back to the natural look you've always rocked. Still, it's vital to factor touchups into your expected investment if you want to maintain the same look for years on end.
Advertisement
For most people, lip tattoos will stay vibrant for about two years before needing additional work, but this all depends on your body's chemistry, aftercare routine, and skin type. For some, these tattoos can last up to five years, but it's impossible to determine how long it will take to fade until you've taken the plunge yourself because it's such an individual process.
Your days of smudged cosmetics are over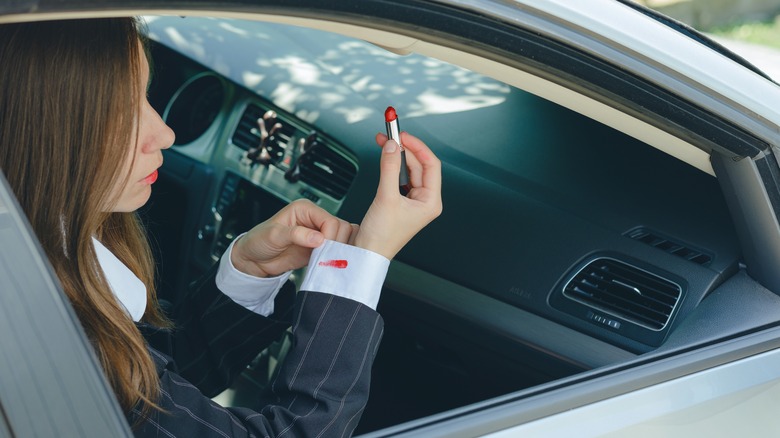 HalynaRom/Shutterstock
Sometimes, applying lipstick can feel like playing with fire. Throughout the day, we're eating, drinking, and often subconsciously touching our faces, so wearing lip products, and incredibly bold lip colors, can lead to accidental smudges, clothing stains, and annoying reapplications. With permanent cosmetics, however, this isn't an issue. Unless you apply additional products to change your lip color or cover fading pigment, nothing is sitting on your lips. This means you can confidently go about your day without having to pull up your phone camera for periodic makeup checks.
Advertisement
If you find a skilled artist, a permanent lip liner will also guarantee you're left with a perfect application every morning. This can be a major time-saver and confidence booster for those unsure of their makeup skills and color proficiency. After one precise session, wobbly lines and feathering edges will no longer be a daily problem.
It can be expensive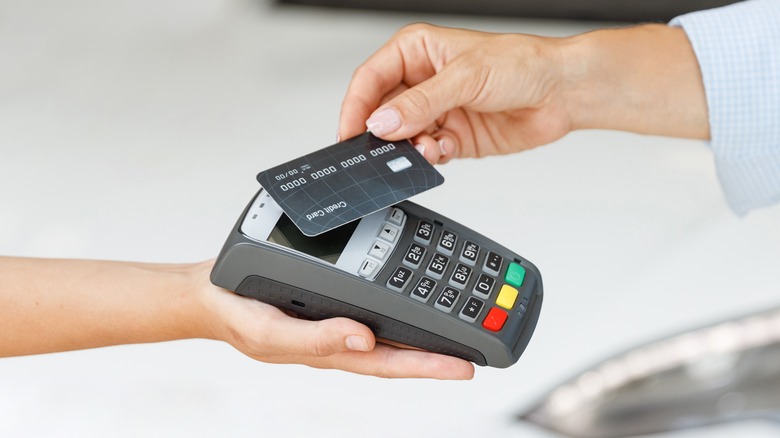 ViDI Studio/Shutterstock
Unfortunately, permanent lip liners will likely be more expensive than even the most luxurious product on the market. The pricing details will vary widely based on your location, the artist, and the exact look you're going for, but, on average, one session is about $590. Certain artists, however, can charge as low as $300 or as high as $1,800, so it's important to research costs in your area so you're not blindsided by the bill when it comes time to pay.
Advertisement
It's also important to factor in the cost of upkeep in your total, especially if you know you'll return for another session once your pigment begins to fade. The average time between these appointments is about two years, but some salons offer one free touchup with your initial purchase. Opting for the artists with the lowest rate or best deal can be tempting in this scenario. Still, finding someone with a solid portfolio and positive reviews online is always a good idea. You don't want to end up with a sloppy final product, especially when it comes to something this permanent.