Don't Be Intimidated By A Bold Lip. Here Are All The Tips You Need To Pull One Off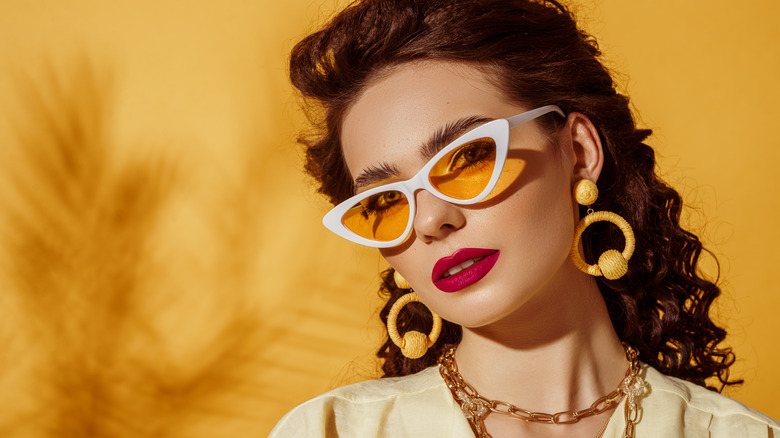 Victoria Chudinova/Shutterstock
When it comes to makeup, a bold lip color is one of the easiest, yet most intimidating ways to add some spice and color to your look. Bold red lip pigments first came on the scene thousands of years ago in Mesopotamia, created from a valuable formula including crushed gemstones, later swapped for algae and fish scales as a more cost-effective alternative (via Bésame Cosmetics). Throughout history, the red lip has gained quite the reputation, representing either higher social class or serving as the mark of a sex worker, depending on the culture.
Advertisement
Thankfully, these historical associations have long faded, likely thanks to the Westernized popularity of bold lip color in the '40s and '50s. Since then, makeup counters and drugstore shelves have been filled with hundreds of options of products and formulas that promise long, flattering wear throughout the day. Regardless of your chosen shade or brand, however, there are a few steps you can take to guarantee your bright lip lasts and flows seamlessly with the rest of your makeup.
Start with a natural base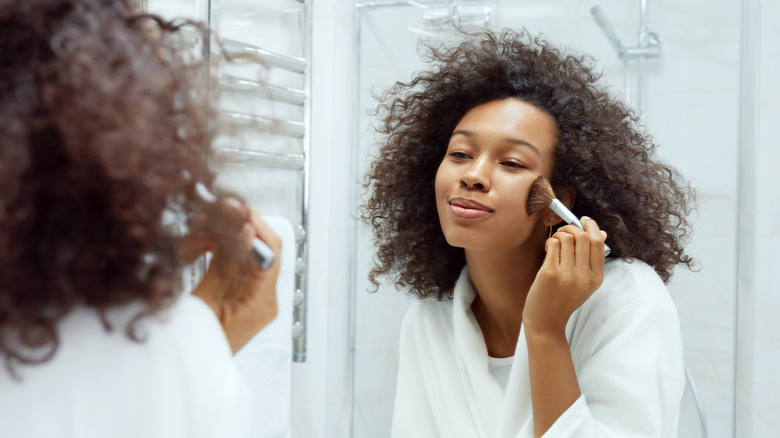 puhhha/Shutterstock
When you're planning to go in with a dark or saturated lip color, it can be tempting to go for full-coverage in the rest of your makeup routine, too. If you're trying to make the look more approachable for everyday, however, you should actually do the opposite. Stick with your regular base routine and only tackle one major change at a time — you're more likely to feel more confident in a bright color if you still feel like yourself.
Advertisement
Of course, if you're a fan of matte, full-coverage foundation usually, you don't have to switch in favor of a BB cream or glowy formula. Apply your favorite products like normal, making sure to apply lip balm a few minutes before you begin, then brush a bit of foundation around the edges of your lips. You can wipe away product in the middle if you want to avoid getting any in your mouth, but neutralizing the edges of your lips with foundation helps to remove any discoloration and leave you with a sharper look once you reach for liner, especially if you plan to overline your lips.
Opt for a color you already feel confident in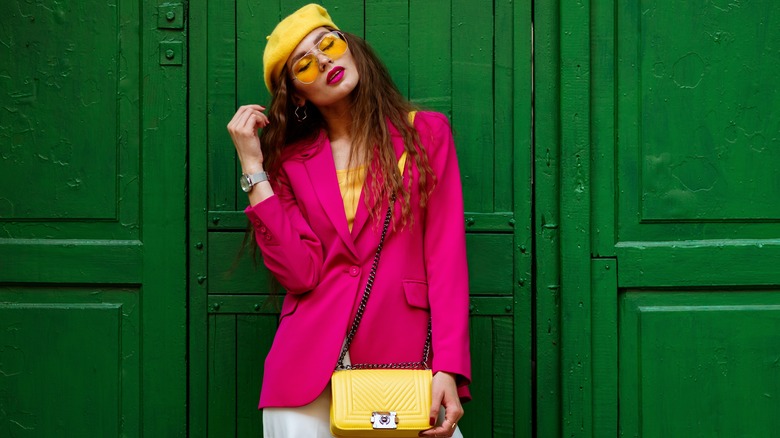 Victoria Chudinova/Shutterstock
Before you purchase a new lip color, it's best to take into account what you already feel confident in. One of the easiest ways to do this is by looking to bright colors you already wear or incorporate into the rest of your styling. Been a devotee of deep-red nails for as long as you can remember? Mirror that shade in your lipstick selection. The same goes for something like bright pink or bold orange making a common appearance — even colors like deep greens and blues can be reflected on your lips, too.
Advertisement
If you're still feeling lost in the makeup aisle, however, your skin's undertone can offer a bit of guidance. If you have warm-toned skin and frequently find that gold and off white look best on you, go for the same undertones in your lippie with something like an orangey red or warm brown. If you're on the cooler side, do the same — blue-based reds and deep purples will likely be a safe bet.
Apply a matching lip liner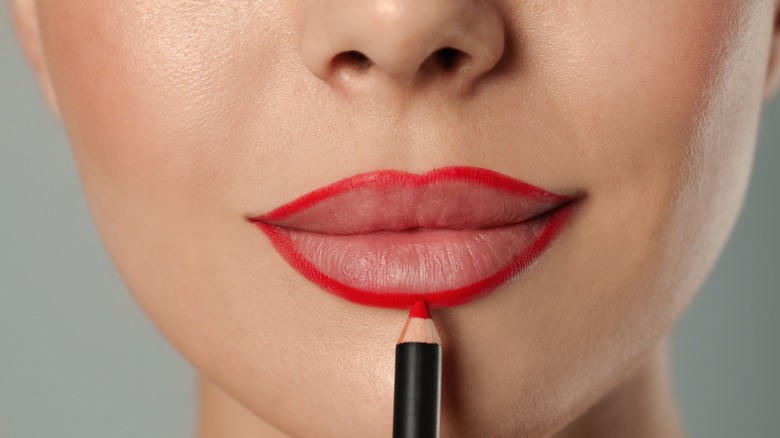 New Africa/Shutterstock
Lip liner is one of the most frequently-skipped steps in makeup routines, but, according to MAC, this product is far from redundant. Lip liners are firmer products made of thick waxes, oils, and pigments. While this might look and feel cakey over the rest of your lips, this formula helps to create a kind of barrier around the edges so smoother, silkier lipstick formulas don't migrate.
Advertisement
Lip liner also gives you more precise control with your product. Applying lipstick, especially a bold shade, can be difficult to do perfectly. Lip liner lets you create sharper lines, and choosing a similar shade allows you to apply your lipstick without having to go all the way to the very edges of your lips. To apply, start off with a sharpened lip pencil, then slowly begin to outline your lips. If you plan to overline, start on your natural lip line, then gradually build out. It's much easier to add more product than take it away, especially with bold shades that tend to stain skin.
Fill in your lips' shape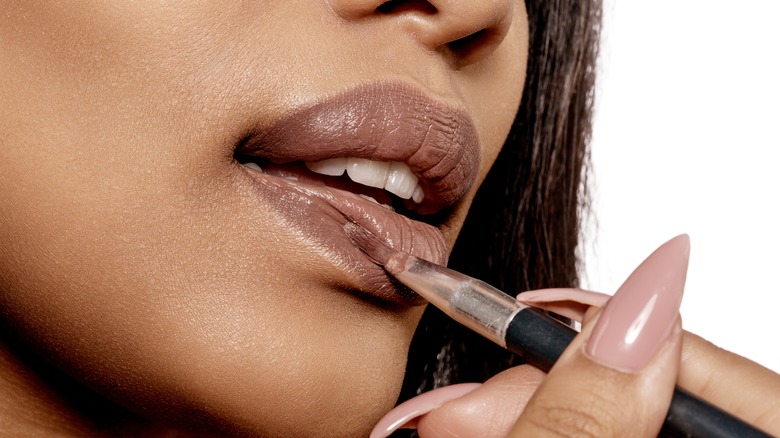 Miramiska/Shutterstock
Now that you've tackled the most difficult part, it's time to apply your lipstick. Whether you're opting for a liquid or traditional stick formula, it's best to start with the center of your lips, then work your way out. This way, you'll have more control when it comes inching up to the edges of your lip liner. Thanks to the liner, this process is as simple as following the guides on a coloring book.
Advertisement
Sometimes, especially if you're using a new lipstick, the first swipe isn't enough to reveal the full saturation of the color. Keep building it up with controlled swipes until you reach your desired payoff. Just make sure you don't apply too much pressure and cake the product on. If the product's bullet or applicator is a bit too big for your lip shape, try applying with a brush to give yourself more control in the placement. It might take a bit longer than going straight from the tube, but the final result is worth it.
Finish by blotting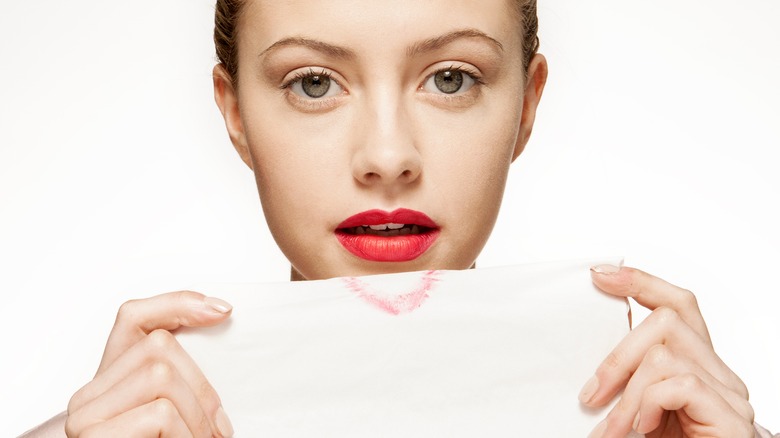 Kotoimages/Shutterstock
Once you've finished your application, bring it back to one of the oldest makeup hacks available and blot. Grab a tissue or piece of toilet paper and place it between your lips, gently pressing down. This helps remove excess product and slightly mattify what is left on your lips, giving you more of a stain-like finish than a layer prone to shifting and smudging. From here, it's also a good idea to check the corners, making sure to remove any excess product that's collected at the edges of your mouth.
Advertisement
After you blot, you're ready to go. Make sure you check your teeth before heading out, then bring your product along to touch up wear and tear from eating and drinking throughout the day. Bold lipstick can be intimidating, especially if you typically shy away from lip products, but with proper application, they will last all day and add a dose of fun color to your otherwise-everyday look.