Why You'll Want To Blur Your Lip Lines If You Don't Love Your Cupid's Bow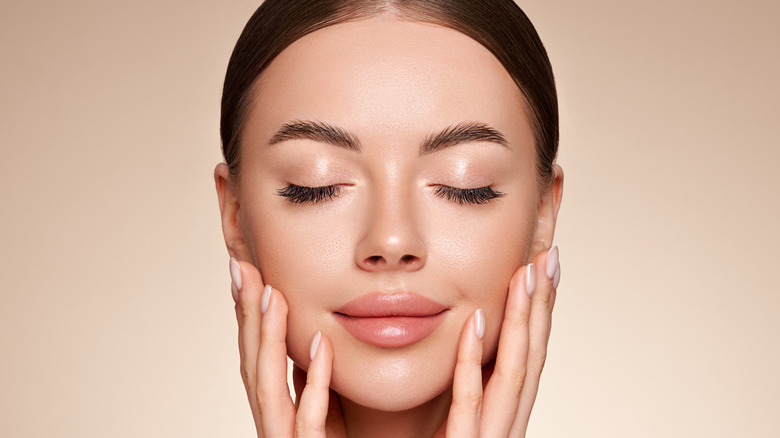 Heckmannoleg/Getty Images
While some people are eager to emphasize the cupid's bow that peaks at the top of their lips, you might not be overly fond of this facial feature despite its undeniably adorable name. Frankly, the latter opinion happens to be one that's becoming more common, according to i-D. Instead, many people are opting for full lips that are rounded on both the top and bottom as opposed to the upper lip being defined by pointed arches in the middle. The look, which might remind you of the mouth on a doll, earned the clearly apt name Bratz Lips in honor of the figures that have the kind of lips that some people envy and want for themselves.
"Personally, I find it adds more shape to my face and really completes a look for me," Canadian makeup content creator Jade, or @dartthjader as she's known by her sizable TikTok audience, explained to I-D. "I also love the cartoonish vibe. I'm very into anime and they generally don't have a defined cupid's bow, so that's where my inspiration for the style came from. It works very well with my cosplays as well and brings them to life a lot more."
Whether you relate to wanting round Bratz Lips or simply aren't a fan of the shape of your particular mouth, then you might be interested to find out how you can use a blurring technique to tone down the potentially sharp lines of your cupid's bow.
You can blur, smudge, and reshape your cupid's bow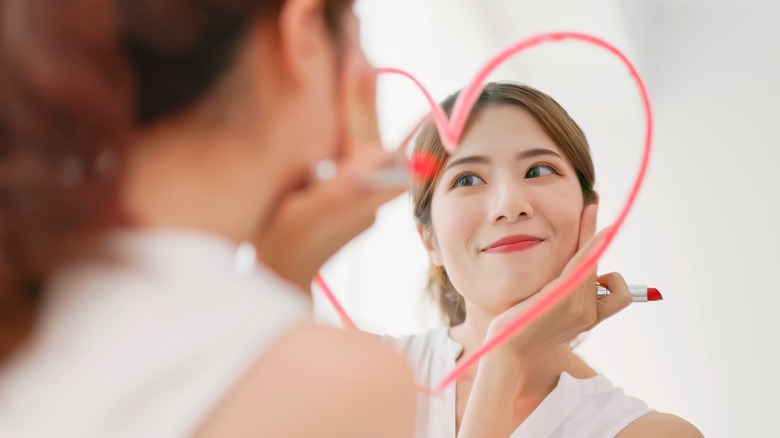 aslysun/Shutterstock
There's no doubt you can achieve stunning results by blurring your eyeliner, and the same can be said about blurring your lip lines. This is especially true if you'd like to cover up your cupid's bow or change its shape to something that you find more flattering. While sharp-lined lipstick can define and enhance the shape of your lips, blurred edges can have the opposite effect. Celebrity makeup artist Jaleesa Jaikaran told Byrdie, "Blurring the cupid's bow to soften sharp peaks and round out the shape can be achieved by smudging lip color along the edges of the lip lines with a sheer lip tint or soft matte lipstick."
If you still want your cupid's bow to look a little softer, then Tobi Henney, who is also a makeup artist known to work with famous faces, explained to Byrdie that you can pop on some lip liner. However, instead of drawing it right onto your mouth, you'll first want to apply a matte concealer, which will help blur the makeup on top and make it look more natural. Then, add the liner above your upper lip to create whatever shape you want for your faux cupid's bow — or simply, create a rounded lip with no cupid's bow if you prefer.
Granted, you can still take things a step further by filling in your cupid's bow with more than just makeup.
You can fill a cupid's bow with Botox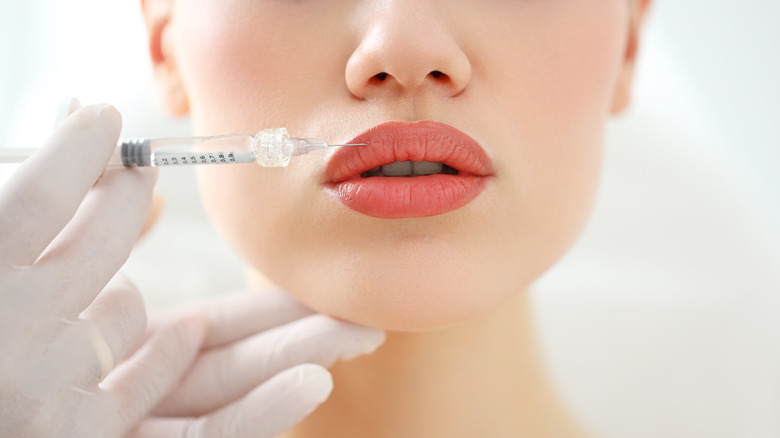 Evgenyatamanenko/Getty Images
Changing the shape of your cupid's bow with lipstick can be a fabulous option if you only want it to be a temporary change or are still unsure if you like the way it looks on you. However, if you adore the results and want the effect to last a little longer — or perhaps even permanently — then you can have a cosmetic procedure done in order to fully fill it in. Those who get botox done on their mouth may find that it fills their upper lips to the point where their cupid's bow disappears, according to Healthline. You can have this done purposefully if you'd like, which is something that one celebrity apparently did.
Grimes, who is well-known for her arguably extreme, otherworldly fantasy character-inspired style — responded to the buzz that sparked online around the possibility that she had work done on her face, specifically her lips, per i-D. She explained that she had, indeed, had her cupid's bow filled up. The result left her upper lip perfectly plump and distinctly round.
At the same time, Grimes may also be willing to undergo procedures to end up with both elf-ish ears and vampire-like teeth, according to The Cut. Although those might not be options that you have or would ever consider, they certainly would draw the eye away from your cupid's bow.