The Simple Hack To Make Any Dress Cinched At The Waist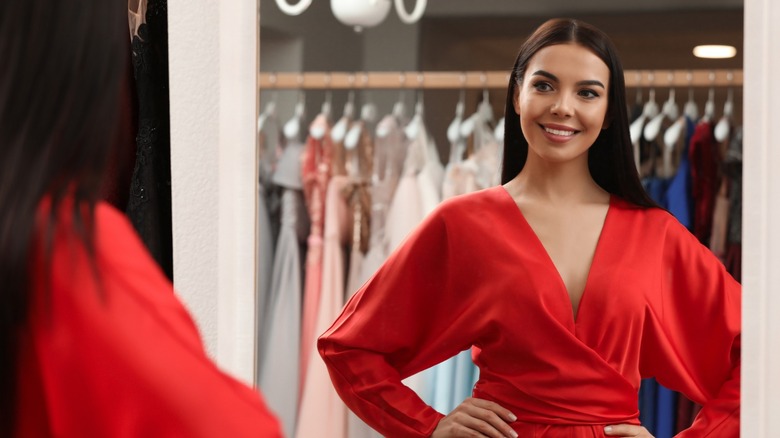 New Africa/Shutterstock
Having a dress that's too loose can become a major fashion headache. Perhaps your body changed, you misjudged an online retailer's size chart, or maybe you just got overzealous at the thrift store. No matter why you have an oversized dress on your hands, now you need to figure out what to do with it. You might love the color and design but can't figure out how to make the dress work. Before you donate your troublesome frock, there are several styling solutions you can try out.
Firstly, a loose dress can be a very chic look, so if you don't want to do any MacGyvering with your clothes, feel free to leave it be. However, if you do prefer dresses that define your waist, you can make it happen in a snap. With an easy safety pin hack, you can completely transform any dress in your closet. All you'll need are some simple household items and a creative vision.
How to DIY a cinched dress
This easy DIY style hack has been around for some time, but it was recently showcased in a popular TikTok by user @malloryonthemoon and it's definitely one of TikTok's best tips for upcycling your thrifting finds. In the clip, Mallory walks you through every step of creating a cinched waist on your dress.
For this hack, you need three small or medium-sized safety pins and a ribbon that's a little longer than the width of the dress. Start by turning the dress inside out. Next, attach safety pins on the right and left sides of the waist of the dress. If the dress is so big that the waist of the dress sits way too low on you, fasten the safety pins wherever your waist would actually be in the dress. Take the third safety pin and place it in the center of the back of the waist. Gather an inch or two of fabric and fold it together neatly before securing the pin. The folds will give you a much cleaner result than if you randomly bunch the fabric.
Finally, take your ribbon and thread it through the three pins. Pull the ends of the ribbon towards each other and tie it in a bow. With this step, you are gathering the excess fabric and creating a cinched, pleated back for your dress. When you wear the dress, it will have a far more tailored fit than it did before. 
Other ways to tighten a dress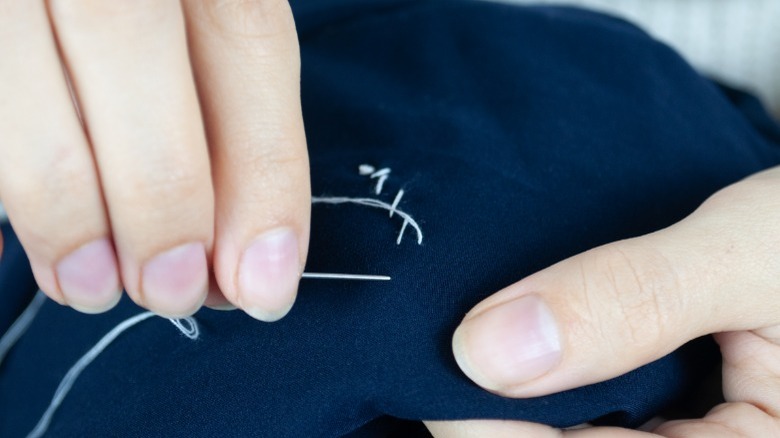 AnastasiaKorchak/Shutterstock
The safety pin hack is a great way to tighten the waist of a dress, but it's not the only method for modifying a dress that's too big. Depending on the situation, safety pins aren't always the best tool for tailoring your clothes. In other words, pins are a more temporary solution and could be tricky to pull off based on the type of fabric or silhouette you're working on. If you tried the safety pin hack and didn't get the desired results, you might need an alternative strategy.
One option is to replicate the safety pin method with a needle and thread. Instead of placing safety pins inside the waist, use a simple stitch to sew in small loops. You can then thread the ribbon through the loops and cinch in the waist.
On the other hand, if you need to know how to cinch up a dress without any sewing or piercing fabric with pins, you have several choices. For one, you can put on the dress and secure a belt around your waist. With that said, you can also consider matching the belt to the dress and leaving it visible or wearing a skinny belt and pulling out some excess fabric to conceal it, giving you a draped, relaxed silhouette but still a tighter waist.
So whether you opt for a traditional sewing approach or a quick hack with safety pins, there are plenty of ways to style a too-loose dress.