How To Cinch Up A Dress Without Any Sewing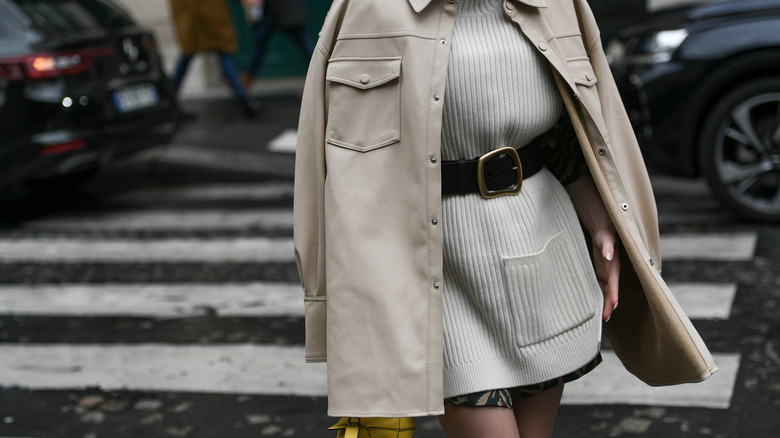 Creative Lab/Shutterstock
We may receive a commission on purchases made from links.
Style isn't defined by sporting the most fashionable attire, but by calling attention to your body's best features. And certain looks are flattering to all body shapes. The right amount of cinching at the waistline can create the illusion of feminine curves, whether your body type is an hourglass, triangle, athletic, or round. A cinched waist, according to BeautyAnswered.com, can make your mid-section appear thinner while accentuating your hips and upper body. For example, if you have an athletic body type with lean muscles, broad shoulders, and narrow hips, a cinched waist can give your body an hourglass effect (via The YesStylist).
Advertisement
But what about the body-fitting dress you bought online that turns out to be too big? Or the stunning dress, with a pattern you're certain will look good on you, that is sold out in your size? Will you walk away from the next size up only because it may be too loose-fitting? If you want a dress that flatters your waistline but are stuck with one that's too large, fear not! You can cinch it up with some basic techniques that don't involve a sewing machine.
Here's how to achieve a cinched look with simple hacks.
Define your waistline with a belt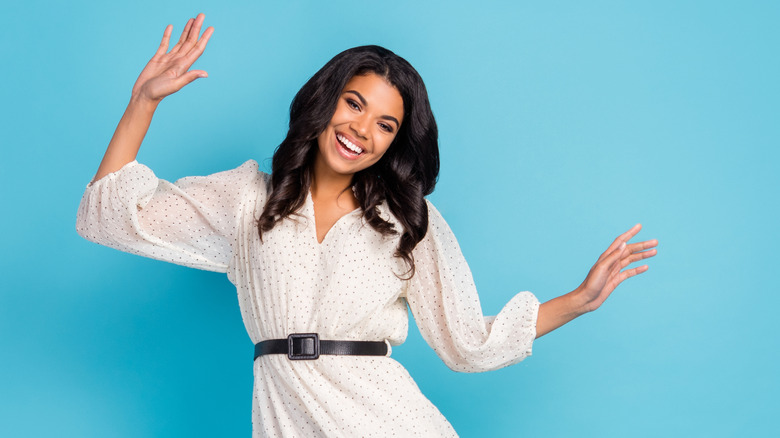 Roman Samborskyi/Shutterstock
With their ability to highlight the waist, Texas-based stylist and clothing designer Merrick White describes belts as "the easiest way to upgrade any outfit," on her blog MerricksArt.com. No matter how basic and baggy your outfit is, a belt can take it to the next level by giving your ensemble a focal point, more texture, and more structure. Even if your clothing is already form-fitting, you can add a fashionable touch by belting your waist.
Advertisement
Belts are classified into three types: slim, medium, and wide. Depending on your preferences, you may mix and match belts with a broad selection of outfits, ranging from shirt dresses to flare and maxi dresses. Keep in mind that the belt you wear should be proportionate to the size of your dress, as noted by The Socialite's Closet. For example, a thick belt can make a tiny dress look shorter and a bit too bold, while a skinny belt on a large dress may look out of sync. Wide belts make a more structured dress pop, but can make a voluminous sweater dress look suffocating. Pairing a belt with a dress is more of a case-by-case situation, so use your best judgment.
Use ribbons and pins for flattering silhouettes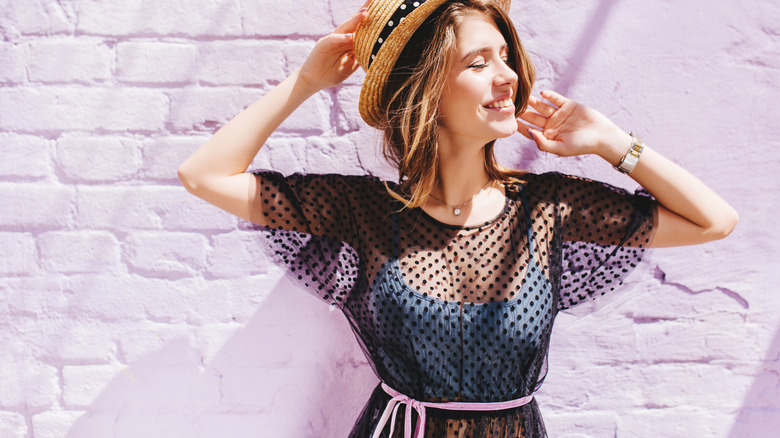 Look Studio/Shutterstock
If you're a fan of movies set in the 19th-century Victorian era, you have probably noticed that the fashion of that period is renowned for its empire waistlines. According to MasterClass, an empire waistline is located right below the bust instead of at the natural waistline. This type of waistline lengthens and slims your silhouette, which makes it quite popular in wedding and evening gowns. An ankle-length, gossamer maxi dress is the perfect canvas for an empire waistline. To create the look quickly and easily, all you need to do is tie a ribbon just below the bust. By cinching your dress above your natural waistline, you can hide any signs of thickness around your belly area.
Advertisement
Another way to cinch your dress is to use safety pins, Bellatory suggests. Small enough to go unnoticed, safety pins allow you to be creative and experiment with all sorts of forms. You can find your natural waistline and tighten that area with pins, or attach the pins in any baggy spots to make you look fit and chic.
Turns out you don't have to be an expert seamstress to make your loose-fitting dresses more flattering. Simply invest in a few belts, ribbons, and safety pins.