Daring Hair Transformations Saved The 2023 Met Gala (Peep Florence Pugh's Killer Buzz Cut)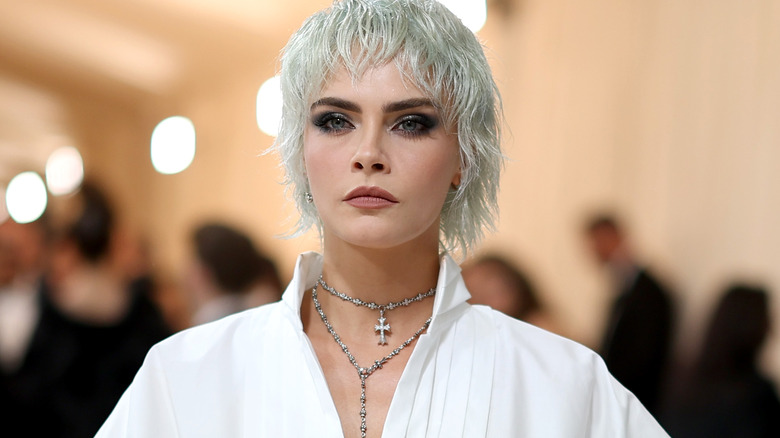 Mike Coppola/Getty Images
It might be fashion's biggest night, but the 2023 Met Gala was all about the hair. Despite the lack of excitement about some of the attendees' fashion, hair was the saving grace for many. While hair is often the point where many celebrities seem to miss the mark on the red carpet, these extreme hair transformations were the focus of many of the night's looks.
While some opted for a complete hair switch-up, many were inspired by the night's theme. Instead of lacking in the hair department, celebrities like Cara Delevingne and Florence Pugh showed us that hair is still part of the look.
Considering the theme of the 2023 Met Gala was all about the controversial late fashion designer Karl Lagerfeld, it was safe to assume that many would play it safe when it came to their hair. In the end, Lagerfeld is known for his stunning designs and the looks he displayed for years. However, some of these looks remind us that a dramatic hair transformation is more than enough to stun a crowd.
Florence Pugh's buzz cut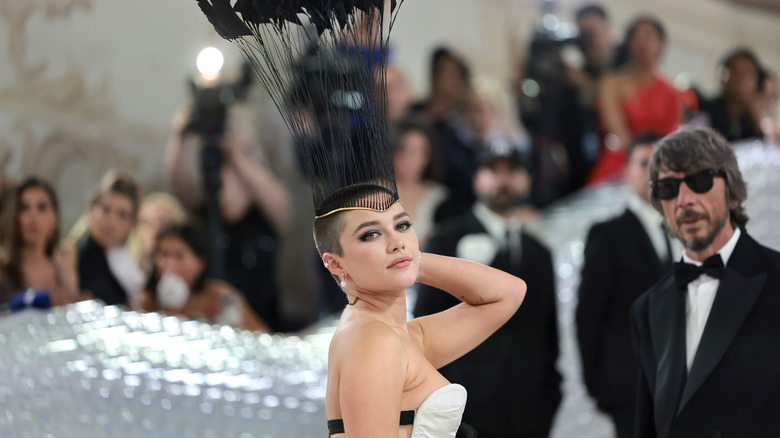 Jamie Mccarthy/Getty Images
There is perhaps no bigger hair story happening at the 2023 Met Gala bigger than Florence Pugh's buzz cut. Not only did the actor step out in a shocking buzz cut, but it's a strong departure from the hair she was recently sporting. Her dramatic hair transformation was highlighted with a feather headpiece, which gave a bit more couture to her overall ensemble. While many may have played it safe on the red carpet, Pugh specifically went with this daring hair change to give the boldest transformation of the night. 
Jessica Chastain's platinum blond locks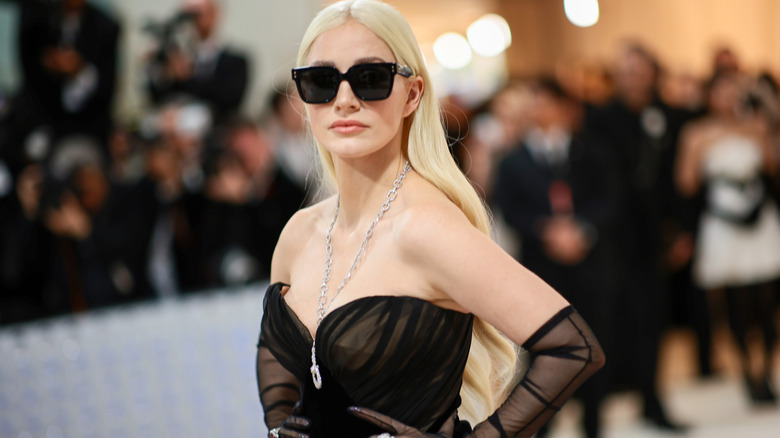 Dimitrios Kambouris/Getty Images
While Jessica Chastain's hairstyle at the 2023 Met Gala was nothing out of the ordinary, her hair transformation is what sparked the conversation. Known for her red hair, Chastain stepped out to the Met with a new platinum blond look. The actor's decision to part from her traditional red locks can only be described as an homage to Lagerfeld's famous blond hair. Chastain's long and voluminous hair is the perfect accessory to her black sheer gown, completing her Lagerfeld-inspired ensemble. Topping off her look, the actor donned black sunglasses, true to Karl Lagerfeld's style and brand. 
Billie Eilish's back to black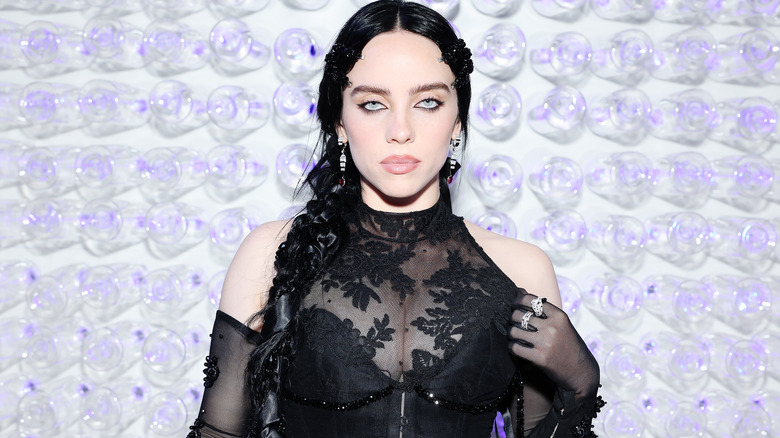 Cindy Ord/mg23/Getty Images
It's not surprising to see Billie Eilish in a black hairstyle, but it is surprising to see her return to the hair color after a long stint with blond hair. Although Eilish was famously recognized for her blond locks as a teen and sported a gorgeous blond 'do during the 2021 Met Gala, this time around, the singer switched back to her famous black strands, complete with a floor-length braid that's a big contrast from her shorter hairdo. Not only is her black hue the complete opposite of her previous hair color, but the singer chose a deep and dark black color.
Cara Delevingne's blond shag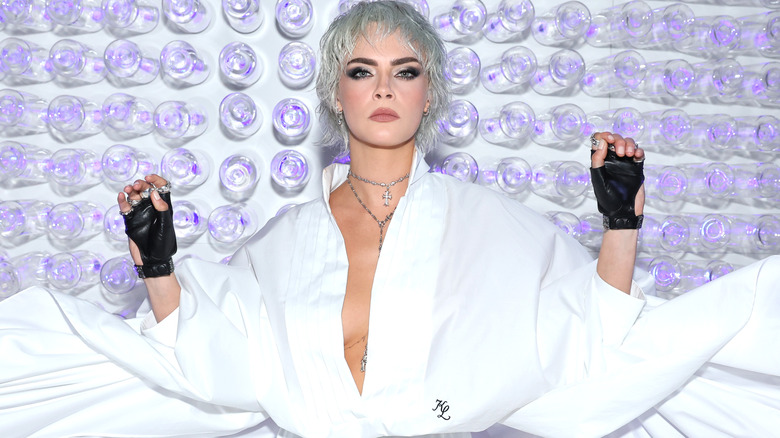 Cindy Ord/mg23/Getty Images
Supermodel Cara Delevingne is not known for safe and subtle looks, making her someone to expect a transformation from. For this year's Met Gala, the supermodel went from her usual mid-length blond hair to a short, shaggy platinum blond hairdo. Just like Jessica Chastain, it's safe to assume that Delevingne's newest chop is in honor of the late fashion designer, who she admits taught her "the importance of embracing your weirdness" (via Grazia). Going with an edgier hairstyle, Delevingne stays true to her style while still honoring the fashion icon. While it's unknown how permanent this look will last, it's a true ode to this year's growing retro hairstyle trend. 
Cardi B's same-night switch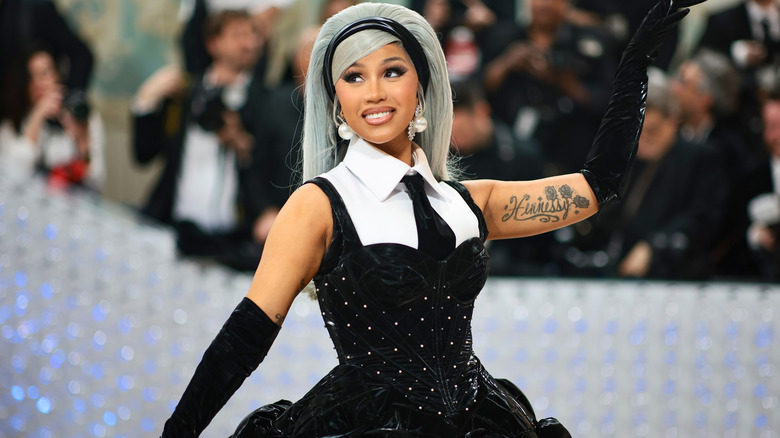 Dimitrios Kambouris/Getty Images
Not only is Cardi B known for her avant-garde fashion, but she always has a surprise in store. This year, Cardi B pulled off not only one look but two. For Cardi's second look, the rapper and singer switched up her hairdo to a straight gray look. While Cardi is no stranger to various hair colors, this hue is new to her and is an impeccable ode to the late Karl Lagerfeld. Going with a black and white ensemble, Cardi emphasized her look with blue-tinted gray hair that's the perfect classic hairdo for a sophisticated look.