Why Super-Short Bobs Aren't The Look A Curly Girl Wants To Emulate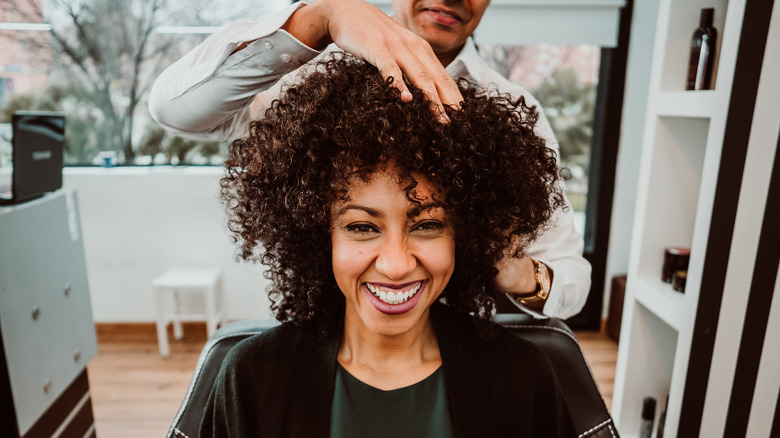 Lucia Romero/Shutterstock
If you have curly tresses, you know the struggle that can come with them. While there's no doubt that they're naturally beautiful, curls can be difficult to maintain. Furthermore, not every trendy haircut is suited for curly hair, and the super-short bob is one of them — if it isn't executed properly. Depending on your curl pattern as well as the thickness of your hair, a short bob may leave you looking more like a poodle than a runway model. "For curly hair, the worst bob haircut is the shaggy bob," hair expert and cosmetologist Ghanima Abdullah tells Shefinds. "This haircut makes part of the curls look straight and the rest curly."
Advertisement
A bob that includes thick bangs can also result in a disaster for those with curly locks. This is because it is prone to frizz. If you already have issues taming your mane's frizz with hair products, the situation will only get worse after this type of haircut. Just because you have curls doesn't mean you'll never be able to don a bob or any type of short haircut. "Bobs make curly hair look incredible, just don't forget to define your curls for the best look," Abdullah explains. Even though a super-short bob with bangs might not be ideal, there are ways you can cut and style your locks to feel the freedom of short hair.
Short haircut alternatives for curly hair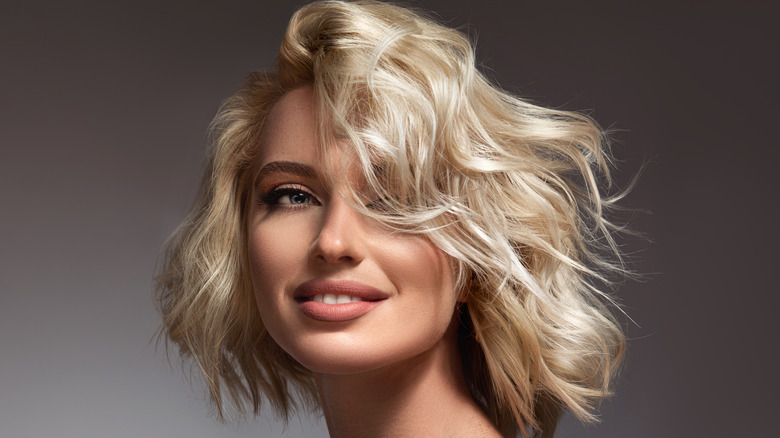 Sofia Zhuravetc/Shutterstock
One short haircut you might want to consider if you have curly hair is the shag, and it's exactly what it sounds like. This mop-looking cut can help you work your natural curls with little effort. If you want to try the shag, you'll also be able to benefit from layers, which can be helpful if your hair tends to fall flat. "The layers are great to remove extra bulk and allow the haircut to last longer than usual," Trey Gillen, hairstylist and color specialist, tells Byrdie.
Advertisement
If you have tight curls, you may be a perfect candidate for a sculpted crop. This look is not only timeless and trendy but polished as well. Be sure to work with a hairstylist who knows your curl pattern well before getting the cut, and keep in mind that maintenance is a big part of a sculpted crop. This means that you may need to add some new hair products to your collection.
If you don't know where to begin with your curly locks but you know that you want something low-maintenance, you might want to opt for a boyish cut. This works beautifully for those with thick curls, and it's just as timeless as a tight crop cut (think Princess Diana vibes). With just a bit of mousse, you can add a little volume and work this cut like a pro.
Advertisement
Tips for getting the short curly haircut of your dreams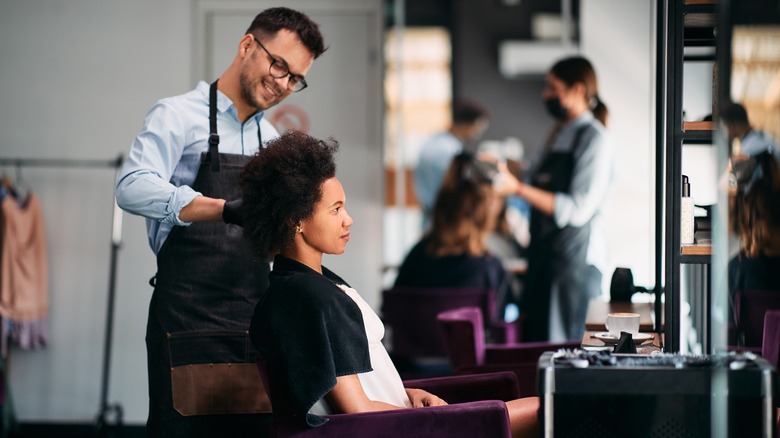 Drazen Zigic/Shutterstock
Before you get any type of short haircut, there are a few tips to ensure that your curly hair doesn't end up a curly mess. First, think about having your curls cut while dry (rather than wet). American Salon explains that this is a more beneficial way to trim and style curly locks, as it can give the stylist a more accurate look at your texture and curls. Just make sure your curls are sufficiently detangled before any cutting is done.
Advertisement
Next, make sure the hairstylist you're working with has experience with curly hair. You want to be confident that the person doing the trimming can accurately assess your curl pattern and texture. This will ensure that even if you haven't worked with the stylist before, you can be confident that they can give you the cut you desire.
Finally, avoid putting any product in your hair before heading to the salon. By walking in with your curls in their natural state, you can give your stylist the best shot at delivering the cut you requested. Similarly, don't go to your appointment with wet tresses, especially if you intend to ask for a dry cut. This can make it more difficult for the stylist to assess your hair.
Advertisement