Post-Perm Haircare Is Of The Utmost Importance, So When Can You Wash After The Treatment?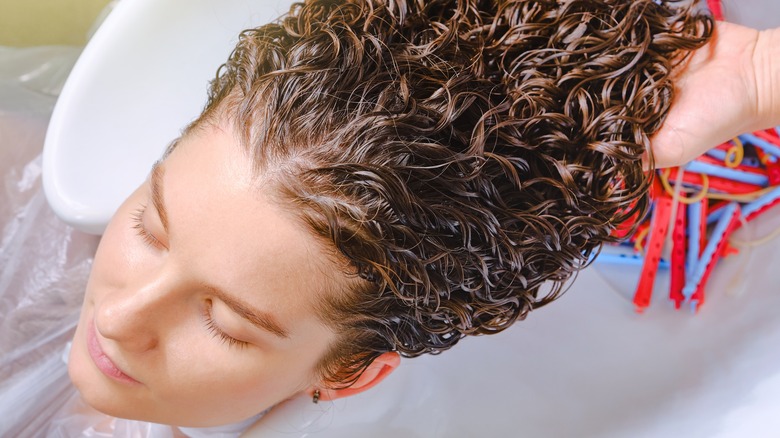 Vlad Antonov/Shutterstock
Thanks to the advancement of hair styling technology, it's easier than ever to get the hair of your dreams. Whereas some hairstyles can be achieved temporarily with heat styling, more time-saving ones tend to require chemical treatments, such as hair perms.
According to WebMD, a hair perm is a treatment in which strong chemicals and heat are combined and used to restructure your hair into permanent curls or waves by modifying the keratin in your hair. Keratin is a form of protein that makes up 95% of your hair and creates each individual strand's structure. So, if your hair is naturally straight, a hair perm is a great way to change up your look if curls are something you desire. On the other hand, if your hair is already naturally curly, a hair perm can add more bounce and help your curls appear more uniform.
Taking several hours to complete, a hair perm usually lasts for up to six months, making it a great option for those who want to enjoy lasting curls without constantly having to reach for the curling wand.
While your hairdresser's technique and the chemicals used can play a significant role in determining longevity, your post-perm haircare routine is of the utmost importance. A common question many people have after getting a hair perm for the first time is how soon they can start shampooing. Here's what we've found out.
How soon should you wash post-perm hair?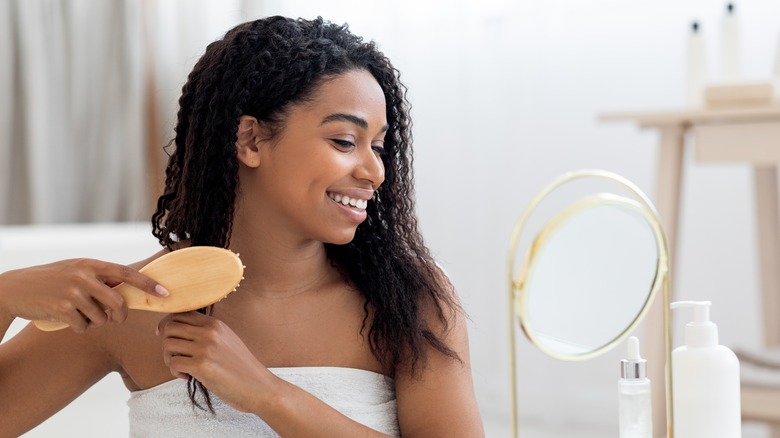 Prostock-studio/Shutterstock
According to Wow Skin Science, it is best to wait at least 48 hours before washing your hair since exposing a fresh perm to water too soon can create frizz. Plus, your new curl pattern won't have time to take hold. Hair salon Frankie Cochrane suggests waiting three days after a perm treatment to wash your hair. During the waiting process, do your best not to let your hair come into contact with any water.
Because perming the hair involves harsh chemicals, it can predispose your hair to dryness, frizz, and breakage. To keep your perm sufficiently hydrated, wash it only once a week and opt for shampoos that promise to lock in moisture. Curling Diva recommends picking up hair products containing humectants, including aloe or glycerin. Naturally, you will also want to steer clear of harsh ingredients (e.g. sulfates, silicones, and alcohol) that can often deplete your hair's natural oils, according to Elite Daily.
After shampooing, a regular conditioner will suffice for improving your hair's elasticity and reducing breakage. But for a more lasting haircare treatment that repairs and nourishes your strands thoroughly, opt for a deep-conditioning treatment every two weeks. 
More post-perm haircare tips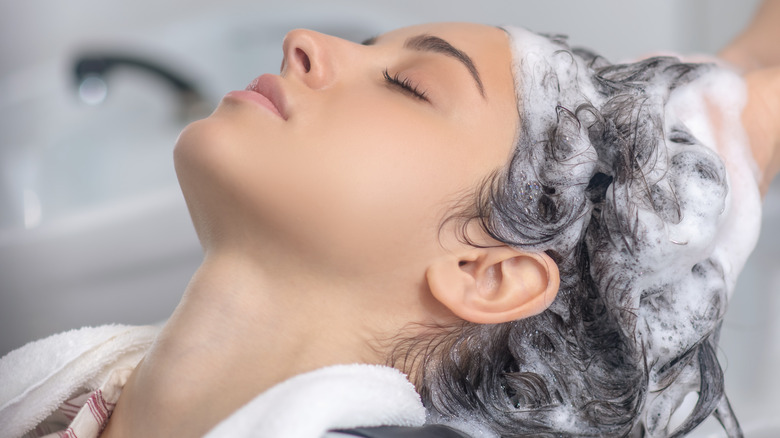 Dmytro Zinkevych/Shutterstock
According to Hair Professionals Career College, avoid combing or brushing your hair for the first 24 hours following the treatment. It's also wise to stay away from color treatments in the two weeks leading up to the treatment, as well as after the hair perm. At the same time, limit wearing ponytails and buns; your best bet is to wear your hair down for the first couple of days to help the curl pattern stay in tip-top shape.
When it comes to styling your brand-new curls, All Things Hair advises against using straightening tools. If you're using a hairdryer, add the diffuser attachment to help the heat evenly distribute across your strands while minimizing frizz. To pump up the volume, use a small round brush as you're blow-drying, though this requires a little more skill, so practice makes perfect!
It's important to note that perms can weaken the hair shaft, leading to breakage in the long run. That said, shampooing less often while staying on top of your deep-conditioning treatments and adding a leave-in can help combat this. On wash days, use cool or lukewarm water instead of hot. Applying a curl-defining cream daily can help add shine and texture. While detangling, always use a wide-tooth comb.
Perming your hair is an excellent way to jazz up your look, but at the end of the day, it is still a chemical treatment, so it is going to take a toll on your hair to a certain degree. Knowing what your hair needs following a perm can help combat damage and keep your new curls flourishing for a longer time.