The Important Skin Prep Tip To Know If You Want Your Makeup To Last All Day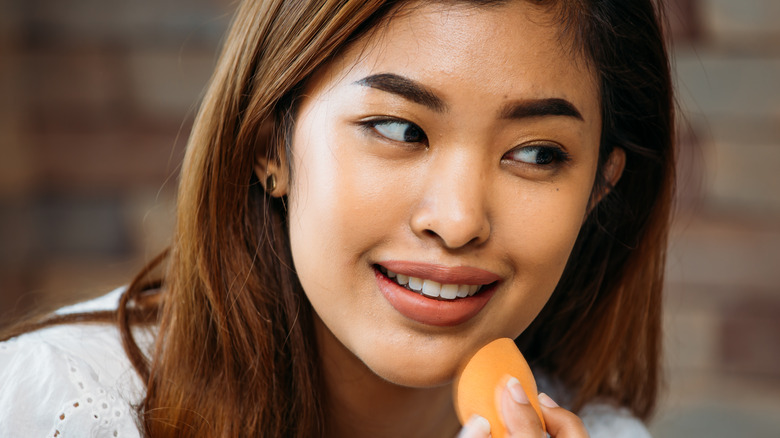 Twinsterphoto/Getty Images
There's nothing more frustrating than taking the time to do your makeup, only to have it magically vanish a few hours later. While it's natural to have to touch up your lipstick and sometimes blush, it's not too feasible (or desirable) to reapply your concealer and foundation mid-day. But when you're stepping out to get lunch and get a glimpse of yourself looking a bit too fresh-faced, you're left wondering what happened to all your hard work.
You may think that your makeup is the culprit and have tried several different brands only to have the same issue over and over again. Before you spend money on another concealer or foundation, take a look at your skincare routine. The issue may be in the products you're using. We all know that prepping the skin before makeup is an important step we can't skip. However, you might be overdoing it with your moisturizer. A lighter product may be the key to your makeup lasting all day.
Stay away from products that are too emollient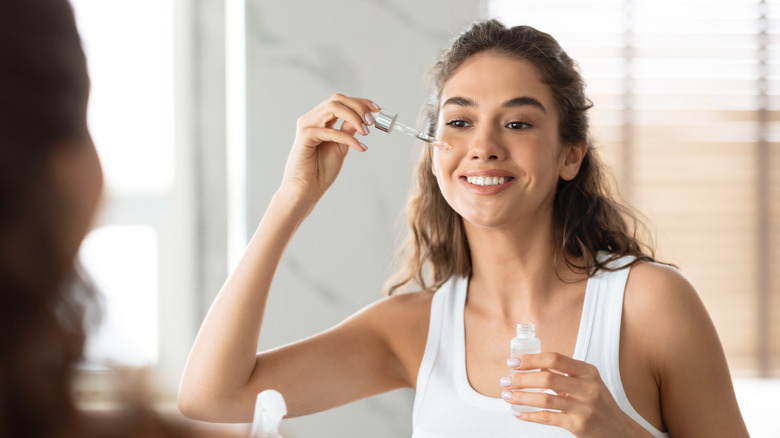 Prostock-studio/Shutterstock
We all want to achieve that youthful skin look, and one way to do it is with a multi-step skincare routine. But if you're using products that are too rich, your makeup will just slide off. Think about it — if your moisturizer is too creamy, the foundation will just sit on top of it and not absorb into the skin, making it vulnerable to rubbing off or pilling. Rather than slathering your face with a heavy product, choose one that's lighter and preferably water-based (even if you have dry skin).
With long-lasting makeup, it's all in the prep. Start with a hydrating toner on clean skin. You'll want one that ideally has hyaluronic acid, which is a powerhouse moisturizing ingredient. Before the toner completely dries, apply a serum with ingredients such as Vitamin C and ceramides. Next, use a light moisturizer containing sunscreen, staying away from heavy creams and oils. After your skincare prep, wait a few minutes for the ingredients to absorb into your skin before going on to the next step.
Primers help makeup stay put throughout the day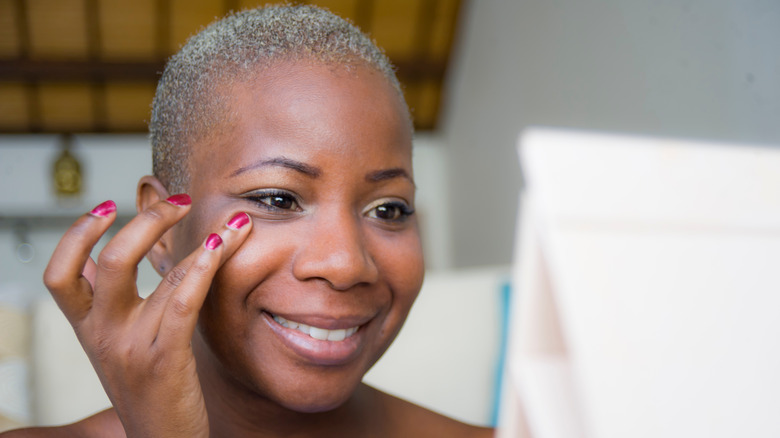 TheVisualsYouNeed/Shutterstock
Many people gloss over primers because they either forget this step or don't know how amazingly well they work at helping makeup stay bullet-proof. Don't discount this product, though — primers are miracle workers in the cosmetic realm. Primers create a smooth canvas for your makeup, blurring out fine lines and pores. They also give your foundation a surface to grip, so that it doesn't budge until you take it off.
Generally, primers are either water or silicone-based and it's important to use the correct one according to your skin type. If you have dry skin, choose a water-based primer, as it will leave your skin hydrated and looking dewy. Silicone primers tend to have a mattifying effect, so they're best for those with oily skin. 
Once you have decided which primer to use, you need to make sure it complements your foundation. If you're using a water-based primer, it's important to use a foundation that's water-based as well. Similarly, with silicone primer, you should use a silicone-based foundation. If you're not sure, look for ingredients such as dimethicone or cyclopentasiloxane. If you mix and match water and silicone products, they'll end up repelling each other and your foundation will separate. Of course, the final step in making your foundation budge-proof is to set it with powder. Add a quick blast of setting spray, and your makeup will last all day.