Metallic Pants Are Trending, But How Wearable Are They Really?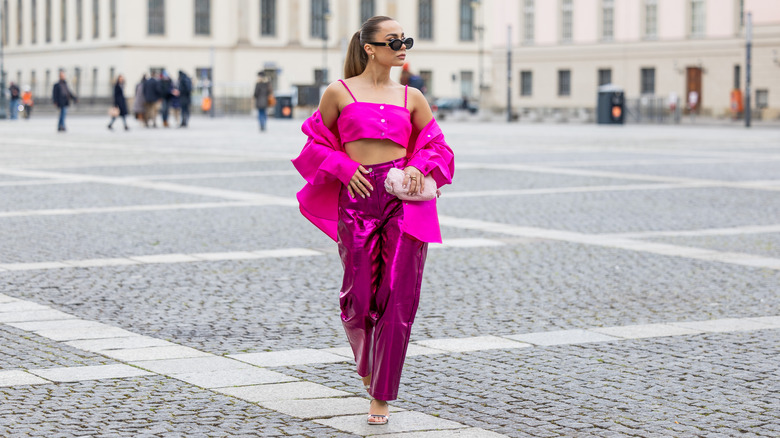 Christian Vierig/Getty Images
Who doesn't enjoy the shine and glamour of a metallic piece? Whether it's an accessory or jewelry, metallic items will always add a glimmer of sparkle to your ensemble. Although metallics are no strangers to handbags or jewelry, they have come a long way to now be part of our fashion and beauty. Trends like metallic nails have become some of the must-have manicures of the season, but now metallic pants are entering the conversation. Just a few years ago, metallic pants would be worn only for nights out or disco parties. But now, metallic pants are the perfect item your closet was missing. 
While far from being understated, these shiny pieces are a great way to elevate any outfit. Although not a neutral or denim fabric, metallics have become the newest way to create a cohesive ensemble. Even though gold and silver metallics are the most common shades, these items now come in various hues. If you're afraid of going too bold with your metallic pants, darker shades will help give you a similar look while keeping them subtle. The statement metallic tones in neon shades are ideal if you want a look that everyone will notice blocks away. No matter your preferred shades, metallic pants are here to stay, and don't be surprised if you see this trend stick around for a few seasons.   
Silver metallic pants
Besides gold, silver is one of the most common shades of metallic you can find. This makes silver metallic pants one of the easiest metallic pieces you can rock every day. As we start seeing more metallic pieces worn casually, silver metallic pants are becoming a core piece in any wardrobe. Like any denim jeans, you can dress your silver pants up or down to create any style you want.
Textured metallic pants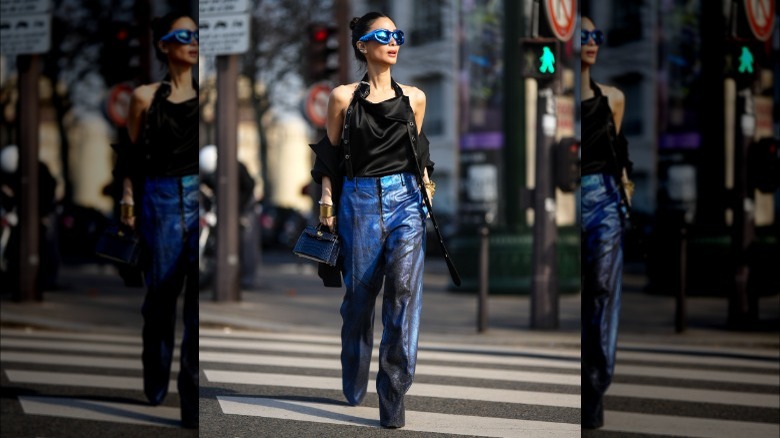 Edward Berthelot/Getty Images
Solid metallics are great, but there's something to love about printed metallic pants. While these are much rarer to find, they're also the most fashion-forward. Sequined, bleached, or printed metallic pants are the perfect bottoms to rock if you're looking for something louder to wear. Although bolder, they're also an easy way to adopt metallic fabric into your wardrobe. Just as with any printed bottom, play around with a neutral top for a chic outfit.
Monochrome metallic
One of the biggest challenges with wearing metallic pants is knowing what to style with them. Although initially overwhelming, wearing a monochrome look is the easiest and quickest way to put together a cohesive ensemble. If you're opting for a colored metallic bottom, match it with a top in a similar tone for a simple styling trick that will have you chic and ready to go.
Metallic culotte pants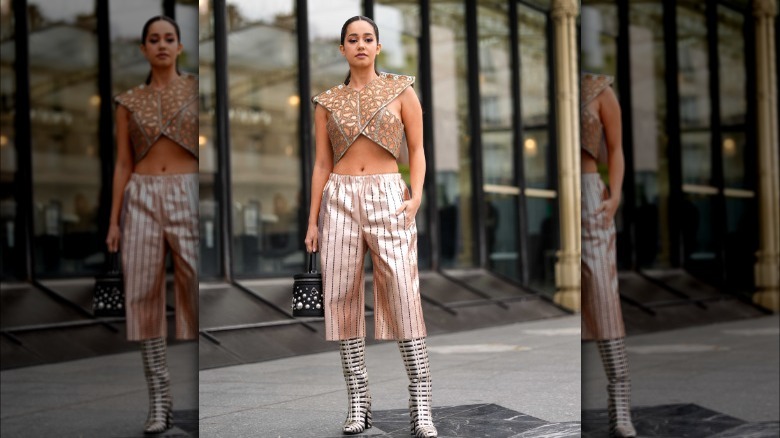 Edward Berthelot/Getty Images
Depending on the fabric and piece, metallics can be thick and heavy pieces to carry. During the warmer seasons, this extra-heavy fabric can become too hot to wear. Although there's no changing the density or weather, you can reach for cropped pants to give you some more freshness and breathability. Culottes or cropped pants can be the perfect way of taking this trend year-round while remaining cool for the summer.
Casual metallic pants
Metallic pants are a dressy statement piece that will spice up your outfit. However, they also work to bring some life to your more casual ensembles. Style your shiny pants with a more casual top or sweater to dress down the overall look. Finish the look with your favorite casual footwear, and you have the perfect day-to-day outfit that'll add some glimmer to your errands.
Flared metallic pants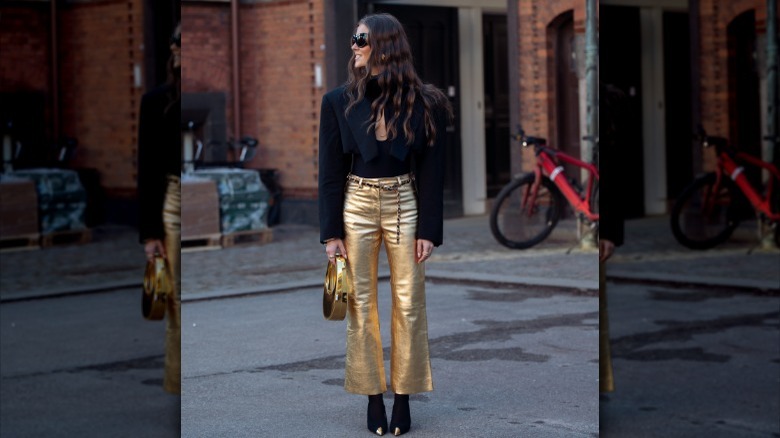 Raimonda Kulikauskiene/Getty Images
Flares and wide-leg jeans are everywhere nowadays, thanks to the Y2K revival happening in fashion. While not everyone is fond of these extreme denim pieces, they're perfectly retro when you make them metallic. Bring the disco into your closet in a chic way by combining two of the hottest trends in one unique piece. A flared metallic pant will help elevate your trend piece from just another loud clothing piece to a real, everyday item.
Metallic on metallic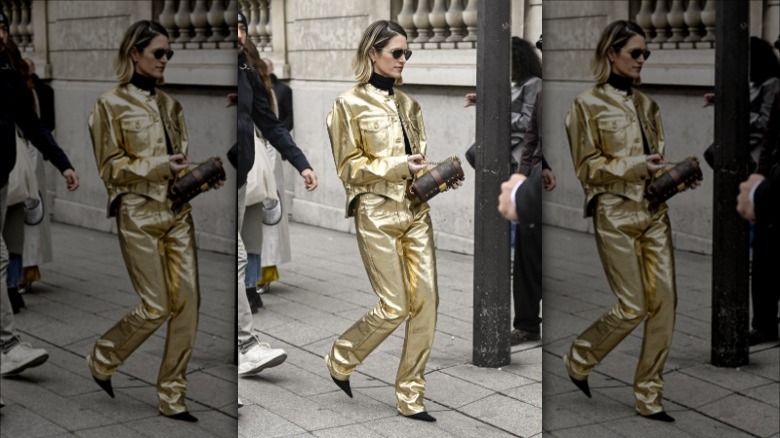 Daniel Zuchnik/Getty Images
Metallic pants on their own are great, but pair them with more metallic and you have yourself an extravagant look. At first, the idea of metallic tops and bottoms might be overbearing, but there's no better way to embrace this trend than to go in headfirst. Rock the metallic trend to its fullest by combining your favorite metallic top or jacket with your new metallic pants.