The Super Precise Way To Line Your Lips That Couldn't Be Easier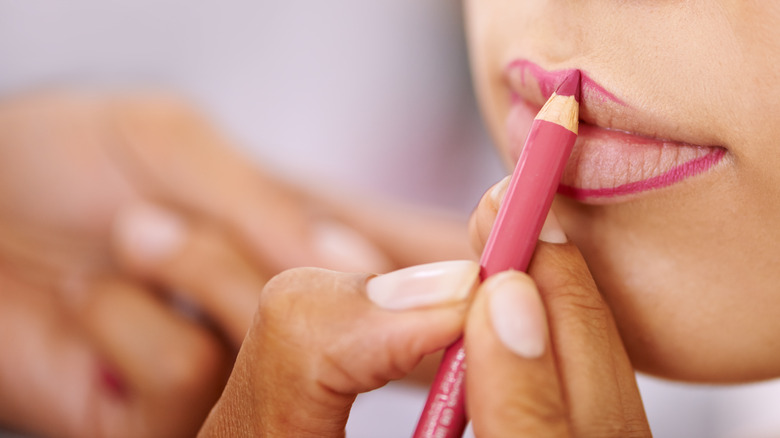 Peopleimages/Getty Images
Lip liner is makeup's way of making it up to those of us who are less than satisfied with our natural lips. With one simple and relatively affordable makeup tool, we can emphasize the shape of our pouts and even make it seem like we've had a little filler. The only problem? Lip lining can be daunting.
It's not so much that lining your lips is overly difficult, but there's a fine line between impeccably lined lips and clown face. The risk of overdoing it is so high that many makeup-wearers just choose to forgo liner altogether.
Thankfully, we have people like TikTok user @lera_valesta making things a little easier. In a video shared to the platform, beauty blogger Valerie demonstrated a hack to line your lips precisely with little chance of clown face. It works in the same way as tightlining the waterline, but with your lips, and it's probably the easiest liner hack we've come across yet.
The lining hack
In Valerie's TikTok video, she shows viewers how to do the easy-peasy hack in just eight seconds. Start by rolling in your lips together as tightly as possible (though not so tightly that there's no lip at all showing). Grab your lip liner — Valerie uses a pencil but you could also use a creamier product — and gently run it over the edge of your lips as you normally would.
In theory, the hack should be easier than your average lip liner application because your lips are taking up a smaller, straighter surface while they're rolled together. If you don't have a steady hand and worry about wonky lines, there's literally less space to mess up here. Valerie lines the bottom lip first and then follows with the top, but you can do this in any order you want, as long as all edges are lined.
Then release some of the pressure from your lips (while still holding them together) and apply your lipstick. Rub together as normal and you're done!
Applying lip liner for beginners
The tightlining hack is quick and easy, but if you'd rather learn how to line your lips the old fashioned way, there are plenty of tutorials available on social media. This video by @michellearevaloe runs for just 30 seconds, and in that time, she highlights the simple steps she follows to get flawlessly lined lips using the traditional method.
Begin by lining the middle of your lower lip, then connect that up to the two corners of your lips. Trace over it another time before overlining your Cupid's bow. Then connect the sides of your Cupid's bow liner down to the corners. Add your lipstick and you're finished!
As shown in the video, you can ground your hand by anchoring your little finger into your chin. This will give you some stability. You still might struggle with some of the unsteadiness that scares many people away from lip liner, but the more you practice this technique, the better at it you'll be.
You might also find that you become more confident with your lip lining if you start out with more neutral colors. It's a lot easier to mess up with a bold red liner or deep plum shade, so begin with low-key liners that are within the same tonal family as your skin and lips, at least until you get a little more confident!