Bold Lip Liner Is The Daring Trend That Gives An Edgy, Full Glam Look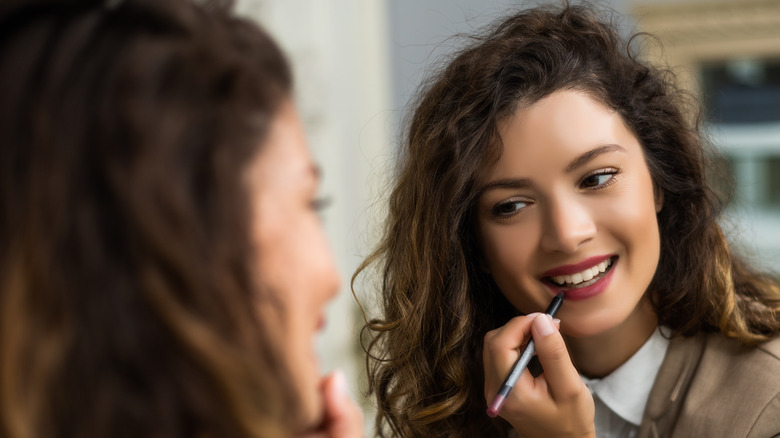 Littlebee80/Getty Images
Even if you aren't big into lip makeup, most of us can appreciate lip liner worn well. It can be difficult to apply without a steady hand, and it can be even more challenging if you aren't sure which color to use to complement your pout. Luckily, one of the latest makeup trends to emerge on the scene is bold lip liner, resulting in less room for error if you accidentally over-line your lips or choose a darker shade than intended. "A statement lip liner with glossy pout to match is one of the leading trends this season," KVD Beauty Artistry Ambassador Sandra Saenz told PopSugar. "We're all about defining our lips, so when you find your perfect shade of lip liner, creating this look is super simple, even on the go, and this trend can go so many directions, whether subtle or full glam."
Advertisement
If you've yet to perfect your lip liner game, there's no better time to start working on it than now. There are many benefits to wearing lip liner, especially if you're daring enough to try this edgy trend. Not only can this underestimated cosmetic help you shape your lips, but it can also extend the longevity of your lipstick. Best of all, it can even be worn on its own to give your pout some color and fill in uneven areas.
How to select and apply a bold lip liner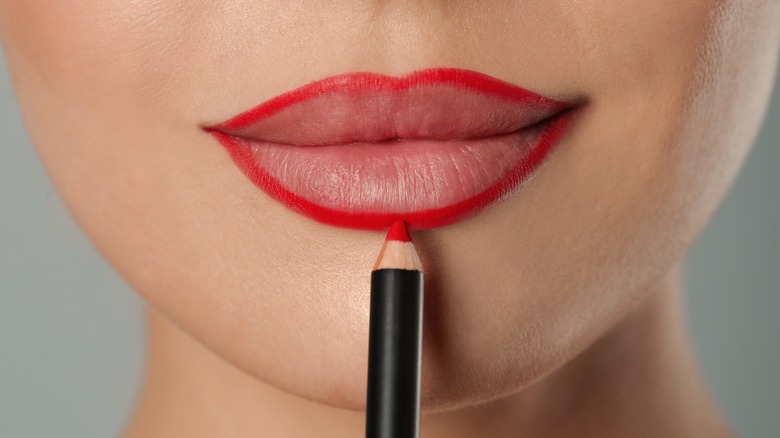 New Africa/Shutterstock
If you're ready to dive into the world of lip liner but you lack experience, one piece of advice to consider is to select a liner that is one shade darker than your natural lip color. Keep in mind that one of the benefits of wearing lip liner is that it draws attention to your pout by creating a shadow effect. When you apply foundation, concealer, and other products onto your face, your lips can easily fall into the background. As you look for a lip liner for an edgy look, keep an eye out for darker shades to create definition.
Advertisement
When you have the lip liner you need, make sure you moisturize your lips before you apply it. If necessary, exfoliate your lips with a lip scrub. Once you're ready to start applying it, begin on the outside corners of your lips, working toward your cupid's bow. The Cupid's bow is one of the trickiest areas to apply any lip product, but you can make it easier to work around by creating a small X on it — use this as your guideline and flesh out the surrounding area with your liner. Once you've completely lined your pout, you can top off your look with a high-shine lip gloss or lip balm of your choice.
Why you should give lip liner a try, even without lipstick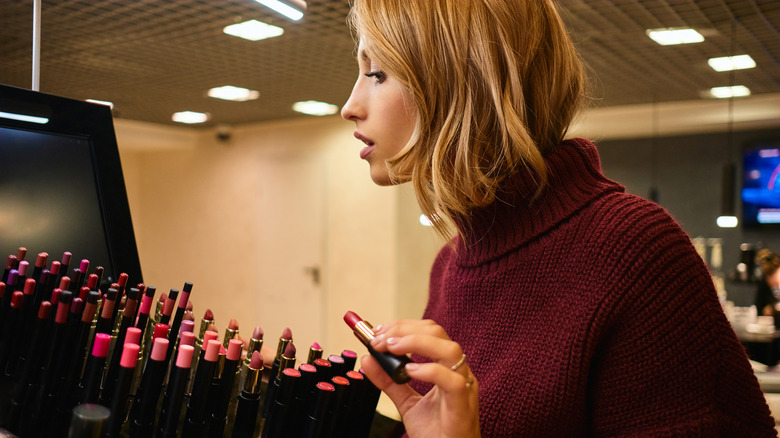 Garetsworkshop/Getty Images
One of the most common questions people have about lip liner is whether it can be worn on its own without lipstick. These days, anything goes when it comes to makeup, and the same rule applies to lip liner — this product can be all you need to contour your natural lips or add a pop of color. Again, the only factor to keep in mind is lip hydration, as any lip product is likely to falter if your pout is dry or flaky. Luckily, many lip liner creators now include ingredients, such as vitamin E and jojoba oil, to make them easier to apply and beneficial for dry lips.
Advertisement
If you struggle with applying lip liner, one tip you can try is to steer clear of your inner lip line, according to Southern Living. You might fear accidentally over-lining your lips, but in the process, applying liner along the inside of your lip line may not result in the bold look you want. Even if you only want to add definition to your pout, remember that your liner still needs to be visible.
Finally, don't forget to make sure your lip liner is as sharp (but safe) as possible. If your biggest challenge with application is precision, this step is especially important. Additionally, using a sharp lip liner can help you prevent a messy final look.