The Easy Foundation Trick That Ensures The Most Natural Finish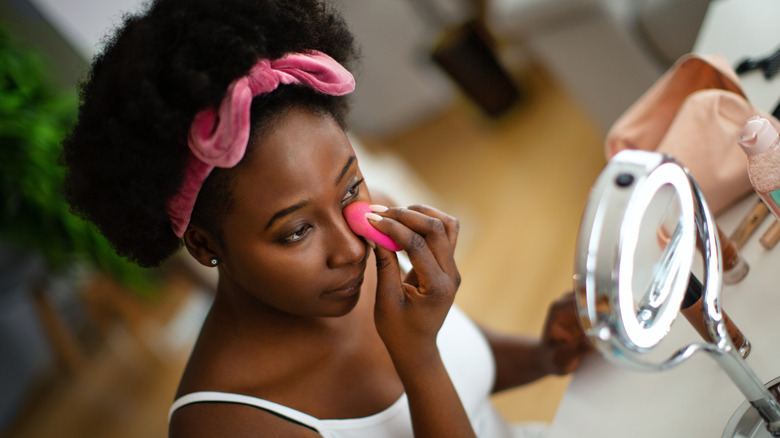 Aja Koska/Getty Images
The most essential part of any makeup routine is foundation and yet, it is one of the most difficult steps to master. Not choosing the best foundation for your shade and specific skin type can create a finish that looks discolored and/or overly textured. Apply too much and your skin may look cakey or greasy, and if you don't blend it out enough, you can count on walking around all day looking like you're wearing a vaguely flesh-colored Halloween mask.
Foundation with a natural finish that looks like your own skin but better can be tricky to pull off. Still, it remains an elusive goal for many longtime makeup wearers. Thankfully, though, there's a key to making your foundation appear less like a painted-on mask and more like an Instagram filter. After all, foundation and makeup in general are meant to enhance and not hide our natural beauty, right? It all comes down to one simple and easy application trick: concentrating your foundation in the center of your face. And this hack applies to liquid, cream, and powder foundations! Here's how to do it.
Diffuse your foundation from the center of your face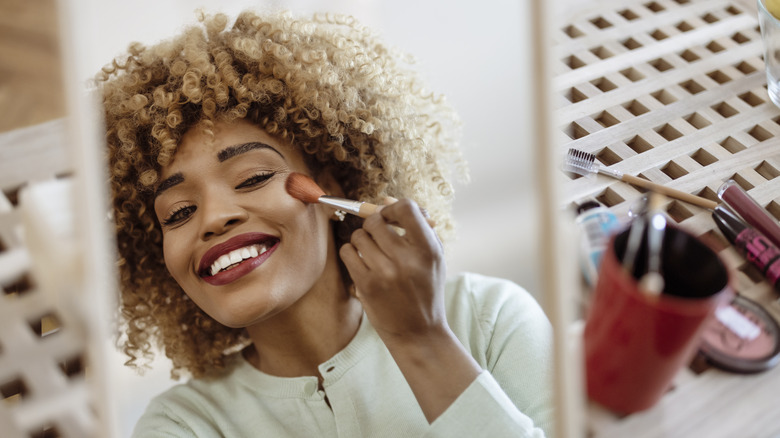 Pixelseffect/Getty Images
Say you've already found your perfect match, and now you're eager to learn how to make your foundation appear natural-looking like a pro. Know that it's all in the technique. Rather than apply the product onto every inch of your face, start in the middle of your forehead, down the sides of your nose (leave the center bare though!), across your cupid's bow, and down the center of your chin. Be sure to use a light hand, and consider applying the foundation with your fingers for an even softer finish.
Once you've done this, it's time to blend! Reach for a brush or damp sponge to gently diffuse the product from the center of your face so that it disappears into the rest of your skin. The nose is the outermost portion of the face, so naturally, people's eyes are drawn to it first. Leaving its center bare creates the illusion of natural-looking skin. Also, because you're working with less product, you'll prevent harsh mask-like edges from forming alongside your face.
Less foundation is more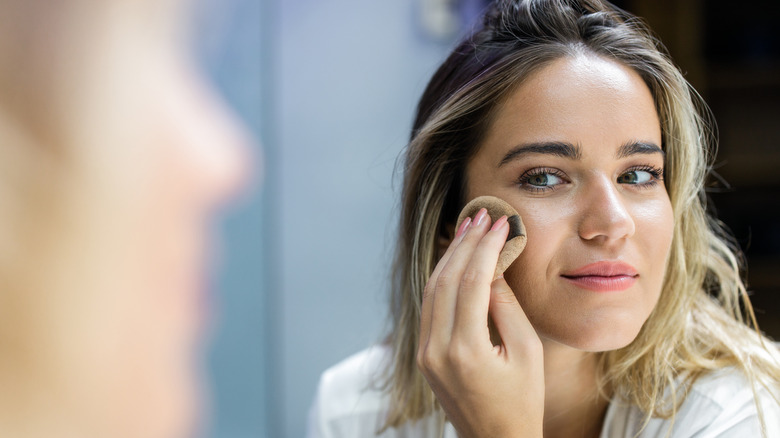 Skynesher/Getty Images
The first time you try out this new technique, you will probably be tempted to add more foundation. Traditional makeup advice tells you that if your foundation does not reach every edge of your face, you need to pile on more. So, if you want an ultra-natural finish, resist the urge. The goal is for your foundation to appear as if it is fading away as it leaves the center of your face.
Keeping your heaviest coverage in the center and blending it outward leaves the outer edges of your face mostly bare, allowing your skin's natural color and texture to shine through, especially since these areas of the face are less likely to have acne, redness, and discoloration.
It's important to note, though, that this technique may not work for everyone. Those who struggle with hormonal acne will tell you that their breakouts tend to show up right along their jawline. And let's face it: There may be times when a pesky zit could pop up right smack dab in the middle of your nose. In that case, a little foundation won't hurt!