Monoi Oil: The Haircare Benefits And How To Use It Properly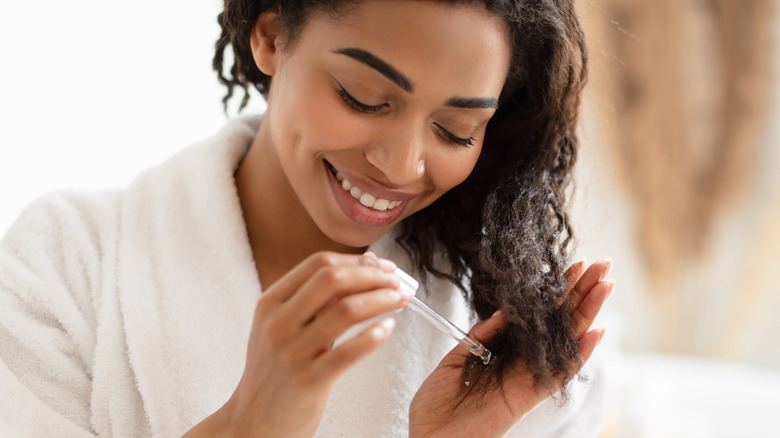 Prostock-studio/Shutterstock
Oils are the ultimate beauty secret. They are amazing for so many things including skin, nails, teeth, and even your hair. According to Outlook India, hair oiling has been an ancient practice for over 5,000 years with its roots based in wellness and self-care. Over the years, studies have been done on the specific benefits of many different hair oils, with the goal of finding how they contribute to overall hair health.
One oil that stands out from the rest is monoi oil. "A centuries old remedy from Tahiti, monoi oil is made from soaking the petals of Tahitian gardenia in coconut oil," board-certified dermatologist Azadeh Shirazi explained to Byrdie. "It's considered a perfume oil as it is fragrant and used to moisturize, nourish, and add shine to hair. [A] majority of the benefits are from the coconut oil." A favorite among many, there are a few reasons why monoi oil needs to be incorporated into your beauty routine.
The benefits of monoi oil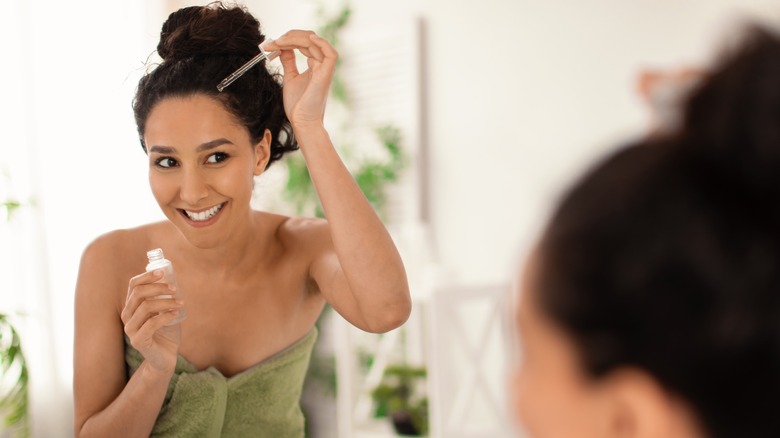 Prostock-studio/Shutterstock
If you like the effects of coconut oil, then you will rave over monoi oil. "Using monoi oil may help restore moisture and nutrients and help strengthen the hair shaft," explained Dr. Shirazi. According to Yves Rocher, this is because this non-comedogenic oil is very hydrating and can ultimately help the scalp rebalance itself if an individual is suffering from scalp issues.
If you find yourself suffering from damaged hair or split ends, monoi oil can definitely help improve those issues as well. This is because the Tahitian super oil is able to penetrate the hair shaft. This is great for your hair since it minimizes the loss of protein and allows your hair to benefit from a major hydration boost, as well as the nutrient benefits. With all of the great things that come from monoi oil, it's safe to say that it could be the key to beautiful, healthy hair.
How to use monoi oil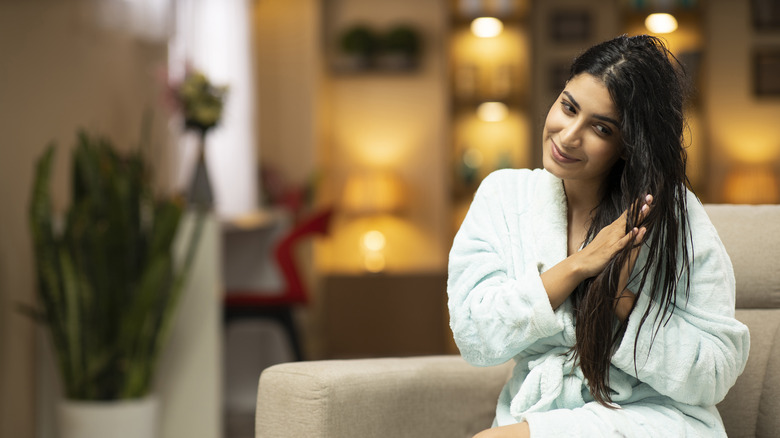 Deepak Sethi/Getty Images
Monoi oil is great because it has the power to become a part of your nighttime routine for gorgeous hair. Before washing your hair, you can apply the oil for a prewash treatment. According to Buy Wow, adding oil to your hair before shampoo allows your hair to get the nourishment it needs, while remaining hydrated.
There are also plenty of benefits from hot oil treatments for your hair as well. According to Davines, hot oil treatments are applied from root to tip and help the oil enter the hair shaft easier. This allows all of the benefits of monoi oil to be absorbed much faster due to the heat opening the hair shaft. However, if you are going to apply monoi oil near the scalp, it is best to do a patch test on your skin, especially if you have sensitive skin. Dr. Azadeh Shirazi explained, "Continued or consistent use could potentially lead to allergic reactions over time in some skin types. I suggest using it sparingly on damp hair once or twice a week. Allergic reactions may be delayed and show up as peeling, dry, itchy, red skin."