The Fashion Trend At King Charles' Coronation That Subtly Honors The Queen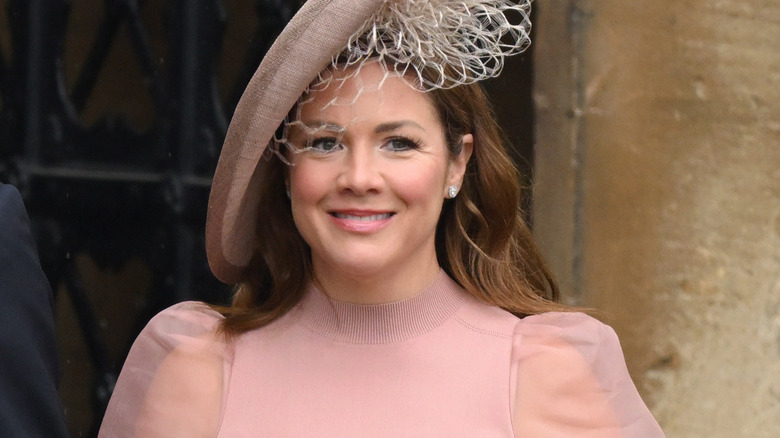 Karwai Tang/Getty Images
After weeks of sartorial speculation on what the royal family would wear to King Charles III's coronation at Westminster Abbey, D-day (or shall we say C-day?) finally arrived — and the royals didn't disappoint. Staying true to tradition, Queen Camilla, the Princess of Wales, and even the bonny Princess Charlotte wore embroidered dresses in ivory tones. Yet, in keeping with the times, they infused their outfits with modernity by choosing contemporary silhouettes as opposed to the more flouncy and dated ones of times past.
Advertisement
The monochromatic dresses worn by close members of the royal family, including Pippa Middleton, were likely in honor of the late and beloved Queen Elizabeth II. This was further proved by the choice of embroidery embellishing the dresses of all three royals, which included specific flower motifs of rose, thistle, daffodil, and shamrock that represent the four kingdoms of England, Scotland, Wales, and Ireland. Non-British folks got in on the monochromatic action, too, with Jill Biden and her granddaughter, Finnegan Biden, sporting solid blue and yellow looks, respectively, and Sophie Trudeau, the wife of Canadian Prime Minister Justin Trudeau, rocking a pink outfit not dissimilar to shades Elizabeth was known to rock. Still, monochromatic fashion à la classic Elizabeth style wasn't the only that coronation attendees honored the late queen.
Advertisement
Other ways the royal family paid tribute to the late queen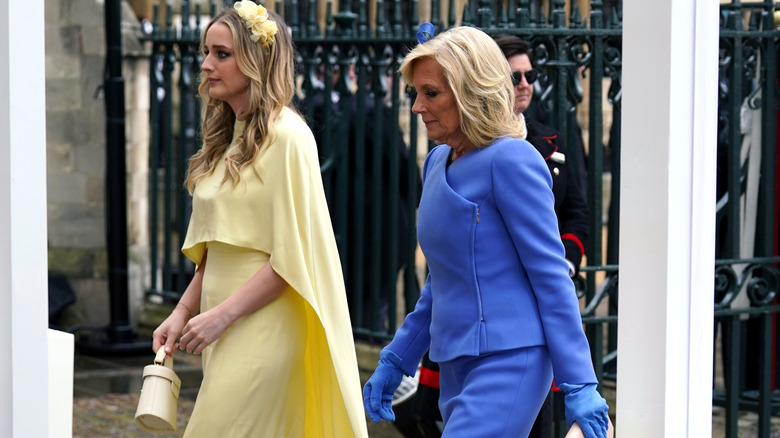 Wpa Pool/Getty Images
What's more, Queen Camilla's white coat dress designed by Bruce Oldfield had an underskirt and hem embroidered with the floral emblems of the United Kingdom's four nations. She also paid a special tribute to her deceased mother-in-law by wearing the robe made for Elizabeth II for the latter's own coronation, by robemakers Ede and Ravenscroft. It was made of crimson velvet and was last used 70 years ago. Furthermore, the lily of the valley flower embroidered onto her purple velvet robe of estate was one of Queen Elizabeth's favorite flowers.
Advertisement
Like her mother-in-law, Princess Kate Middleton chose a pristine white gown by Alexander McQueen for the coronation, with intricate silver bullion and threadwork embroidery recreating the four emblems. The floral stitching pattern was also used in Princess Charlotte's dress by Alexander McQueen (whom she wore for the first time). However, the embroidery on her dress was subtler and stitched in ivory satin — a display of timelessness that Elizabeth surely would have loved.
Princess Kate's dazzling headband, designed by Jess Collett and Alexander McQueen, was constructed using silver bullion enmeshed with crystal and silver threadwork to create three-dimensional leaf embroidery. According to The Telegraph, this was an allusion to the flower crowns that the maids of honor wore at Queen Elizabeth's coronation in 1953. Princess Charlotte gave her mother company by donning a similar headpiece, albeit in a smaller size.
Advertisement