Queen Elizabeth's Beauty Routine Was More Relatable Than You'd Expect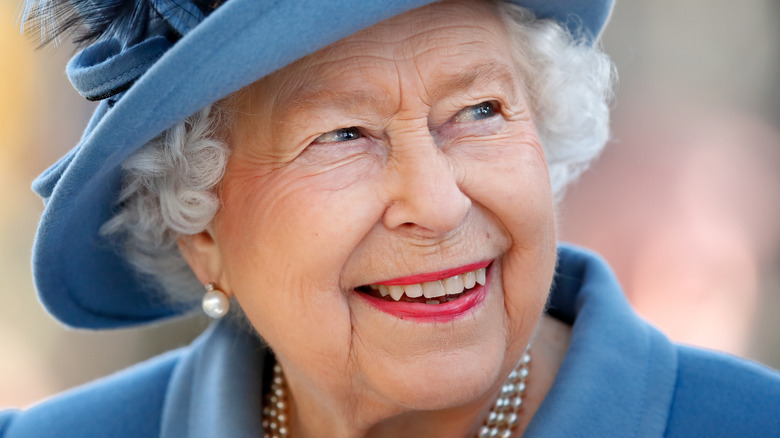 Max Mumby/indigo/Getty Images
The late Queen Elizabeth II was known throughout the decades for her impeccable sense of style, from her hats on race days to her distinctive monochromatic outfits. Since the moment the queen ascended to the throne in 1952, the world has been mesmerized by the monarch's iconic looks. A defining feature of Queen Elizabeth's appearance was her impressive attention to detail, down to her choice of cosmetics.
Advertisement
During the early 1950s, she frequently favored a bold red lip, as the color was easily visible in the black and white film that was popular at the time. To prepare for her 1953 coronation ceremony, Queen Elizabeth turned to the French skincare brand Clarins to commission a bespoke crimson lipstick that would perfectly coordinate with her robe (via Hello!). When picturing royal life, it's easy to assume that the monarch received expert assistance when getting ready for events. However, it turns out that there's a little-known secret about Queen Elizabeth's makeup regimen.
The queen enjoyed doing her own makeup for most events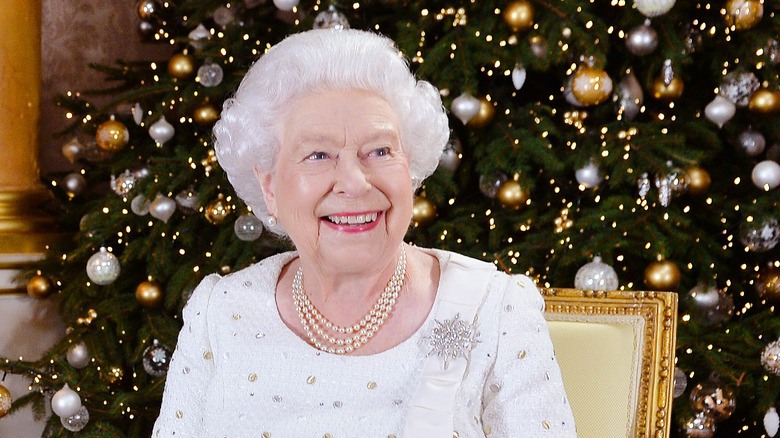 Wpa Pool/Getty Images
Despite owning one of the world's most expensive jewelry collections, Queen Elizabeth's approach to beauty was remarkably similar to that of a commoner's. Surprisingly, the queen only employed a professional makeup artist for the recording of her annual address to the public: her Christmas speech. In fact, Queen Elizabeth's senior dresser, Angela Kelly, stated, "[I] arrange for the makeup artist, Marilyn Widdess, to be there on the day of filming. You might be surprised to know that this is the only occasion throughout the year when Her Majesty does not do her own makeup," in her 2019 book "The Other Side of the Coin: The Queen, the Dresser and the Wardrobe."
Advertisement
During the rest of the year, the queen was content to apply her signature makeup look herself. Queen Elizabeth had a favorite beauty brand, but over the years, her choice in lipstick shades shifted from ruby hues to colorful fuschias and pinks. Still, according to the Daily Mail, she always remained a fan of both Clarins and Elizabeth Arden cosmetics.
You can still try products rumored to be Queen Elizabeth's favorites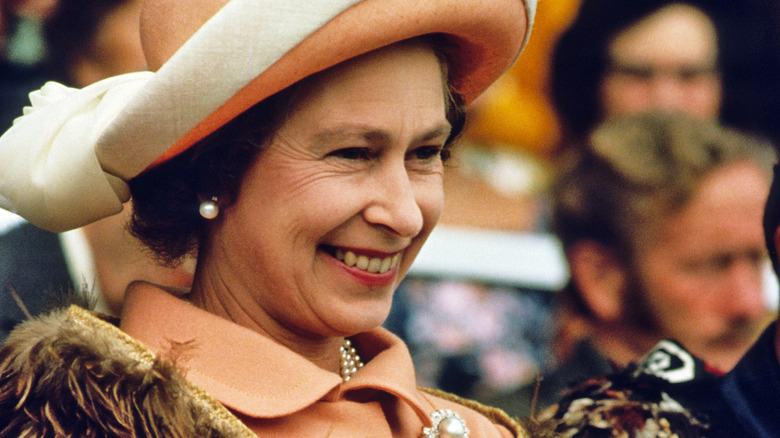 Anwar Hussein/Getty Images
If you'd like to experience beauty products fit for a royal, there are a few that the queen was believed to be fond of. The most classic choice would be her early favorite, a red-hued lipstick similar to that worn at her coronation. Interestingly, manufacturers in the early 1950s produced what was likely intended as a dupe for Queen Elizabeth's famously worn shade at the time. A 1953 advertisement in The Australian Women's Weekly depicted makeup brand Paul Duval's Evron Lanocreme lipstick as a "new coronation souvenir" in honor of Her Majesty.
Advertisement
While it's unlikely that you'll find a gilded tube of Lanocreme nowadays, you can purchase Clarins Joli Rouge lipstick in shade number 742, which is said to be similar to the queen's coronation hue (via Express). You can also try the brand's satin finish lipstick in 731, which is a mauve reminiscent of those frequently worn by Queen Elizabeth during the early 1970s. According to British Vogue, another favorite formula of Queen Elizabeth's is said to be Elizabeth Arden's Beautiful Color Moisturizing Lipstick in the shade Fig.
"[Queen Elizabeth] has the somewhat outré habit of opening her bag, pulling out a compact, and reapplying her lipstick," writes royal biographer Sally Bedell Smith in "Elizabeth the Queen: The Woman Behind The Throne." Countless photos of Her Majesty practicing a quick lipstick reapplication at various events support Smith's observation. Therefore, if you wish to emulate Queen Elizabeth's makeup techniques fully, be sure to keep a compact on hand to employ frequent touch-ups.
Advertisement