Daters Are Setting Boundaries - And Limiting Drinking Is The Latest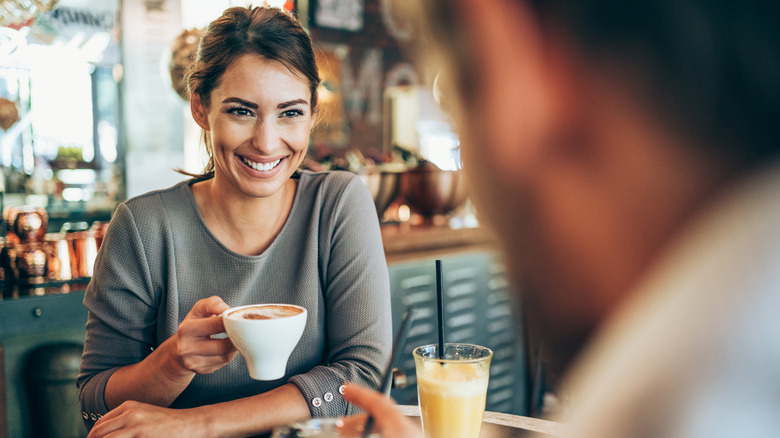 Violetastoimenova/Getty Images
"Let's grab drinks!"
This little phrase has long been a go-to for inviting someone on a date, but it might be going out of style as more people question their drinking habits and kick alcohol to the curb. Sobriety, in one form or another, is becoming more mainstream, even amongst those who don't necessarily fall into the "alcoholic" or "problematic drinker" categories, from Dry January to the "sober curious" movement to the rise of the "damp" lifestyle. Take a peek at TikTok, and you'll also notice a growing collective of people saying no to booze (videos with the #sobertiktok hashtag have racked up over 1.3 billion views and counting, for example).
Advertisement
Other data proves alcohol-free dating is taking off, too. In 2022, dating app Hinge found that 75% of singles no longer preferred to grab drinks on the first date, and two in three said it would be a dealbreaker if a love interest drank too much. Bumble, another online dating platform, discovered a similar trend. In its dating predictions for 2022, the app noted a shift away from tipsy get-togethers. Specifically, 34% of Bumble users said they were more open to going on a dry date than they were before the COVID-19 pandemic.
Even if dating and drinking have gone together since, well, basically forever, that might no longer be the case. Here's why that could be a good thing.
Drinking boundaries are changing the dating game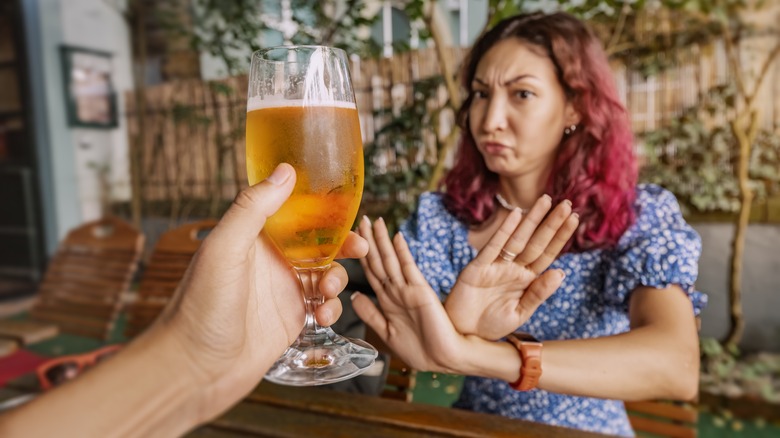 frantic00/Shutterstock
Concepts like boundaries, dealbreakers, and red flags are perhaps more embraced — and understood — now than ever before. It's no surprise, then, that as more people are cutting back on alcohol, they're also getting crystal clear on the role they want liquor to play (or not play) in their love lives.
Advertisement
On TikTok, some sober and sober-curious users are touting the benefits of seeking out partners who don't always need a drink in hand. In a viral video, creator Taylor Reynolds explains that swapping boozy dates for coffee dates led to better connections with people she met on dating apps. "I've had 10 times more engaging and interesting conversations than I've ever had on the apps," she says, adding that her partners also have to try harder to win her over when they can't use alcohol as a crutch.
However, many daters are especially focused on their own drinking habits. TikTokker and "sober curious fitness coach" Kathryn Sauser jokes in a video that men would stop dating her because of her drunk behavior, noting in the caption that she's "happy those days are over." In another clip, content creator Ari Eastman points out that she doesn't drink on dates because she's a recovering alcoholic and is prioritizing her health.
Advertisement
Experts agree that drinking less on dates can improve your love life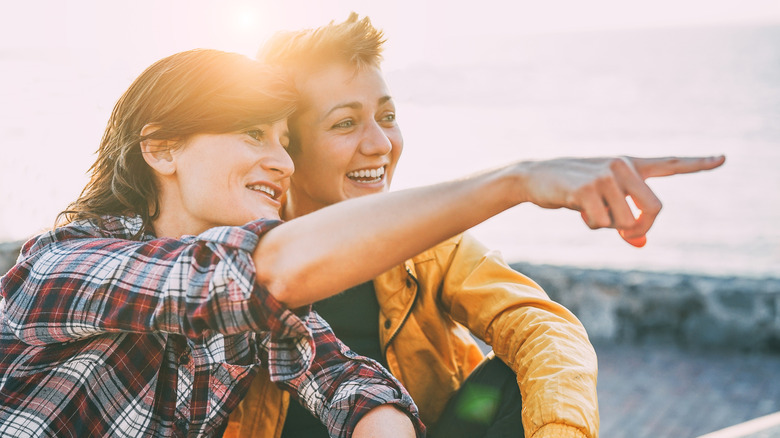 AlessandroBiascioli/Shutterstock
Demanding more than another sloppy, drunk date seems to work for the TikTok crowd, and some experts argue that it could be the key to finding deep, meaningful connections. "Dating sober affords space to determine whether the chemistry is genuine," manager of the recovery management-connection program at Hazelden Betty Ford Foundation Sarah Weston told The Washington Post. "It allows individuals to show up and be fully present and engaged — it affords space for authentic conversation." Australia-based dating coach Russ Ross agrees. "If anything, I think this unexpected change to alcohol-free dating has shifted our outlook from a culture of disposable dates and regrettably drunk 'hook ups' to one of potential connection," Ross shared with BBC.
Advertisement
Even if you're looking for nothing more than a no strings attached hookup, you might be better off skipping the booze, according to "The Sober Sexpert" Tawny Lara. In an essay for Self, she explains that alcohol can actually put a damper on your sex life and could impair your judgment — something you absolutely need in order to have safe, mutually consensual sex.
Relying on liquid courage may still be the norm for some, and not everyone will be open to dating someone with a dry or damp lifestyle. However, setting boundaries and proudly declining invites to meet-ups at wine bars and breweries might lead to true love — or at least guarantee you won't wake up hungover the next day.