Candy-Coated Jewelry Is The Trendiest Way To Add A Pop Of Color To Your Outfits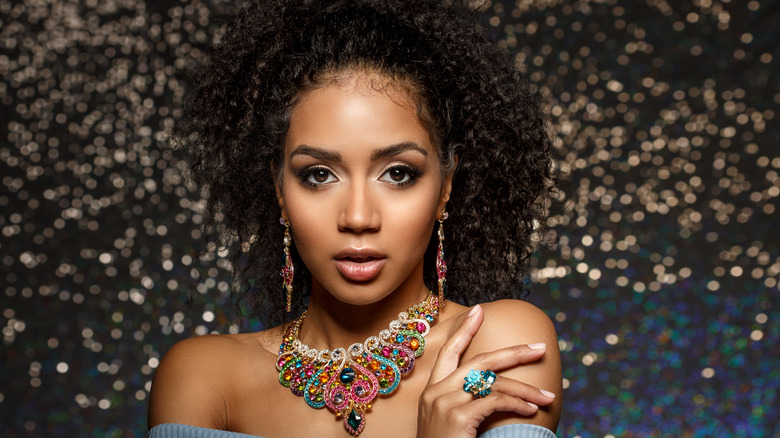 Miramiska/Shutterstock
Nothing brings a smile to people's faces more than seeing a bright pop of color — unless you're Wednesday Addams, that is. However, even she might get a kick out of candy-colored jewelry, especially as it brightens up spring and summer outfits. Bright-hued baubles might be associated with the costume jewelry you played with as a kid, but there are many sophisticated options out there these days. You can choose one that is paired with gold for a touch of elegance or opt for a dazzling semi-precious gemstone.
Advertisement
For a playful and youthful look, stack some plastic bracelets in different colors. Or how about a fun charm dangling from your anklet? This trend is not meant to be taken too seriously, and you can have fun mixing and matching your jewelry pieces. You can also play around with different shapes and sizes. From small, rainbow-colored pearl necklaces to iridescent, geometric-shaped earrings, candy-colored jewelry will jazz up any outfit.
Don't worry, be happy with stacked candy-coated necklaces
Bring out your inner child with a slew of retro-inspired smiley-face jewelry. There's no such thing as color overload when it comes to this trend. Artfully layer several rainbow-colored necklaces of varying lengths and styles around your neck. For an added bonus, add a positive message with beaded letters, such as "smile."
Advertisement
Fly high with pride-inspired earrings
Wear all the colors of the rainbow by stacking the hues of ROYGBV in ascending sizes. You can get creative by wearing multiple rings on your hands, or you can buy premade earrings, as shown in the picture. The bright colors will pop nicely against a summery white T-shirt or complement an equally vibrant outfit.
Advertisement
If you like candy-coated jewelry, put a ring on it
One of our most visible body parts is our hands, so why not adorn them with eye-catching jewelry? Stack some lucite and beaded rings on your fingers in contrasting colors so that they really pop. Don't worry so much about matching or color-coordinating. Slip on your rings without a second thought, and you'll likely end up with the perfect combinations.
Advertisement
Colored pearls are a sophisticated way to elevate your outfit
Pearls used to be associated with matronly jewelry, but they're trending among the younger generation these days (thank you, Harry Styles). While white or cream pearls are traditionally sought after, the gems come in various jewel-toned shades, such as blue and light pink. Natural pearls are rare and expensive, but cultured pearls are readily available to purchase and won't break the bank. Mix and match different strands, or let your necklace shine all by itself.
Advertisement
Get monochromatic with your candy-coated jewelry
You'll be seeing a lot of green this season, so a great way to incorporate the color into your wardrobe is with some bright, emerald-hued jewelry. Big, round earrings with a matching beaded necklace look great with a breezy sundress. Add some stacked bangles, and your summer outfit will be complete.
Advertisement
Candy colors pair nicely with gold
For a subtle take on this trend, try a simple pastel-colored necklace with gold accents and pair it with a shorter chain. If you're wearing different gold pieces, keep them in the same carat family so they don't clash with one another. Gold brings out blue since they're on the opposite ends of the color spectrum, so a nice navy top will complement your jewelry perfectly.
Advertisement
Candy jewelry looks good enough to eat
Who remembers stringing a chain of candy around their neck and lazily chomping on the pieces one at a time? The nostalgia is real with candy jewelry, and many designers make pieces reminiscent of their childhood favorite sweets. This realistic-looking watch with candy strands makes us want to head to our nearest confectionary store.
Advertisement
Make your own custom candy-inspired jewelry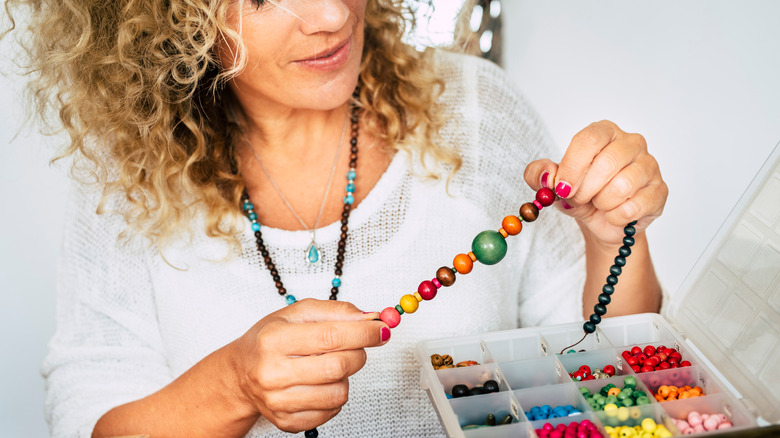 simona pilolla 2/Shutterstock
Head to your nearest craft store to get supplies to make your own candy-coated jewelry pieces. All you need is durable string, seed beads, different sizes of larger beads, scissors, and a needle to pull the beads through the string. Many hobby stores sell jewelry-making kits with all the supplies you need if you don't want to hunt for pieces. DIY projects are extra fun when you can gift yourself or your loved ones your custom-made jewelry.
Advertisement