TikTok's Latest Eyelash Curler Hack Guarantees Sky-High Lashes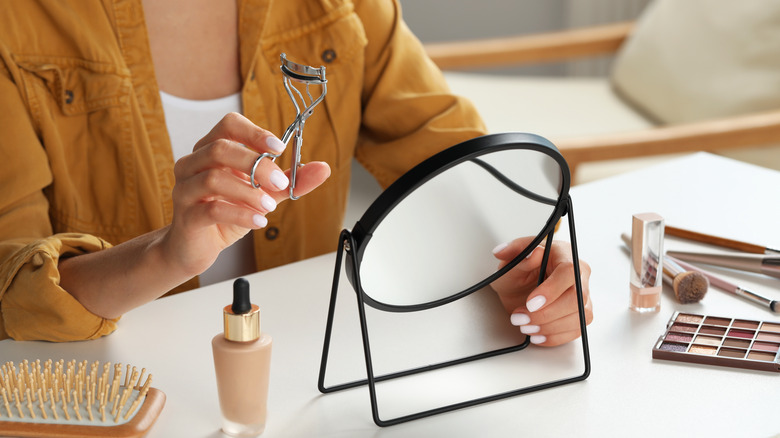 Liudmila Chernetska/Getty Images
One of the most underrated tools in our beauty routine is one most of us have been using since our middle school days — the eyelash curler. During a standard makeup session, eyelash curlers are used before applying mascara. The pressure created when you gently clamp your lashes into this fan-favorite beauty tool creates a volumizing lift to your eyelashes like no other. Yet, what if we told you there was a way to use this tool to create more of a lift for the ultimate doe-eyed effect?
Advertisement
Well, there is, and luckily, the hack is a slight adjustment to how you would typically curl your eyelashes. The traditional way to use an eyelash curler is by holding the tool right-side up, with the handle right below the eyes. However, the latest TikTok hack, which went viral, shows you can get sky-high lashes using the tool upside-down, with the handle above your eyebrows.
The upside-down trick for long lashes
A TikTok beauty influencer, who goes by Audrey Boos, made waves on the app, garnering over 1 million likes, when she shared one of her favorite eyelash hacks. In the video, Boos showcases the difference between curling her lashes upside-down and right-side up.
Advertisement
She curls her right eyelashes normally. Then proceeds to curl the left side upside down, noting that she doesn't clamp the lashes from the root. Instead, she begins curling them mid-shaft. In the end, this leaves her with eyelashes that are sticking straight up. However, one commenter wondered why Boos would want to achieve a straight eyelash look. In turn, Boos clarified, "It makes them look 10x longer!! Not straight, just an L-shaped curl instead of a C curl."
Overall, there is a noticeable difference between the two eyes. Where her right eye looks noticeably different after curling her lashes and applying mascara, her left eye is dramatically distinct with much longer and voluminous lashes. Therefore, this hack could leave you with bright and wide eyes for an overall doe-eye effect.
Advertisement
Other hacks for long lashes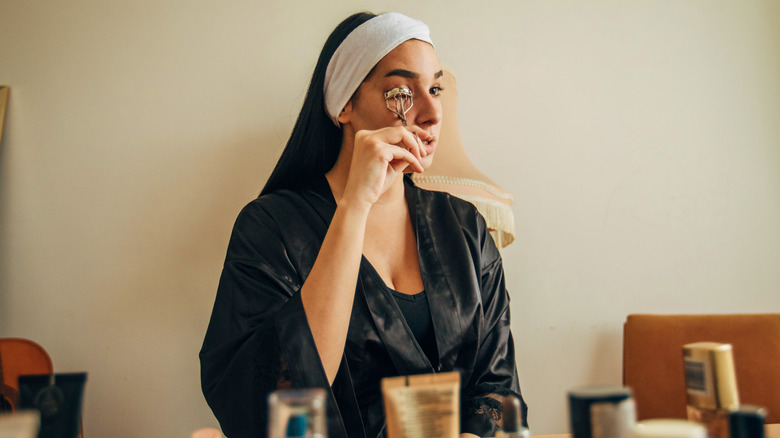 Bogdan Stanojevic/Getty Images
The upside-down eyelash curling hack is just one of many to get longer, more voluminous lashes. In fact, one of the most popular hacks for thick, long, and voluminous lashes is using any face powder on the eyelashes before applying your mascara, just like YouTube star Stephanie Lange demonstrated. She received over 900,000 views on the clip explaining the step-by-step method.
Advertisement
Another popular hack involving an eyelash curler is to heat it with a blow dryer before using it, as we have seen on TikTok accounts such as Sara Evans. In this case, the heat will lock the style in. This trick requires caution though, as it involves hot metal near your eyelids. Therefore, ensure the metal doesn't touch the skin. Finally, if you don't want to heat your eyelash curler, change the direction you curl your lashes, or use an extra product before your mascara, just wiggle your mascara wand as you comb through your lashes. This will give your lashes extra length, definition, and volume.