TikTok's 'Supermodel Face Lift' Makeup Hack Employs A Single Rule For Major Results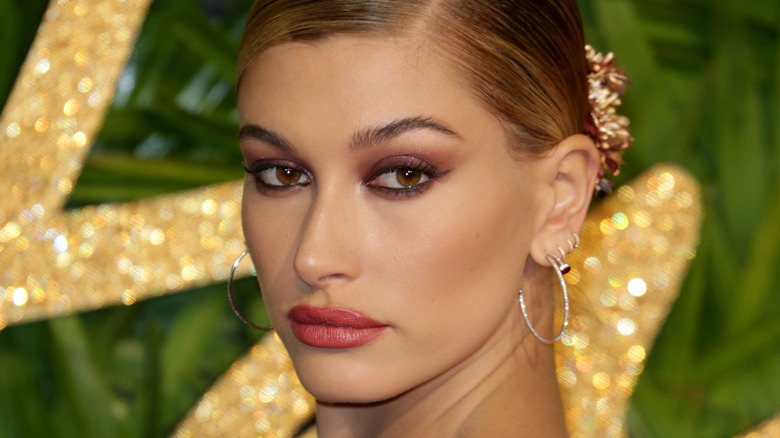 Fred Duval/Shutterstock
When it comes to makeup hacks, it seems all you have to do is hop on TikTok, and you'll be bombarded with new and innovative ways to improve your repertoire. These days, it's all about chiseled cheekbones and jawlines sharp enough to leave a cut. Elongated siren eyes have also been trending, and it looks like the fox eye makeup is here to stay for a while.
Advertisement
Everyone from celebs such as Hailey Bieber to established makeup artists like Charlotte Tilbury are sharing their tips on TikTok on how to get that snatched supermodel look. While many of us aren't blessed with angular features like Bella Hadid and Bieber, we can fake it until we make it with some beauty hacks. It's amazing what the placement of makeup can do to change your face — all you have to remember is to apply everything in an upward direction to get that supermodel face lift.
To fake a face lift, apply highlight and contour higher than you normally would
Even the roundest of faces can get that lifted supermodel look with a few makeup tricks. While we're used to applying contour on the hollows of our cheeks, if you want to look more lifted, the makeup should be placed one finger's width higher than usual. After applying foundation and concealer, take an angled contouring brush and swipe it along a cream concealer two shades darker than your skin tone. Lightly tap on the makeup starting from your ears — just under the top points of your cheekbones — down to the corners of your mouth. Finish off the contour with a dusting of bronzer to set the makeup.
Advertisement
Your highlighter should be a concealer shade about 1-2 shades lighter than your skin tone. Lift the cheekbones even more by placing the concealer on the very tops of your cheekbones. Place an upward stripe starting from the outer corners of your eyes toward your temple. Using a sponge, blend the makeup by patting lightly.
You can also lift your nose by applying concealer on the bridge and very tip of your nose. Remember, blending is key — you don't want to look like you have stripes on your face. After you've placed down your base makeup, your blush and eyeliner will further help you give your face a lift.
Your blush and eyeliner should go in the same direction
You may naturally want to place your blush on the apples of your cheeks, but to lift your face even more, you want to avoid rounding out that area. To achieve that dewy supermodel look, use a cream or liquid blush and place 1-2 dots on the very tops of your cheekbones only. Blend the color upwards toward your temples, being sure not to go over the contour you have below.
Advertisement
Your supermodel face lift makeup isn't complete without eyeliner. For a dramatic look, you can opt for a liquid liner, but if your hands aren't so steady, you can use a cream liner or a dark eyeshadow. We find it easiest to start with the wing first: Looking straight at the mirror, draw a line from the outer corner of your eye and move your brush in the same direction as your blush. Repeat on the other side and check to make sure the lines are even. Starting from the middle of your eyes, connect the lines to the wing. Use your concealer to sharpen the line under the wing and give you more of a lifted look.
For the final step, fill in your brows — but don't drag the ends down. Keep the tails straight or draw them in a lightly upward motion to keep the trend going. Give your brows a brush to clean them up, and your supermodel face lift makeup look is complete.
Advertisement